You Should Really Be Watching 'Parenthood'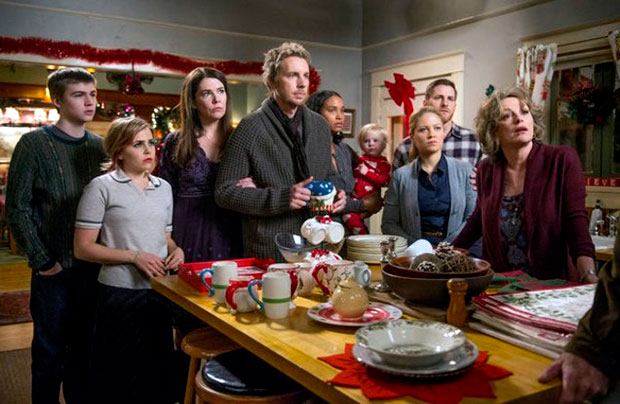 Considering Parenthood had its last new episode of 2012 last night, this may seem like an inopportune moment to make a passionate plea with you to start watching the criminally underrated NBC drama. After all, the next new episode doesn't air until Tuesday, January 1, 2013. (Honestly, I can't think of a better way to ring in the New Year.) On second thought, that gives you almost three weeks to get up to speed on the first three (and a half) seasons of the series. Now in its fourth season, what started off as a touching, if not Hallmark-y spin on the 1989 Steve Martin movie of the same name, Parenthood is the best drama on television you're not watching. 
Call it the blessing and the curse of the Katims.
Jason Katims
created the fan favorite and critical darling
Friday Night Lights
, which struggled desperately in the ratings and didn't receive any Emmy love until it went off the air. While
Parenthood
isn't in as dire straights as
FNL
was and if Emmy knows what's good for it, it'll nominate
Monica Potter
for her fearless performance this year, it is unfortunately down in the ratings this year. It's a shame really, considering this has been the show's best season to date. 
Parenthood
follows the trials and tribulations of the multi-generational, multicultural, multi-layered Braverman clan. Move over,
Modern Family
, this is the real deal. While some family members are unequivocally more interesting than others (
Erika Christensen
and
Sam Jaeger
's Julia and Joel are consistently the show's weakest links), some have better hair than others, and certainly story lines are undeniably schlocky, when the show hits, it hits right on the mark. The series has deftly handled weighty topics — alcoholism, Autism, and this season, breast cancer — without veering into overwrought or pandering terrain. Yes,
Parenthood
knows how to go right for the jugular when it comes to making its audience feel all the feelings and
cry all the ugly cries
, but it's never manipulative. The writers and actors have made the characters too genuine to do that. 
Take for instance last night's Christmas episode. When Potter's cancer-stricken Kristina winds up in the hospital on Christmas Eve, the whole thing could have dangerously veered into cheap, tear-baiting Family Stone territory. Don't get me wrong, tears were shed. Oh, were they shed. But the scenes were done with with both high emotions and still-grounded-in-reality restraint. 
But never mind that Parenthood is a rare well-acted, top-notch family drama: it's a television lover's dream come true. The cast is a veritable who's who of TV royalty, including Six Feet Under's Peter Krause, Gilmore Girls' Lauren Graham, Coach's Craig T. Nelson, and Arrested Development's Mae Whitman. (Her? Yep, her. She's incredible in it, too. During last night's episode she had what was, without question, the show's best, most believable couple argument.) It's an even bigger treat for FNL fans, as Katims routinely brings his alumni on the show for recurring roles. Minka Kelly, Michael B. Jordan, and Matt Lauria have all made their way from Dillon, Texas to whatever unbelievably picturesque slice of Berkeley the Bravermans have set up shop in.
It's appointment television that doesn't rely on gimmicky cliffhangers every week, it's refreshingly uncynical in a television landscape overrun by that, it consistently allows its characters to make mistakes and evolve (when Sarah Ramos' Haddie leaves for college, she actually leaves for college), it makes damn good use of its guest stars (namely Graham's respective love interests Jason Ritter and John Corbett, who were Emmy-worthy in their own right), and it doesn't pretend to be anything it's not. This is a show that's about as as cool as the Bravermans' dance moves, but that's exactly what makes them and the show so great: they're not trying to be anything they aren't. It's a little bit corny and often times a bit too convenient, but like the Bravermans, the show's heart is in the right place. 
Parenthood airs on Tuesdays at 10 PM ET on NBC. The first three seasons are available on Netflix and episodes from Season 4 are available On Demand and on Hulu.com 
[Photo credit: NBC] 
More: 
The Top 10 Tearjerker Moments On TV In 2012

11 Worst Movies of 2012! (Moviefone)