Your Guide to Surviving the 'Beauty and the Beast' Premiere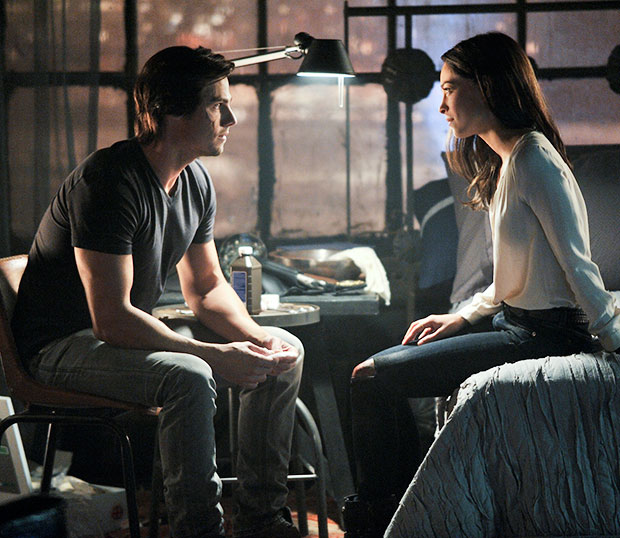 Over the next few months, we'll see new series soar, old series sour, and so much Jersey Shore madness, we'll want to shower. Let's face it: The Fall TV season is intimidating. With dozens of new and returning shows hitting our small screens, we know we have some big choices to make. So, to help you determine what to watch, we're digging deep into the most notable series premiering this season. Where did each show leave off? Where is it headed? And who should you watch it with? Today, we're checking out Beauty and the Beast, the CW's spin on the classic fairy tale that makes Beauty an NYPD cop and the Beast a recluse hiding in a semi-abandoned warehouse (that may or may not be in Brooklyn). 
Series Name: Beauty and the Beast
Premiere Date: Thursday, October 11 at 9 PM ET on the CW
Number of seasons on air: Nada. This is the first one. 
Cast: Smallville's Kristin Kreuk is back for another round of a fantasy/sci-fi series as Catherine (or, if you prefer, Beauty), an NYPD Detective with a tragic past and awesomely shiny hair. The Beast to her Beauty is played by Jay Ryan (Terra Nova), a man as attractive as he is mysterious. Nina Lisandrello is Cat's heavily New Yorker-accented partner in crime (at the NYPD), Det. Tess O'Malley. 
Synopsis: The series begins with a prologue: It's 2003 and Cat is a bartender at a New Jersey bar, where she is slingin' shots in order to save money for law school. One fateful night, our heroine has car trouble after closing the bar and calls her mom for help. Good ol' Mom comes to Cat's rescue with a handy pair of jumper cables. But — and here's where things get rough — a gang of of well, gangsters? (this is unclear), gun down Mom in the parking lot. Cat flees on foot, and is rescued in the nick of time by some "beast" who promptly disappears into the wilderness. Fast forward to present day, and Cat is a detective working to bring bad guys to justice. One case leads her on a wild goose chase to a man, Vincent Keller, who was declared dead. Could Vince (let's call him Vince) be Cat's mysterious beast? 
You'll like it if: You have felt a hole in your life that can only be filled with Kristin Kreuk since Smallville went off the air. You prefer your cop dramas with a healthy dose of voiceover narration. You dig dudes with scars. 
You won't like it if: You're a Beauty and the Beast purist who prefers the Beast to be transfigured due to magic, not science. 
Who to watch with: Fellow Smallville fanatics, friends who have an encyclopedic knowledge of the Beauty and the Beast mythology, or your little sister. 
Who not to watch with: Your boyfriend. He'll hate it. 
What to yell at the TV: "You dropped your phone!" "Call for help!" "Run away!" "Kill the beast!" "ROARRRRRR!"
What to eat while watching: Red meat. 
What to drink while watching: The anecdote to beastism. Oh wait, that doesn't work. Try a beer instead. 
Best line from the premiere: "What were you doing on the F train?"
Worth checking out: Meh. If you hate politics and won't be tuning into the Vice Presidential Debate, you might as well tune in.
[Photo Credit: Ben Mark Holzberg/CW]
More:
Web Comedy is the New Monty Python: Key & Peele Weigh In
Is Arrow a Bullseye? Everything You Need to Know Before the Premiere
American Horror Story: Asylum: Watch the First Five Minutes Now!