Zach Galifianakis Shoots a Porno for 'SNL' Hosting Gig. Nope, Sorry, That's a Promo.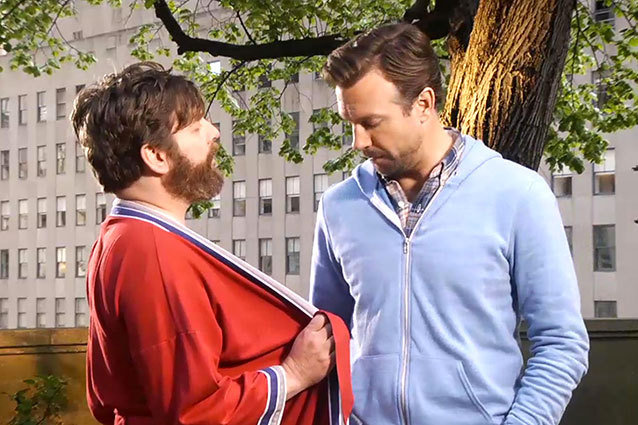 Zach Galifianakis is an SNL five-timer in the making. (Just three more hosting gigs to go!) A best-of DVD compilation waiting to happen. (Which could really just have this sketch on repeat for an hour). His first time as host on Saturday Night Live back in 2011 had one of the most hilarious opening monologues of the past decade, if not in the show's history. Okay, in case you couldn't tell, we're pretty damn excited that Galifianakis is returning to host SNL this weekend with musical guests Of Monsters and Men. But, I mean, look at that face. You're laughing already, aren't you? 
In the clip, the The Hangover Part III star heads to the roof of 30 Rock alongside cast member Jason Sudeikis for a promo that takes place right next to a tree — not between two ferns, sadly — but Galifianakis thinks they are shooting a porno, not a promo (hence the robe). In fact, a lot of the video is of Galifianakis getting things wrong, like calling him Will Bithers instead of Bill Withers (turns out, other than the word 'butt munch,' the actor can't tell his w's from his b's, and vice versa) and spending an obscene amount of money of nail art of Justin Bieber and Taylor Lautner. 
Watch the very funny two-and-a-half minute clip (imagine how good 90 minutes of this will be) here, because as Sudeikis puts it, "a little public shaming never hurt anyone." 
Galifianakis' episode of SNL airs on Saturday, May 4 at 11:30 PM on NBC. However, his comedy special Live at the Purple Onion is on Netflix instant watch and you should be watching that right now. 
Follow Aly on Twitter @AlySemigran 
More: 
Kristen Wiig Returns to 'SNL' to Host, Ben Affleck Joins Five-Timers Club
'The Hangover Part III' Calamity Continues in Two New Clips, Posters 
'The Hangover Part III' May Abandon the Formula — Trailer  
---
From Our Partners:


Miley Goes Braless for Magazine Cover (Celebuzz)


33 Child Stars: Where Are They Now? (Celebuzz)