Zachary Knighton and Adam Pally of 'Happy Endings' Discuss New Romances and Guest Stars
We got a chance to speak with two of the stars of ABC's secret weapon sitcom Happy Endings: Zachary Knighton, who plays the listless, somewhat clueless, but good-natured Dave, and Adam Pally, who plays the sardonic underachiever Max, about their experiences on the show and what is in store for their characters and their fans.
Knighton teased of a possible big development in his character Dave's love life: "There's a bit of a twist coming, but I don't think I can talk about it…no spoilers for that one, but there's some big stuff comin' down the line for ol' Dave," further stating that, "I think fans will be supportive, for sure."
On the topic of romance, Knighton and Pally confirmed that former guest stars Megan Mullally, who played Penny's (Casey Wilson) perpetually upbeat mother, and Damon Wayans, who played Brad's (his real-life son Damon Wayans, Jr.) emotionally distant father, will be returning to the series and will be "involved with each other in some capacity," further elaborating that it will be "something parental-themed, or something very sexual and weird."
Other guest stars we have yet to see include Fred Savage (who works on the show as a director) and Saturday Night Live star Bobby Moynihan.
After joking (repeatedly) that his character Max would become romantically involved with a rake in the future, Pally touched seriously on Max's developments in this area: "I think Max is starting to get a little lonely, and is looking to find that special someone. He may or may not be out there, because Max has very specific criteria."
The discussion of Max's love life evolved into the character's unique design as a gay character in comedy television. As fans know, Max is a far stride from the gay stereotypes regularly employed by sitcoms. Pally confirmed that Max's uniqueness in this vein is part of what drew him to Happy Endings, stating, "I think Max is an interesting character that I hadn't seen before. It's really fun to play something that is against type."
The original music on Happy Endings has been a consistent highlight, from Dave's "The Power of Love" rock ballad in the Season 2 premiere to his homemade commercials for his steak truck — which we will be seeing on tonight's episode or right now on Steakmehometonight.com. When asked about what further musical exploits in which we'll be seeing his or other characters get involved, Knighton proposed, "I think that Max and Dave should start a jug band." Pally immediately got on board, proclaiming that "[Max will have] some ripped dude standing there, and he's playing his abs with a spoon."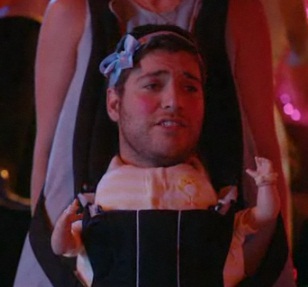 Both actors touched on the idea of developments with their characters, and how they have changed and will continue to change over the course of the series. Knighton in particular was happy with Dave's changes since the show's inception:
I wanted to move away from all the 'left at the altar,' relationship stuff, and really start to have storylines with everybody else, which I didn't really get so much in the first season. That was definitely a goal of mine, and luckily it was the same with the writers. We've gotten to have a lot more fun with Dave this year. We've acknowledged [the Dave and Alex situation] like once so far this season. I think the same goes for Elisha [Cuthbert]'s character. Now that she doesn't have to deal with trying to buy back the audience and let the audience know that she's okay, she gets funny stuff to do. I'm sure she's having fun with that.
The topic of parents got the actors to talking about an idea that Knighton and his father came up with for the introduction of Dave's as of yet unseen father: "My dad had a really funny pitch [in which] me and Pally are walking down the street one day, and my dad walks by. And we just stop and sort of stare at each other, examine each other up and down, and then just keep walking. Like Dave has never met his father."
Pally then put his own spin on Knighton's idea: "You won't know if that guy is your dad or some kind of Legend of Baggar Vance. He walks through a wall after giving you great golf advice." Naturally, the conversation eventually turned to the fan-favorite zombie apocalypse episode of Happy Endings' first season. When posed with the question of who among the cast would fare best in a real zombie apocalypse, both men suggested Knighton to be the ultimate survivor, and pinpointed Wayans, Jr., as an early victim. However, this brought Knighton and Pally to explore the idea that "in the next apocalypse, it's not going to be zombies. People will be turning into Wayans. Everybody starts making dance flicks and White Chicks." Finally, Pally expressed his desire to do a Happy Endings crossover with the AMC series Breaking Bad, wherein, as he puts it, "we all get hooked on meth."
Happy Endings airs Wednesday nights at 9:30 p.m. on ABC.