'Zero Hour' Star Anthony Edwards on Why His Mystery Show Isn't the New 'Lost'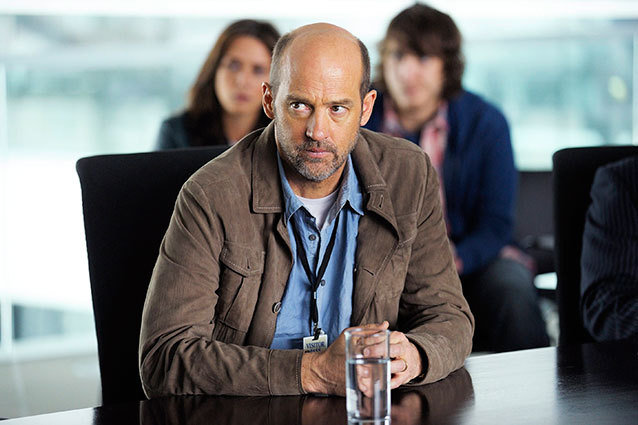 A centuries-spanning, deadly treasure hunt for a mysterious clock. A ragtag team of investigative reporters. The kidnapping of an innocent loved one. Nazis. Believe it or not, this isn't the synopsis of the latest Nicolas Cage movie, but the central plot of Zero Hour, the Anthony Edwards-starring mystery show that premieres this Thursday night on ABC.
'Zero Hour' Got Us Thinking: What Are Pop Culture's Biggest Conspiracy Theories?
Edwards knew that he was taking a huge risk when he signed on to star in Zero Hour, his first TV outing since he stepped down from arguably the most famous medical procedural of all time, ER, in 2002. Mainly, because network television — the bastion of procedural drama — has not yet figured out how to create the perfect serialized mystery. But Edwards believe that his new show could change all that.
"We're going to solve this mystery this season," he says. "We did our 13 episodes, and what you have then is the core of us from the magazine being ready for another mystery. In a sense, you can think of the Zero Hour mystery just being the first one."
Creating a series that will solve a new mystery each season — like, say, Showtime's Dexter or what AMC's The Killing originally promised — would eliminate the problems that networks have faced with long-term mystery shows, like The Event, Flash Forward, and even Lost. Those shows also suffered the weight of long runs (22-24 episode season), while Zero Hour's mystery will be solved in 13 episodes. It makes things a bit easier in the writer's room.
'Zero Hour' and 'Red Widow': Clocks, Nazis, Russian Mobsters and More in ABC's New Dramas
"We dive right in [to the conspiracy]," Edwards says. "If you know your ending, then you don't have to do the big delay. On Lost, they had to keep delaying — avoiding what was really going on. We don't have to do that. We take big steps every episode."
And while Edwards could't give too much away about the show's central mystery, which focuses on a world-shattering clock that a lot of really bad people really, really want (Edwards' character becomes involved when his wife unwittingly buys the clock, then is kidnapped), he did tell us that we can expect a ton of adventure… and a bit of comedy on the side.
"I get beat up by almost every old lady," he says. "Since I don't have any superpowers, when you take an everyman and put him into this international conspiracy world… he has a lot of learning to do. We're not doing a documentary, it's this fantasy, romantic journalism. We tell big stories, and visually go big. We can shoot in Queens, then go to a street in Uruguay and put the Andes in the background…television is changing. That's exciting in and of itself."
Zero Hour premieres Thursday, Feb. 14 at 8PM on ABC.
Follow Shaunna on Twitter @HWShaunna
[PHOTO CREDIT: Phillippe Bosse/ABC]
---
From Our Partners:

'SI's 25 Sexiest Swimsuit Covers of All Time (Vh1)

Pregnant Kate Middleton Bikini Pics Spark Palace Anger (Celebuzz)