'Zero Hour': An Adventure, or a Show That Has You Watching the Clock?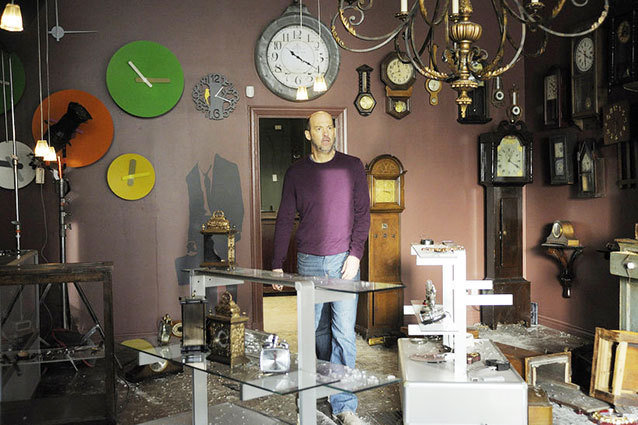 This Thursday at 10 P.M., ABC will unleash it's latest high-concept adventure show, Zero Hour (or ZERØ HØUR as the logo suggests). 
Unlike the pilot to some of the great, long-lasting mystery shows — even procedurals like the X-Files — Zero Hour goes all in on its premise, forsaking interesting characters in favor of its overarching conceit. How are Nazis, clocks, international terrorists, clocks, treasure maps, clocks, the Anti-christ, and clocks connected? That is Zero Hour's question to solve over its series run. Thankfully, it has a solid cast doing the exposition dictating, and your enjoyment of the show may depend on how much you love them.
Here's what you need to know before tonight's big premiere:
Actors you'll know: Anthony Edwards of ER leads the cast. If you are wondering what the heck the actor has been doing since his days at County General Hospital… well, lay off! Edwards starred in 180 episodes of the medical drama. The guy needed a vacation.
RELATED: 'Zero Hour' Star Anthony Edwards On Why His Mystery Show Isn't The New 'Lost'
Joining the TV vet is Scott Michael Foster of Greek, Carmen Ejogo of Kidnapped, and Michael Nyqvist, the baddie from Mission: Impossible – Ghost Protocol. Charles Dutton also appears in the pilot, but it's unclear whether or not he'll be involved later in the series.
3 Reasons You Might Want to Watch: You're a "secret history" buff struggling without any new Da Vinci Code books to quell the hunger. You think Antiques Roadshow was in need of some "edge." You're that guy who doesn't want Anthony Edwards to enjoy his vacation time.
RELATED: 10 Pop Culture Conspiracy Theories
5 Reasons You Might NOT Want to Watch: You can't take goofy establishing details seriously, i.e. Edwards' character Hank Galliston is the editor-in-chief of the magazine Modern Skeptic, making him the only person capable of being caught up in the global mystery he finds himself in. There's only so much "OH!" face you can take, especially when it's provoked by minor revelations that a show deems important. You have a fear of the FBI and their ability to watch your every move (THEY'RE WATCHING YOU RIGHT NOW). You have sweet, preserved memories of Edwards' brilliant work on ER. You suffer from Chronomentrophobia.
Love it, or Leave it? Love it if you can stomach a weekly airport novel, good for dangling a plot carrot that will have you coming back to each episode just to figure out what the heck happened the previous week. Leave it if the mere mention of National Treasure 2: Book of Secrets makes you want to take a nap.
Follow Matt Patches on Twitter @misterpatches
[Photo Credit: ABC]