The Powers of Sisterhood: Zoe Saldana and Rashida Jones Rope Siblings Into Showbiz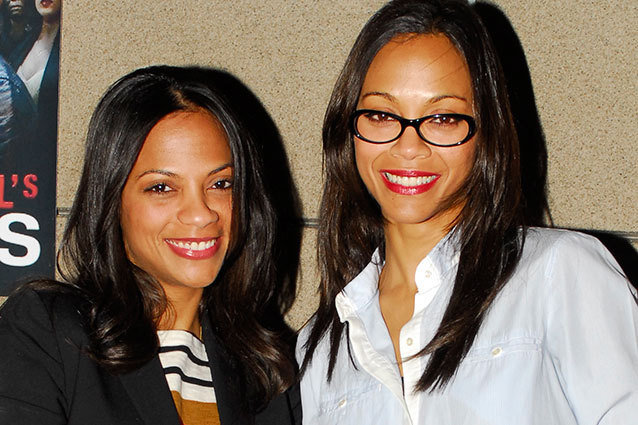 Mr Photoman/Splash News
Move over Tia and Tamera Mowry, there are two new sets of Sisters taking over the Hollywood scene right now. Avatar and Star Trek Into Darkness actress Zoe Saldana and her sister Cisely (famous for… being Zoe's sister) have signed a deal with Lionsgate Entertainment's Pantelion films. Pantelion is a joint venture with Lionsgate and Mexico's Grupo Televisa, and is the first major Latino focused Hollywood Studio. The Saldana sisters, who share a remarkable resemblance to each other, appear to be heading in the right direction. With the Hispanic/Latino population in the U.S. projected to double in the next few years, they are really tapping in on this market at the right time.
The deal with Pantelion was signed through the sisters' production company, Saldana Productions. This deal will consist of film and television component. Zoe, who is of Puerto Rican and Dominican descent, is quoted by the Hollywood Reporter in response to the exciting news: "We look forward to a fruitful and productive relationship with Pantelion."
Another pair of sisters have also inked a deal as well. Parks and Recreation star Rashida Jones and her older sister Kidada (model, fashion designer, and, oh, former fiancée of Tupac), have sold their TV show pilot to the CW. This hour-long drama will be called The Revengers. The show is about two young friends who come to New York in search of love and end up starting a business geared at revenge against relationship cheaters. The daughters of famed musician and producer Quincy Jones and actress Peggy Lipton will be working with Rashida's writing/producing partner Will McCormack to create the show.
It will be interesting to see which pair of sisters churn out successful projects, if not both of them. It is nice though to see sisterly love helping to launch the lesser known siblings to fame. (Jan and Marcia Brady would be proud). And hopefully, we'll be seeing both sets of sisters take onscreen roles in their productions… let's get some cameos in the works!
More:
Rashida Jones Is Leaving 'Parks and Recreation'
Zoe Saldana Goes Topless, Calls Herself 'Androgynous'
Zoe Saldana & More in 'Star Trek' OMG Face Extravaganza
---
From Our Partners


Battle of the Bikini Bodies (Celebuzz)


Fangbanging: Complete Guide to All of 'True Blood's Sex Scenes (Vh1)