Rockers Love Models, And Vice Versa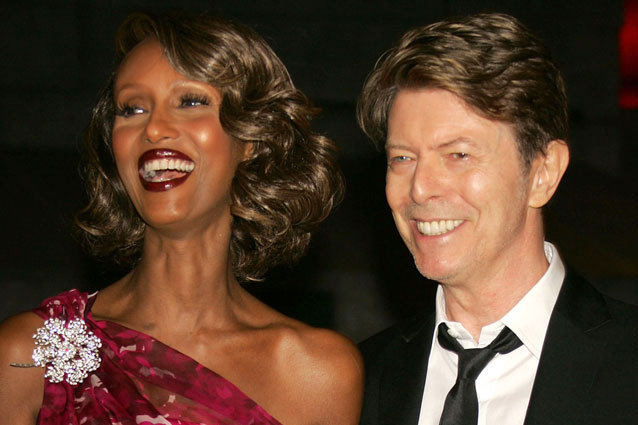 Anthony Dixon \ WENN
Models and musicians – the pairing is as perfect as pancakes and syrup. Just last week, U2 bassist Adam Clayton married his model girlfriend Mariana Teixeira de Carvalho in Dublin, entering a long, distinguished line of rockers who have said "hell yeah" to fashionistas and models around the globe.
Here's a rundown of some of the best model/rocker pairings over the years.
Kate Moss and Pete Doherty
Kate Moss may be happily married to The Kills' Jamie Hince, but before there was Jamie, there was her busted relationship with Pete Doherty. Moss was hardly a vision of innocence herself, but hooking up with a notorious, self-admitted junkie made for pure tabloid gold. Drugs and scandal followed, with Doherty claiming everything from "loving her bones" to saying that Moss was a "nasty old rag" who once kicked him in the head. In his mind, the pair broke up because, according to Doherty, "I can't buy her diamonds." 
Billy Joel and Christie Brinkley
The Piano Man definitely loves his statuesque blondes, and supermodel Christie Brinkley is no different. Brinkley starred in Joel's video for "Uptown Girl," which, contrary to popular belief, wasn't actually written about Brinkley, but another one of Joel's model exes – Elle McPherson. The pair married in 1985, but their marriage was strained due to Joel's philandering and love for booze, and they finally divorced at the end of 1993. 
Jack White and Karen Elson
This couple was smoking hot and seemed like they were made for each other. White and Elson met when the former starred in the White Stripes video for "Blue Orchid," and the pair married in 2005. Although they divorced 6 years later, they were awesome enough to hold a divorce party in 2011, so everyone thought that all was well between the two. However, lately Elson has accused White of basically being a douchebag (who really has it out for the Black Keys' Dan Auerbach, for some reason), and White has countersued her in what's become a messy ending for the once-reigning Couple of Cool. 
Caleb Followill and Lily Aldridge
Son of a preacher turned rock star who has fire-sex meets California girl at overexposed music festival, and they live happily ever after – that's essentially the story of Kings of Leon's Caleb Followill and Victoria's Secret Angel Lily Aldridge. The two met at Coachella in 2011 and married later that year. Their daughter, Dixie Pearl Followill, was born in June last year.
Simon Le Bon and Yasmin Parveneh
Not all model/rocker pairings end badly. Simon Le Bon has been married to Yasmin Parveneh since 1985. At the time of their marriage, their relationship was all over the gossip headlines – Le Bon was the lead singer of Duran Duran, one of the biggest bands of the 1980s, and Parveneh herself was one of the highest-earning models of the decade.
Adam Levine and Behati Prinsloo
Previously trying his darndest to be the Leonardo DiCaprio of the pop world, Adam Levine has had a long list of models by his side. His latest model girlfriend, Behati Prinsloo, is set to be his future wife, putting to rest his image of the perpetual pop bachelor. Though the pair had briefly broken up and Levine wasted no time in hooking up with model Nina Agdal, the two got back together and decided to get engaged. 
Agyness Deyn and Albert Hammond, Jr.
When Agyness Deyn and Albert Hammond, Jr. hooked up in 2008, it seemed like a match made in hipster heaven. Usually seen in paparazzi photos holding hands and walking dogs, the relationship was rumored to be much rockier than it initially seemed, and the couple finally broke up a year later. Deyn has definitely dated her share of rock stars, including The Paddingtons' Josh Hubbard, Phantom Planet's Alex Greenwald, and Last Shadow Puppets frontman and solo artist Miles Kane. The world is waiting for a supergroup of all the model's exes, hopefully called Deyn's Discards.
Rod Stewart and Rachel Hunter 
Like Billy Joel, Rod Stewart likes his women tall and blonde (and nearly identical-looking). In 1990, Stewart married model Rachel Hunter, the woman responsible for millions of young men saving up their dollars for Sports Illustrated issues in the 90s. The two separated in 1999 and officially divorced in 2006, and Hunter went on to have it going on as "Stacy's Mom," while Stewart – what else? – married another model.
Iman and David Bowie
Arguably one of the coolest couples ever, Iman and David Bowie have been married since 1992. The union of Ziggy Stardust and the most gorgeous advocate for social aid had the entertainment world in a frenzy. Forget haters, barely anyone thought that this marriage would last, but twenty-one years later, the couple is still going strong.
Axl Rose and Stephanie Seymour
From the documentation of his behavior in the media, it's safe to say that anyone who dates Axl Rose is probably making up for some bad karma in a past life. Allegations of physical abuse, theft, and violence Rose's relationship with Seymour, but for some reason, the couple still decided to get engaged. The engagement was short-lived, due to Rose accusing Seymour of being unfaithful (because why would anyone cheat on a prize like Axl Rose?) and the couple finally broke up.
Keith Richards and Patti Hansen
Who would've ever thought that Keith Richards would be the guy to be married to his wife for thirty years? Richards married model Patti Hansen in 1983 and have been together since then. A couple that makes it through drugs, rock and roll, Mick Jagger, and everything in between, is definitely a couple that stays together.
Paulina Porizkova and Ric Ocasek
When these two hooked up, most people were scratching their heads, thinking "….what?" The gorgeous, then-19 year old Paulina Porizkova was featured in the Cars' video for "Drive," and although lead singer Ric Ocasek was still married at the time (and 35 years old), the two started dating and have been together ever since. Porizkova has also gone on to say that Ocasek is better-looking than George Clooney.
Paul McCartney and Heather Mills
And the award for the most notorious rocker/model pairing goes to Paul McCartney and Heather Mills. Mills is a former model, famous for 2 things: having a prosthetic limb as part of her leg and for trying to suck Sir Macca drier than anyone else ever could. The pair married in 2002 and divorced 6 years later, with the divorce becoming a highly-publicized affair for the settlement amount that the celebrities were fighting for. Mills wanted £125 million – McCartney offered £15.8 million. Because is £15.8 million is obviously pennies, Mills kept fighting for more, eventually ending up with a total of £24.3 million, plus £35,000 per year to take care of their daughter. The best part of this is that Mills fancies herself to be a charity campaigner.
More:
Supermodels in the Recording Studio
The Craziest Fan Armies
The Craziest Music Feuds
---
From Our Partners:


40 Most Revealing See-Through Red Carpet Looks (Vh1)


15 Stars Share Secrets of their Sex Lives (Celebuzz)