Unexpected Music Star Reinventions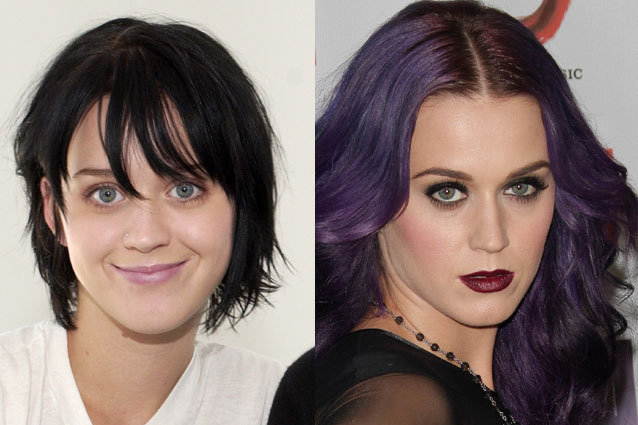 Wenn; Getty
In order to keep up with the ever-fickle public, celebrities are constantly reinventing their images to stay relevant. Whether it's David Bowie or Beyoncé taking on alter egos (Ziggy Stardust and Sasha Fierce, respectively), or Madonna and Gwen Stefani changing their entire persona every few years, seeing the changes celebs in the music world make is always interesting.
Some changes, however, come completely out of left field and leave us scratching our heads, wondering how the star could even be getting away with that. Here's a rundown of 13 of the most interesting and unexpected 180s that stars have made
Dr. Dre
Dr. Dre may be one of the grandaddies of gangsta rap, but he was originally a DJ for electro hip hop group World Class Wreckin' Cru. The group wore the shiniest, glossiest clothes that would've put Marc Bolan to shame, and had the hottest ('80s) dance moves. After working the club circuit for a while, the group found success and are now considered to be pioneers of rap. Dre went on to join NWA, dropping the glitziness of the Cru for a more "gangsta" look, and eventually defined himself as a hip-hop producer with the golden touch.
Janet Jackson 
She was Penny on Good Times and Charlene on Diff'rent Strokes before turning into Miss Jackson (if you're nasty). But it was Janet Jackson's Herb Ritts-directed video for "Love Will Never Do (Without You)" that let the world know that Miss Jackson was officially Ms. Jackson. The shy but feisty girl from Control and Rhythm Nation 1814 that everyone knew and loved had officially reached womanhood. Instead of taking the trashy route to show the public she'd grown up (ahem, Miley), Jackson instead decided to show just the right amount of midriff in the video, look drop-dead gorgeous, and canoodle with the gorgeous hunk of man that is Antonio Sabato, Jr. Now that's how you do it.
Beastie Boys  
Fun fact: the Beastie Boys' roots are in hardcore punk rock. The group managed to play some sick shows, supporting legendary punk acts like the Misfits, Dead Kennedys, Reagan Youth, and Bad Brains during the '80s. Beastie Boys stumbled into hip-hop by accident – their first hip-hop track, "Cooky Puss," was based on a prank call the group had made to a Carvel Ice Cream store in 1983, but ended up becoming a massive hit in the NYC underground hip-hop scene. The group began to record rock-based rap shortly after, and the rest is history.
LL Cool J 
LL Cool J was known for his hard-hitting raps and for having a hardcore mama who encouraged knocking people out. After appearing as a rapper in 1985's Krush Grove, though, LL got a taste for acting and began to pursue more roles, appearing in films such as Wildcats and Toys before landing his own sitcom, In the House. Since then, LL has appeared in a slew of films and television shows, and currently stars on NCIS: Los Angeles. Impressively, the rapper has continued to consistently release albums since 1985 in between steadily landing movie and television roles. Clearly, it's more than just the ladies who love cool James.
Alanis Morissette  
Essentially Canada's answer to Tiffany, Alanis Morissette was a Canadian pop star before venturing over to the dark side of alternative rock. Morissette went from singing and dancing to bubblegum pop ditties to tearing Uncle Joey a new one on the record-breaking Jagged Little Pill. Sixteen Junos and seven Grammys later, Morissette is still going strong, having released her eighth studio album just last year.
Mark Wahlberg  
Mark Wahlberg has had a few surprising reinventions. First, he was a delinquent, teenage coke fiend who permanently blinded a Vietnamese man just for being Vietnamese. Then, he got together a Funky Bunch and became Marky Mark, ordering people everywhere to feel the good vibrations. His most drastic turn, however, was when he entered the acting world and became a critically acclaimed actor, even getting nominated for a Golden Globe and Academy Award for Best Supporting actor in 2006's The Departed.
Black Eyed Peas
Originally starting out as a socially-conscious rap group from L.A., the Black Eyed Peas completely changed up their style in 2002 with the addition of pop singer Fergie. The group quickly decided that wondering where all the love in the world has gone to was not as important as humps and lovely lady lumps, and the party-starting, boom-boom-pow-ing Black Eyed Peas was born shortly thereafter.
Victoria Beckham  
The fact that we even call Victoria Beckham by her name instead of "Posh Spice" is enough proof that her reinvention was extremely successful. Beckham was originally the "meh" Spice of the Spice Girls, barely ever singing because she was too busy posing and pouting for the cameras. When the group broke up, it seemed highly unlikely that out of all the Spices, Posh would be the one to carve out a name for herself, but that's exactly what she did. Beckham has made a name for herself in the fashion world and has a lucrative and critically acclaimed fashion line. 
Skrillex  
Sonny Moore may sound like the name of a tough-talkin', chain-smokin' country star, but it's actually the birth name of one of the world's best-selling dubstep DJs. After doing a 3 year stint as the guitarist in an emo band called From First to Last, Moore released a few one-off songs before officially reinventing himself in 2010 with My Name Is Skrillex. The album took Skrillex in a completely different direction – from emo to dubstep – and almost overnight, Skrillex was opening for deadmau5 and winning Grammys left and right. Plus, The Skrillex has become a legitimate name for his oft-copied hairstyle, so in a weird way, the dude is also a fashion icon.
Drake  
For a lot of people, Drake will always be Wheelchair Jimmy from Degrassi: The Next Generation. The Canadian rapper originally started out as Aubrey Graham, playing basketball player James Brooks on the successful teen soap. In 2006, however, Drake released his first mixtape and started to garner buzz throughout the hip hop world. Famous before he was even signed to a label, Drake eventually signed with Lil Wayne's Young Money Entertainment and has been rapping and feuding his way to the top of the hip hop charts ever since.
Rihanna  
Rihanna is known for constantly changing up her looks, but her initial reinvention was the one that caught us by surprise the most. After constantly being touted by the music industry as the next Beyoncé, the fresh-faced Barbadian ensured that the whole world knew that she was totally over being sweet and poppy by chopping off her hair and calling her third album Good Girl Gone Bad. In case anyone was still confused, she ditched the hip huggers and bangles for hot pants and whips, and started to sing songs about S&M. Anyone still wondering where the good girl went?
Courtney Love 
Courtney Love has gone through a few major transformations in her life, but her most unexpected was when she played Larry Flynt's wife, Althea, in 1996's The People vs. Larry Flynt. Not only did she garner tons of critical acclaim and receive a Golden Globe nomination for her role, but she showed up to the the 1997 Oscars looking like a completely different person, dropping her trademark messy, punk garb for a white gown and polished makeup. Gone were the days of flashing crowds and crashing Madonna interviews – a new Courtney Love had been born. (It didn't last very long, but that's a different story.)
Katy Perry  
Katy Perry grew up in a religious home with Pentecostal pastors as parents, so it wasn't too surprising when she forayed into the music world as a Christian rock singer. What was surprising, though, was when she threw her old image out the window and instead kissed a girl and liked it so much that she had to sing a song about it. The once wholesome, blonde-haired-blue-eyed singer had turned into a raven-haired, ruby-lipped femme fatale-ish entertainer who dresses like Rainbow Brite and shoots whipped cream out of her boobs. 
More:
Celebrity Fashion Lines You Never Heard Of
The Best Rock Star Stage Names
Duets from Beyond the Grave
---
From Our Partners:


40 Most Revealing See-Through Red Carpet Looks (Vh1)


15 Stars Share Secrets of their Sex Lives (Celebuzz)