30 Years Ago Genesis Saw The Shape Of Things To Come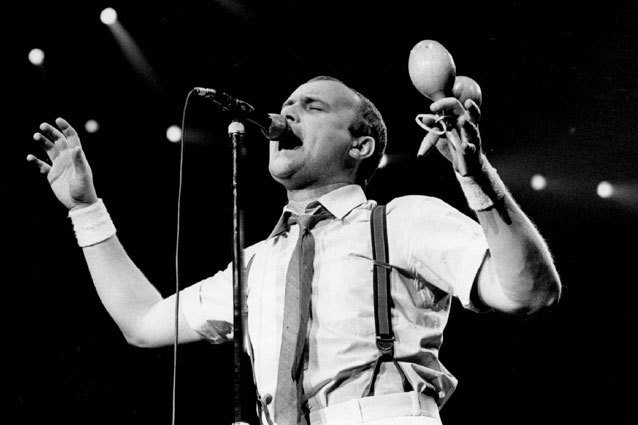 Getty Images
30 years ago next month, Genesis released an odd-looking album. Its cover just had a photo of shapes from a children's toy and was simply titled Genesis. It wasn't their first one either – they had been recording since the early '70s. Who knew that what was within would transform the band from one that could sell out arenas to one that could pack Wembley Stadium for three straight days?
The first hint was the first song from the album: "Mama." It was such a distinct difference from earlier Genesis singles, which had crept from prog rock into radio-friendly pop. But not even "Keep It Dark" from their previous album Abacab was this…dark. A harsh drum machine sound immediately assaulted your speakers and Phil Collins was singing in a low, angry voice. The video was even spookier and in the middle of the song, Collins utters a shrieking laugh that trails off with with a guttural sound. Imagine doing that on tour all the time? It'd kill one's vocal cords. I'm not surprised he lost vocal range later on in his career — it was probably recreating that noise during every gig that did it!
There's angst in the next song but it's covered up with Tony Banks' almost cheerful keyboard work. Phil kind of sing-speaks "That's All," a deceptively bouncy tune about a relationship that is so bad but also has so many good moments but the heartbreak outweighs the giddy bits, so that's why it has to end. It's still a radio staple today. 
The third song, though, was the one that became one of the group's must-plays: "Home By The Sea: Parts 1 & 2" hearkens back to their prog-rock roots with a two-part song that told a story. A story about ghosts. Collins often did a little audience-participation ritual before this song, having them hold their arms up in the air and attempt to levitate whatever place they were playing at above the ground. It was a great song, a bit foreboding, and had a fantastic second half that was almost all instrumental save for a slowed-down refrain from the first half of the song. Collins really does great drum work in this song.
Then there is the next one, which might have problems being recorded today: "Illegal Alien." Here, Collins takes on a bit of a stereotypical Latino accent as he sings about people who want to immigrate illegally. The video didn't exactly break sensitivity records either…especially with Collins' wig! The final four songs weren't as well-known: "Taking It All Too Hard," "Just A Job To Do," "Silver Rainbow" and "It's Gonna Get Better." I do find myself pleasantly surprised hearing them on radio or if a TV show uses one for background music. It was this album and the subsequent one, Invisible Touch, that catapulted Genesis into the stratosphere. I listen to both of them regularly, but I still bristle when I hear them called classic rock.
More:
Tony Hale Deserved 7 Emmys For His Work As Buster Bluth
What Was Up With The Crappy Green Scren Work in The Series Finale of 'Dexter'?
Live Vicariously Through The Best Celebrity Instagrams
---
From Our Partners:


40 Most Revealing See-Through Red Carpet Looks (Vh1)


15 Stars Share Secrets of their Sex Lives (Celebuzz)