5 Grand Romantic Movie Gestures for Robin Thicke to Try
If movies have taught us anything, it's that the best way to apologize to your significant other is through a grand romantic gesture, and nobody in Hollywood seems to have taken that lesson to heart more than Robin Thicke. When it came time for R&B's smoothest white boy to plan his performance at Sunday night's Billboard Music Awards, he decided to drop the theatrics and instead delivered a heartfelt ballad – appropriately titled "Get Her Back" – in an attempt to win back his estranged wife, Paula Patton. 
Unfortunately, just because something looks romantic onscreen, that doesn't mean it will necessarily translate to real life, and instead of being the heartwarming, dramatic moment that he hoped for, it came off as just another performance of a treacly love song. Though he gets points for using his minimalist stage design and choreography to highlight how heartfelt his plea was, a real grand romantic gesture needs to be a bit more cinematic. In order to help Thicke step up his game, we've put him in the shoes of some of the most romantic moments in movie history. Don't be surprised if Thicke's next awards show appearance just involves him holding a boom box over his head. 
Say Anything 

Hollywood.com/20th Century Fox/Getty Images
Taking a page out of Lloyd Dobler's book, Thicke could stand outside of Patton's home holding a boombox over his head so that she understands how much she means to him. As long as he remembers that just because "Blurred Lines" was the song of the summer, it's not particularly romantic.
10 Things I Hate About You 

Hollywood.com/Buena Vista via Everett Collection/Getty Images
Thicke's performance was missing two crucial ingredients that made Heath Ledger's soccer field serenade so memorable: charmingly terrible dance moves and a head of hair that flowed gloriously in the breeze. Or, at the very least, he could have thrown some trumpets in there. 
The Notebook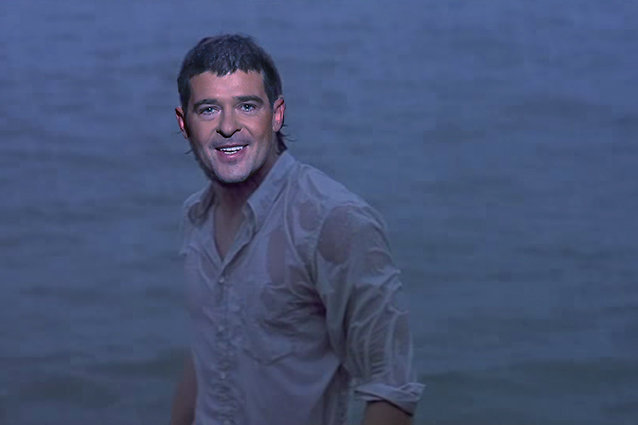 Hollywood.com/New Line/Getty Images
As Ryan Gosling proved, sometimes all you need to prove your devotion is some rain and a year's worth of romantic letters, so maybe Thicke would be better off writing down his apology songs instead of releasing them as singles. He would win back Patton, and we would get a break from having to hear him on every single radio station. 
The Wedding Singer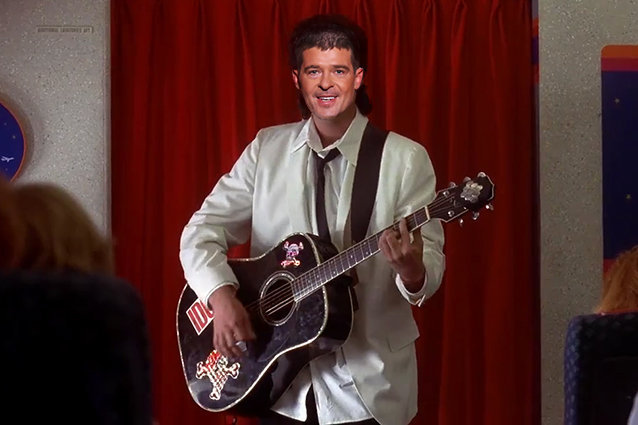 Hollywood.com/New Line/Getty Images
It may have come from a cheesy comedy, but somehow "I Want to Grow Old With You" is a better love song than anything Thicke has come out with in the last five years. Although we could easily see Thicke rocking a white suit. 
The Graduate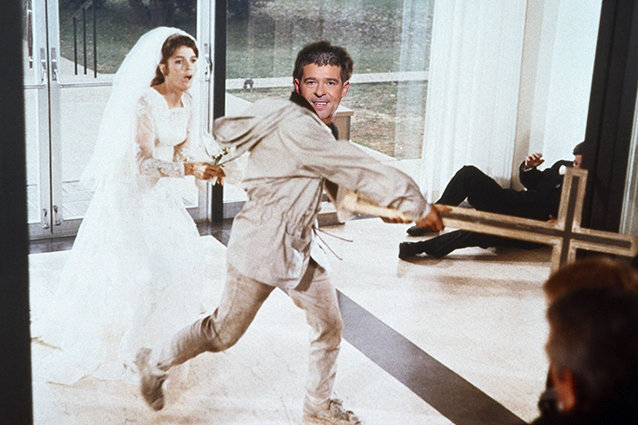 Hollywood.com/Embassy Pictures/United Artists/Getty Images
Crashing a wedding is the ultimate romantic movie gesture, but since Thicke seems to prefer making his big gestures at awards shows, the Oscars producers should probably be wary about asking Patton to present next year.