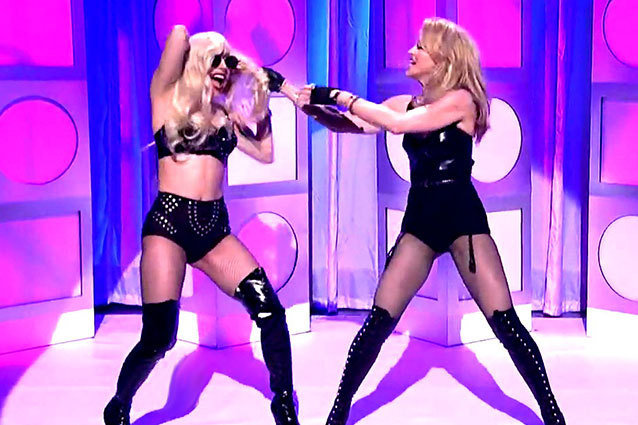 NBC
Music feuds have been going on since the beginning of music itself. It wouldn't be too far of a stretch to assume that Beethoven and Weber side-eyed each other constantly and Bach and Handel might've wanted to throw down, while Chopin thought all those fools were amateurs. One thing that's for sure is that in an industry made up of huge talent and even huger egos, personalities are bound to clash, and the result is a global high school where the popular kids love to publicly ream each other out. While some egos don't ever play well with others and are constantly fighting 10 people at a time (i.e. Chris Brown and Nicki Minaj), other celebs manage to put the blast behind them and actually grow up. Here are some super memorable and/or surprising music feuds that had us reaching for the popcorn.
Madonna vs Lady Gaga
It's no secret that the Lady Gaga machine is derived from just about every eccentric and original artist in the pop and art world, but Madonna was her foremost adversary. It's not that Madonna is completely original herself, but what makes her stand out from other pop stars that copy her is that she always had a reason behind everything that she did and articulated those reasons well. Madonna is at her best when she's throwing shade, and shade did she throw at her 2012 MDNA tour. While performing "Express Yourself," Madonna made clear what everyone was thinking and melded Gaga's "Born This Way" into her song, making the obvious similarities even more blatant. Dumping another 5 pounds of salt into Gaga's wound, Madonna commented on "Born This Way" by stating, "What a wonderful way to redo my song." Oh, Madonna – condescension is thy name.
Oasis vs Blur
Oasis' Gallagher brothers are 2 of the most outspoken (and, let's face it, hilarious) celebrities in music. In the mid-90s, Oasis and Blur were at the top of their game, so it's no surprise that some beef got cooked between the 2 bands. The upper-class, mod-ish Blur released "Country House" in 1995, only to have it go head-to-head with "Roll With It" by the ever-drunk, rowdy Oasis. Perpetuating the feud, Noel Gallagher famously stated that he wished Blur singer Damon Albarn and bassist Alex James would "get AIDS and die." Though the feud cooled off as the years went by, the crowning, happy-ending moment of rock-stars-all-growed-up came earlier this year, when Gallgher got Albarn and Blur guitarist Graham Coxon to join him onstage at a charity show at London's Royal Albert Hall, which is basically the equivalent of peace in the Middle East in the Britpop world.
Tupac vs Biggie
While this music feud didn't exactly have us reaching for the confections, it's probably the most notorious (no pun intended) feud in music's history, namely because both dudes got murdered.  In the mid-90s, gangsta rap was at its peak, and after the 1994 robbery and shooting of Tupac (which Tupac blamed Biggie for), the rap game changed for good. Tupac's once optimistic and socially-conscious style turned into a darker, more bitter image, rife with themes of violence and revenge. Tupac was eventually slain in September 1996 in Las Vegas, and Biggie was murdered less than a year later in a drive-by shooting. And yes, both murders are still unsolved.
Kid Rock vs Tommy Lee
Ahhhh… middle-aged trashy drama. Kid Rock and Tommy Lee have so much in common that it would seem as though they'd be best friends. Instead, they ended up going at each other's throats, all for the delicate flower that is Pamela Anderson. Kid Rock started dating Lee's ex-wife in 2001 and though Anderson became Rock's ex-wife as well shortly after, the tension between Rock and Lee didn't die down. Conflicts boiled over at the 2007 MTV VMAS, with Rock apparently hearing Lee talk smack about him to P. Diddy. Rock walked over to Lee and slapped him, initiating a rocker brawl for the ages. Lee responded to the incident on his website, calling Rock "Kid Pebbles" and a "no career havin' country bumpkin." Apparently, the 2 rockers are friends now. But will somebody think about Pamela?!
Eminem vs Mariah Carey
This feud was surprising mostly because it was so unbelievably random. Apparently, the 2 megastars had hooked up to discuss songwriting for Carey's 2001 album Charmbracelet, and although nothing came out of it musically, reports began to surface that the 2 were dating. For the next 8 years, the 2 kept exchanging barbs at each other, some subtle, some not-so-subtle. Eminem mentions Carey in at least 5 songs, while Carey kept quiet for the most part until 2009's "Obsessed." The weird thing is that Eminem seems to be pissed that Carey won't acknowledge that they had a relationship, since she's constantly acting as though they barely even hung out. Seriously, dude? You're the best-selling rapper in the world and it's been over 10 years – get over it.
Dave Grohl vs Courtney Love
Foo Fighters' Dave Grohl and everyone's favorite hot mess Courtney Love have never exactly been best friends, but sh*t got real in the last few years, with Love making a slew of allegations against Grohl. Since Kurt Cobain's suicide in 1994, the two rockers have been fighting over Nirvana royalties and the use of Cobain's image, but by 2012, Love had alleged that Grohl stole her money, was hated by Cobain, had a "gay" band, and had hit on Cobain and Love's daughter. For the most part, Grohl took the high road (at least in public) and decided he'd rather tear her a new one through his songs. Just for the entertainment factor of Love's psycho ramblings and the kickass music Grohl comes up with when he's dissing her, this is one music feud that's genuinely entertaining.
Axl Rose vs The World
Axl Rose basically hates everyone and we could make a list of his own top 10 feuds. He's beefed with everyone from the Offspring, Motley Crue, Metallica, Nirvana, Slash, his own band, and even Tommy Hilfiger. And all of that doesn't even take into account how many riots have been started because Rose couldn't be bothered to finish (or start) his live sets and walked off stage instead. Rose solidified his douchiness in 2012 when the band was inducted into the Rock and Roll Hall of Fame. Releasing an open letter for Guns N' Roses fans, the hall and "To Whom It May Concern," Rose stated that there was no way in hell that he was going to come down for a band reunion and he doesn't care what anyone has to say about that. According to him, "there isn't room to consider a conversation let alone a reunion." Ouch. But way to flip off the world!
More:
Sigur Ros Joins 'Game of Thrones'
Fleetwood Mac Before Buckingham Nicks
Are You There Fans? It's Me, Azealia
---
From Our Partners:


40 Most Revealing See-Through Red Carpet Looks (Vh1)


15 Stars Share Secrets of their Sex Lives (Celebuzz)