9 Celebs' Desperate Attempts to Stay Famous
Hollywood is a cruel world of glitz and glam. It's a place that loves to build you up and tear you back down, and for some folks, the only way to stay afloat is to take whatever ungodly, unbecoming, silly, derivative, potentially aimed at over sugared kids, and often desperate roles they can find. There's a landscape rich with tales of celebs' desperation to stay in the spotlight, but these are just a few of our favorites.

1. Heather Graham in Judy Moody and the Not Bummer Summer
Former reputation: After her role as Felicity Shagwell in 1999's Austin Powers: The Spy Who Shagged Me, Graham became known as nothing less than a bonafide hottie. Men wanted her, women wanted to be her, but her career hasn't been so kind, and aside from that cameo in The Hangover, she's virtually disappeared.
Desperate move: She stars as the super cool, fun aunt in Judy Moody and The Not Bummer Summer. She's gone from bouncing around in tiny outfits to helping am 8-year-old cross fun things off her summer to-do list.

2. Jennifer Love Hewitt in Everything, but Specifically Garfield
Former reputation: She's another fallen hottie. Best known for things like Party of Five and I Know What You Did Last Summer, Hewitt has since lost the title and picked up an awful nickname that even I think is just a little too mean (not to mention, wildly uncreative): Jennifer Love Desperate.
Desperate move: Well, everything since about 2000 could fall into this category, but I think it all went downhill when she did Garfield. Yes, as in the 2004 half-animated "comedy" wherein Bill Murray tried desperately to kill his career.

3. Brendan Fraser in Furry Vengeance
Former reputation: He was a golden boy of sorts. Audiences loves him and his abs in George of the Jungle which allowed him to star in a slew of throwaway comedies before scoring the series we know him best for: The Mummy and its sequels.
Desperate move: Suddenly, Fraser disappeared off the face of the planet (perhaps because he kept insisting that everyone pronounce his name a certain way when he should have just been grateful we were pronouncing it at all), and just as suddenly he popped back up in a little ol' movie called Furry Vengeance as a developed plagued by animals because he's trying to destroy the environment. This does entail a port-a-potty stunt. I think you get the idea.

4. Dwayne "The Rock Johnson in Tooth Fairy
Former reputation: There was a time when Dwayne Johnson was somewhat of a badass. Granted, all his badassiest moments are in terrible movies like The Scorpion King or they take place in a very staged wrestling ring, but still, he was mean, angry and audiences loved him for it.
Desperate move: Who knows why he did it, because he can clearly still get work as an oversized buff guy in things like Fast Five and The Other Guys. Instead, he put on fuzzy wings, went by a title with the word Fairy in it and listened to Julie Andrews and now that's all I can think about when he's walking around with a lead pipe in his hand.

5. Hilary Duff in Gossip Girl
Former reputation: She was a teen queen, and she was the good one (nothing like that Lindsay Lohan train wreck). She starred in all the cutesiest pre-teen movies, made every little girl want to be like Lizzie Maguire and even recorded an album.
Desperate move: With her firm hold on the teen market slipping – as these things tend to go – and her age pushing her firmly out of that realm, Duff had to do something, anything to stay relevant. So she went on Gossip Girl, but that's not even the worst part. She went on Gossip Girl to play a hyped version of herself mixed with Kristen Stewart and her character participated in a threesome with her boyfriend and his best friend. If you're looking for desperate, this is it.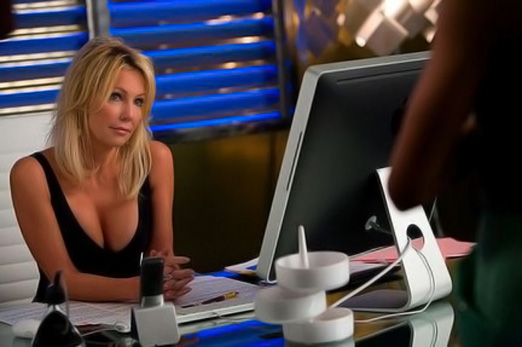 6. Heather Locklear in Melrose Place (Redux 2009)
Former reputation: As Amanda Woodward on Melrose Place back in the 1990s, Locklear solidified her rep as an incredibly sexy mega bitch, and it served her well until about 2001.
Desperate move: Finding that nothing else seemed to be working, Locklear returned right back to square one: Melrose Place. Only this time, it was on a CW reboot with an all new cast that only made her look even more desperate. Oh, and did I mention it didn't even make it past its first season?

7. Paris Hilton in The World According to Paris
Former reputation: Well, her reputation has never been good – she rose to fame for that infamous sex tape – but her fame has been higher before. She's the reason half of America lost their brain cells in the first decade of the new millennium. It took some people a while to learn than "That's hot" is not an acceptable response to anything. While we're at it, let's go ahead and blame her for tiny, ugly dogs in purses, too much pink, and skirts that refuse to actual cover girls' asses.
Desperate move: The World According to Paris is her attempt to stay famous now that she's 30 and most of America has seen the error of their ways and her attempt to "set the record straight." All we're learning is that wisdom does not come with age and personally, I've got a theory that that much pink kills brain cells (but you know, it could be that illegal white powder she keeps in empty Chapstick tubes).

8. Cuba Gooding Jr. in Snow Dogs
Former reputation: He was Cuba Gooding Jr. (bear with me), an Oscar-winner, the man who asked us to show him the money in Jerry Maguire, the one who made us laugh in a little Oscar-winning film called As Good As It Gets, the one who was a serious actor on the rise.
Desperate move: Then he wasn't. And as if he had no hope of every returning to those days of glory, he took on Snow Dogs. There are literally six dogs with bigger pictures than Cuba on the poster for this movie. Oh, and then there's the part about how it was absolutely awful.

9. Frankie Muniz in Agent Cody Banks Series
Former reputation: He made us laugh as Malcolm from Malcolm in the Middle. We loved that tortured little rascal, then suddenly, the show was over and no one cared anymore.
Desperate move: Muniz wasn't willing to just disappear. He even made some effort preemptively, before the show ended. He tried that terrible movie with Amanda Bynes, but Paul Giamati was in it, so we'll give him a pass. The really awful move came when he not only made Agent Cody Banks, but he made Agent Cody Banks 2: Destination London. Honestly, I don't know what else he could have done, because for me it's Malcolm or bust.