When Actors Find Out About Shipping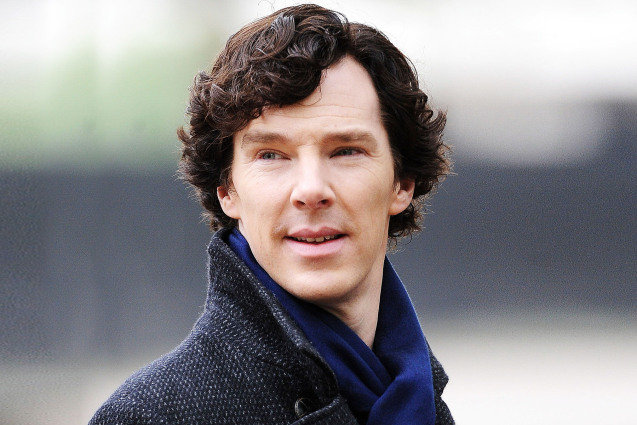 FameFlynet
The jig, she is up.
Celebrities are now disturbingly savvy to what fans are getting up to on the internet. The more mainstream fandom culture becomes, the greater the chances are that actors in fandom-bait shows and movies will come into contact with fan fiction, fan art, and, of course, "shipping."
"Shipping," for those not active on the Supernatural Tumblr tag, is taken from the word "relationship" and refers to fans attempting to get two (or more, why not?) characters together through sheer force of will. How do celebrities feel when they find out how, um, passionate their devotees are about their characters romantic destinies? Here are five case studies.
Benedict thinks it's "cool."
There's no shortage of well-read Sherlock superfans, so it isn't surprising that Benedict Cumberbatch told MTV that he's "impressed" with the quality of the work inspired by the show and by the ambiguous friendship between Holmes and Watson.

Inglourious and In flagrante delicto.
Oh No They Didn't caught Inglourious Basterds star Eli Roth tweeting to director Quentin Tarantino about some NC-17-rated writing about his characters. He even gave internet writers a heads up before he did so, so they could add their work to the pile. 
Love for Klaine fans
Glee star Chris Colfer is so flattered by the attention his character Kurt receives in fan fic that he shouted out the amateur writers on stage when he accepted his People's Choice Award this year.
Andy Cohen has to make it awkward.
During their appearances on Watch What Happens Live, Andy had Daniel Radcliffe and Ralph Fiennes perform dramatic readings of some Harry/Ron and, gulp, Harry/Voldemort romantic interludes. Points to both Harry Potter stars for doing so with a maximum of gusto and a minimum of embarrassment.
Mark Ruffalo supports "Science Bros"!
But perhaps the most satisfying "ship" reaction of them all was Mark Ruffalo's response to "Science Bros," the deceptively innocent nickname for the perceived attraction between Bruce Banner and Tony Stark. Ruffalo told Vulture that it was "awesome," "cute," and that he "endorses it 100%." And the fangirls and boys go wild.
More:
Danny Castellano is Pretty Much the Dreamiest
Test Audiences Doing Their Best to Ruin 'August: Osage County'
How Cute Will the Paddington Bear Movie Be? Colin Firth Cute!
---
From Our Partners:


40 Most Revealing See-Through Red Carpet Looks (Vh1)


15 Stars Share Secrets of their Sex Lives (Celebuzz)