9 Actors Who Are Surprisingly Good Musicians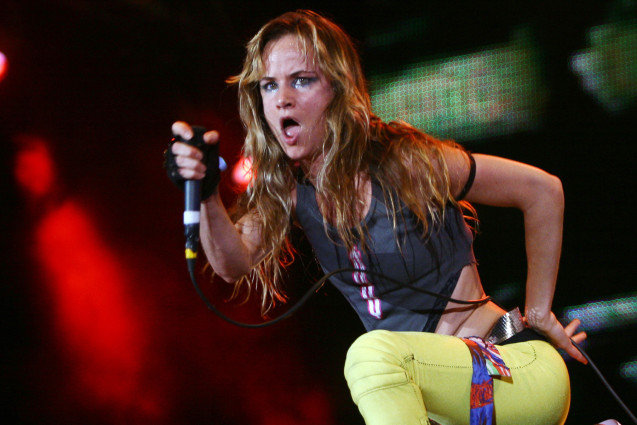 Goran Sivacki / WENN
It can be hard to take an actor seriously when he or she decides to switch gears and become a musician. Even the Real Housewives have opted to release songs available exclusively on iTunes. However, every so often, an actor or celebrity will shock you with their ability to hold a tune or at least produce a booty-shaking song.
This August: Osage County star has been acting since she was a child. However, in 2003 she formed the band Julliette & the Licks and proved that she also had music in her soul. The band captured '70s rock, '80s punk, and '90s alternative into a neat little package. The band broke up in 2009, but Lewis went on to released an additional solo album. Although her fame comes primarily from her roles in films like Natural Born Killers, Lewis has proven herself a part of rock music with multiple successful tours and albums.
Murphy was a gifted actress who we'll always remember for films like Clueless, 8 Mile, and Sin City, but she tried her had at a few forays into music as well. Murphy sang vocals on Paul Oakenfold's "Faster Kill Pussycat," which became an international dance hit. She also sang some songs on the Happy Feet, soundtrack including Queen's "Somebody to Love" and Earth, Wind & Fire's "Boogie Wonderland." There's no telling that had Murphy had the chance she would have released her own album and found success in the world of music.
McGowan is not the first person you'd think about when you think of music, though she did have a short engagement to Marilyn Manson. However, she has released a few songs. She provided vocals for the dance song "Superfabulous" by BT. She also sang in an episode of Charmed and a few songs for the Planet Terror soundtrack. Like her Bettie Page looks, her throaty soft voice is a throwback to days past.
Meester ruled television as teen fashion icon Blair Waldorf on Gossip Girl. However, she has the potential to rule the music charts too. Although she hasn't released her own album she has produced some pretty amazing songs. She sang "Somebody to Love" with a pre-"Blurred Lines" Robin Thicke. She also sang on the Cobra Starship song "Good Girls Go Bad." She also sang her own songs for the film Country Strong.
Before Osbourne became the fashion icon on Fashion Police and after her punky album Shut Up, Osbourne released Sleeping in the Nothing. It offered a more thoughtful, and on-trend electroclash style. She proved herself to be a viable musician with the song "One Word."
Banks' attempts at acting and television hosting may be questionable. However, in Season 2 of America's Next Top Model she premiered a song that was so painfully catchy that it's a wonder that she never released an album. Seriously… Tyra lasted painfully long but her music career lasted just one episode. As you can see, her singing voice is way better than her ability to ask serious questions.
Ali made a name for herself as the plucky daughter Ashley on Fresh Prince of Bel Air. She shattered her child star image with a run as a sexy R&B singer. Her album Kiss the Sky has proven that she's a legitimate R&B songstress.
Sagal has had a ton of success on television with multiple successful series. Before her days as Peg Bundy, Sagal began her career as a singer and sang back-up for Bette Midler, Tanya Tucker, and Bob Dylan. She has also released two albums Well… and Room. She's proven that not only does she have the golden touch with comedy, she has an amazing singing voice.
Leto has found a ton of notoriety with Dallas Buyers Club. He has proven himself an actor and a heartrhob, but he's also the face of his well known band 30 Seconds to Mars. The multi-talented figure has a rocking voice that had led his band to notable success.