Watch Spike Jonze and Greta Gerwig Get Wonderfully Goofy with Arcade Fire's New 'Afterlife' Video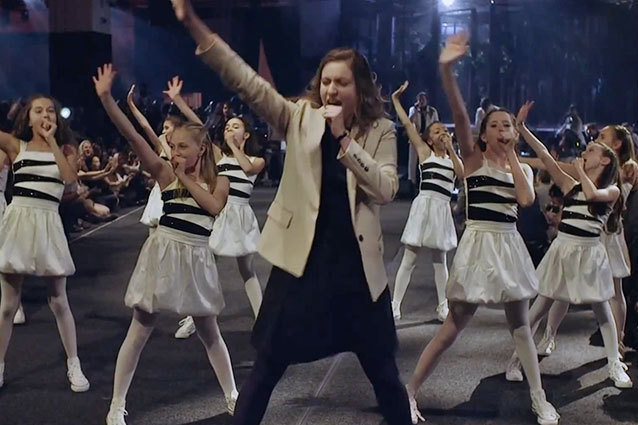 YouTube Spotlight/YouTube
Did you see Spike Jonze's adaptation of Where the Wild Things Are — a feature length adaptation of a 300-word children's book, wherein pre-teen Max retreats to the fantastical realms of his imagination and rules a kingdom of behemoth monster friends?
Did you see Greta Gerwig's breakout vehicle Frances Ha — a ballad about the destructive tendencies of a 27-year-old Brooklynite who couch surfs, spends money she doesn't have, commits to a career in dance, and can't figure out why things aren't sticking together for her?
Admittedly, both sound kind of… goofy. And that might also be the word that springs to mind when you watch Gerwig jerking sporadically to the reverbs of Arcade Fire's "Afterlife" in the below music video for the song, directed by filmmaker Jonze.
Negative connotations aside, there's a time and a place for goofy. Goofy finds itself fitting snugly in the mind of a dejected young boy who seeks hospice in imaginary creatures when he feels rejected by his mom, sister, and self. Goofy can't help but seep from the pores of a pushing-30 dreamer cemented in her adolescent ideas of possibility and friendship. And goofy is, and very well should be, a sentiment called to mind when a young woman enduring some semblance of romantic heartbreak explodes into choreographed mania through the hallways of her apartment building, the snowy woodlands of a Narnia-like fantasy land, and the stage of an awards show. That's practically the capital of goofy.
So you can shrug off Jonze's Wild Things, Gerwig's Frances Ha, or this new "Afterlife" video from the both of them and artist Arcade Fire for their veneer of goofiness. But you'll be missing something altogether earnest, temperate, and fun in each of these sparkling projects.
Enjoy the video — and never be afraid to go full on goofy. (Okay, I'll stop saying that word now.)