Alex Trebek Suffers Heart Attack on Day of 'Jeopardy' Emmy Win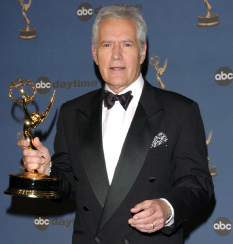 Legendary Jeopardy host Alex Trebek was rushed to Cedars-Sinai Medical Center in LA on Saturday after suffering his second "mild heart attack" in five years. That same night, Jeopardy took home the Emmy Award for Outstanding Game/Audience Participation Show. 
But his studio, Sony Pictures Television, has high hopes for a full recovery. 
In a statement released Sunday, Sony said: "Trebek is in good spirits and is currently under observation and undergoing further testing. He is expected to fully recover and be back at Jeopardy! when production begins taping in July for the new season, the show's 29th."
Here's to a speedy recovery!