'Mad Men' Adulterers Alexis Bledel and Vincent Kartheiser Engaged — In Real Life!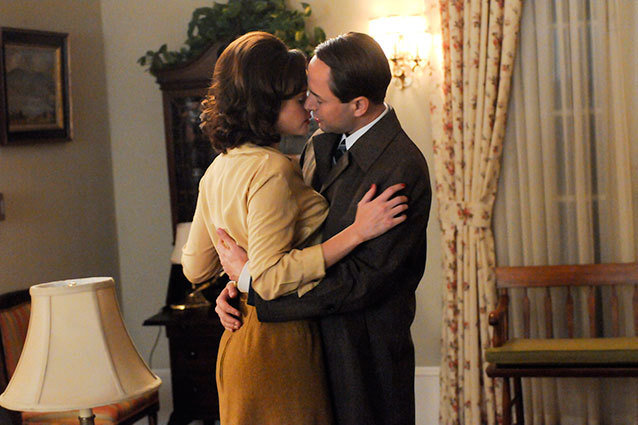 Romance isn't like it was back in the 1960s, the good ol' days when a top-of-his-game adman would dress to the nines to court the tittering diner waitress who got his coffee and stole his heart — that soft-spoken lass who'd have a roast ready the moment he'd stumble in from drinks with the fellas — or an occasional twilight romp with the boss' secretary. Yes, it was a better time. But there's one couple who looks to bring that sort of passion back from the dead: Alexis Bledel and Vincent Kartheiser, whose onscreen extramarital tryst was one of the zestiest elements of Mad Men's fifth season, are now engaged, as Hollywood.com has confirmed with Kartheiser's reps.
Kartheiser, the AMC drama's reliable cretin Pete Cambell, welcomed the unhappily married Beth Dawes (Bledel, otherwise known best as Gilmore Girls' Rory) into his jagged embrace in an engrossing arc on the most recent season of Mad Men. Pete and Beth evaded their unknowing spouses, dodged the call of their own consciences, and thrust cacophony into every conceivable element of their lifestyles, all to be together… meaning that Bledel and Kartheiser are going to have to keep a watchful eye on one another.
RELATED: 'Mad Men' Season 6 Party Scenes: What Do They Mean?
While we firmly believe that Pete and Rory are destined for a long and happy life together, there's no denying that in this post-'60s America, love is a difficult thing to maintain — especially in Hollywood. So if the pair is going to make it work, they'll need to be vigilant. Compassionate, supportive, compromising… and totally on top of all the signs that the other might be cheating. Luckily, their Mad Men material should give them a bit of an edge here…
Alexis, if Vincent makes a habit of giving rides home to the stranded wives of fellow commuters, keep watch. His intentions might be good, but as we learned from Pete and Beth, it's bound to amount to something more.
Vincent, if Alexis experiences sudden bouts of "amnesia," denying memory of recent periods of time, she's probably just holing up in denial over having just slept with a Madison Avenue account executive.
Alexis, if Vincent starts smashing champagne glasses in public places, you might want to assume he's frustrated over being stood up by a desired mistress.
Vincent, if Alexis begins acting strangely when you invite a friend to have dinner with the two of you, there's likely some funny business going on between the two of them.
RELATED: 'Mad Men' Season 6 Poster: Whose Hand Is Don Holding?
Alexis, if Vincent starts haphazardly fighting with some guy on the train home from work, there's a good chance he's shtupping the man's wife.
Vincent, if Alexis decides to stay with her sister for an extended period of time, you could be wise to assume that there's a cuckholding underway.
Alexis, if Vincent breaks the news that he wants to get a second apartment in Manhattan, it's not too farfetched that he's knee deep in an affaire de coeur.
And finally, Vincent. If Alexis gets electroshock therapy to relinquish herself of conscious thought and erase all of the memories that anchor her into the swamps of dejection… well, you've got a whole mess of problems. And one of 'em might be the milk man.
But if none of that's going on, then you guys have got a blessed union! Congratulations, Pete and Rory!
Follow Michael Arbeiter on Twitter @MichaelArbeiter
[Photo Credit: AMC]
---
You Might Also Like:


15 Oscar-Winning Nude Scenes


Young Jack Black Is Totally Unrecognizable