The Prestigious Celebrities of the ALS Ice Bucket Challenge
YouTube/The Tonight Show Starring Jimmy Fallon
Just three weeks in production, the ALS Ice Bucket Challenge has raked in more than $15 million — this puts it ahead of the latest YA release The Giver as the eighth highest grossing property this month. But trouncing that Jeff Bridges/Brenton Thwaites travesty by nearly $3 million is only the second most noble of the Ice Bucket Challenge's efforts. The movement is allotting nigh unparalleled funds toward the study of amyotrophic lateral sclerosis, an illness known best as Lou Gehrig's Disease.
The condition observes the weakening of the muscles in accordance with a degeneration of a specific portion of the spinal cord. As a result of ALS, those afflicted find difficulty speaking, swallowing, breathing, and moving altogether.
Though discovered in the 19th century and brought to infamy in the late 1930s in accordance with the suffering of beloved New York Yankee Lou Gehrig, ALS remains the most common motor neuron disease actively plaguing men and women today. While perhaps only a small measure in the fight against the illness, the Ice Bucket Challenge is allowing for tremendous progress in the collection of funds devoted to the defeat of such a longstanding travesty.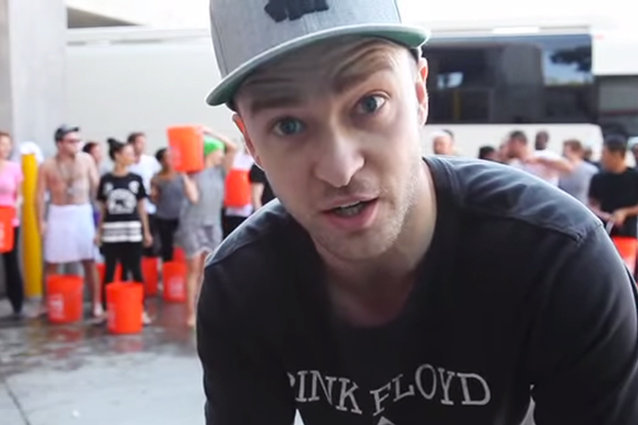 YouTube/JustinTimberlake
As is inevitable with any cause célèbre or public movement, we have witnesses no small share of backlash against the Challenge; critics decry the endeavor as a bandwagon trend and a waste of time that offers no real benefit to the cause in question. As far as the latter goes, the $15 million and counting — a sum made possible thanks in large part to the spirited, sportsmanly brand with which the Ice Bucket Challenge was designed — would beg to differ. Nevertheless, we find those with a sour taste for the charitable phenomenon. Not to mention those who simply don't want to pour a bunch of cold water over their heads. But if you find yourself a culprit of this mindset, maybe take a look at the pedigree of the company you'd be joining were you to hop aboard for this particularly frigid mitzvah.
So what pop culture accomplishments can be attributed to the community of water-logged philanthropists?
5 ACADEMY AWARDS 
Between Steven Spielberg (3), Russell Crowe (1), and Oprah (a Humanitarian Oscar).
60 EMMYS
Between Oprah (13 Daytime Emmys and 2 Primetime Emmys), Steven Spielberg (11), Meredith Vieira (4 News/Documentary Emmys and 3 Daytime Emmys), Jimmy Fallon (4), Justin Timberlake (4), J.J. Abrams (3), Conan O'Brien (3), Jim Parsons (3), Ricky Gervais (2), William Shatner (2), Harry Connick Jr. (2), Rachel Maddow (1), Ryan Seacrest (1), Nathan Fillion (1 Daytime Emmy), and Topher Grace (1 Daytime Emmy).
62 GRAMMYS
Justin Timberlake (9), Taylor Swift (7), Carrie Underwood (6), Lady Gaga (5), Mackelmore (4), Lil Wayne (4), Keith Urban (4), Weird Al Yankovic (3), Gwen Stefani (3), Ludacris (3), Brad Paisley (3), Adam Levine (3), Harry Connick Jr (3), Jason Mraz (2), Drake (1), Jimmy Fallon (1), and Calvin Harris (1).
10 GOLDEN GLOBES
Steven Spielberg (7), Russell Crowe (1), William Shatner (1), and Don Johnson (1).