Amy Poehler and Billy Eichner Scream Christmas Carols at Strangers In 'Billy on the Street'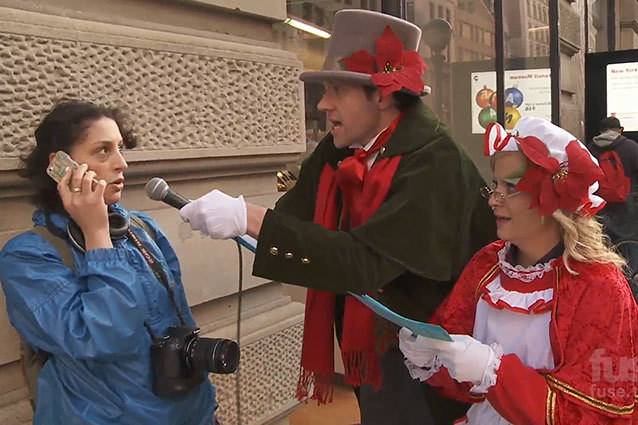 FuseTV
Amy Poehler is generally considered to be one of the most optimistic and upbeat people working in Hollywood today. Therefore it makes sense that she would view the holiday season as the perfect opportunity to spread some good will, holiday cheer, and complete mayhem by teaming up with comedian Billy Eichner to scream Christmas carols in strangers' faces for his show, Funny or Die's Billy on the Street. Dressed as carolers form the 1900s, Poehler and Eicher, armed only with a microphone and plenty of jokes, approached random pedestrians and promised them a dollar if they could sing the next line of a classic holiday tune. It's all of the joy of Christmas, but at the highest volume the human voice can muster. 
It's not much of a surprise that many people struggled with this seemingly simple task. After all, the shock of having a camera and a microphone shoved into your face while America's favorite funny lady sings to you is bound to make anyone forget the words to "Deck The Halls." No, the real surprise of this Billy on the Street clip is how many people turned down the chance to sing with Poehler. It's hard to imagine that anyone would want to give up what is, frankly, the opportunity of a lifetime, even if they were in the middle of an important phone call. In fact, the only person who reacted properly to the Poehler's presence was a guy called Tom, who articulated everyone's feelings when he threw his hands in the air in delight and screamed "It is Amy!" 
Despite Tom's excitement, the best segment of the video occurs when a delivery man tells Eichner that he doesn't recognize Poehler at all. Her brilliant response is to star him down, and declare "You know me!" while Eichner rattles off all of her credits. Well, that and Eichner's hilarious reaction to a baby named Arrow. Apparently, if you want your kid to appear on Billy On The Street, you better first make sure that Eichner approves of their name. 
You can get into the Christmas spirit yourself by watching the hilarious clip, below, or catch the new season of Funny Or Die's Billy on the Street when it premieres on Fuse on March 12. Poehler, meanwhile, can next be seen hosting the 2014 Golden Globes with Tina Fey on January 12, where she will hopefully pick up a trophy for either herself or her show, Parks and Recreation.