Amy Winehouse's Ex-Husband Blake Fielder-Civil Is on Life Support — REPORT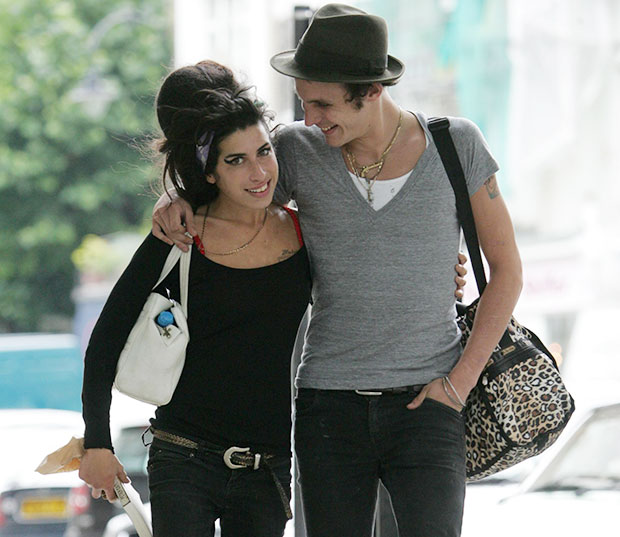 Just over a year ago, the fans and members of the music industry mourned the death of 27-year-old R&B, soul, and jazz singer Amy Winehouse, who, according to the coroner, died from the "unintended consequence" of consuming too much alcohol. And now, the singer's ex-husband, Blake Fielder-Civil, 30, is battling for is own life. Fielder-Civil, a former video production assistant, is on life support in a U.K. hospital in Dewsbury, West Yorks, after reportedly suffering multiple organ failures from the consumption of alcohol and drugs, according to the U.K. paper The Sun.
According to The Sun, Fielder-Civil was found choking in his bed on Thursday after a drinking session before he was rushed to the hospital. Sarah Aspin, the mother of Fielder-Civil's 15-month-old son, said that doctors placed him in an induced coma. "The doctors say they don't know the prognosis," she said. "They said they put him in a coma to help him and due to infection."
"I'm praying he'll survive, but I'm having to prepare myself that he may never wake up," Aspin added. Reports suggest that Fielder-Civil had an on-going battle with drug addiction and had recently been spending time behind bars for a jail sentence.
Winehouse's dad, Mitch Winehouse, took to Twitter to ask Amy's fans to pray for Fielder-Civil's recovery. "Terrible news about Blake this morning," he posted. "Remember Amy loved him. Let's pray for his recovery. Mitch"
And on Friday morning, Mitch Winehouse updated fans: "It looks like Blake is going to get through this. That's good news. Mitch"
Follow Lindsey on Twitter @LDiMat.
[Photo Credit: Wenn.com]
More:
Final Amy Winehouse Album Due in December