It's Time We Talk About Ariana Grande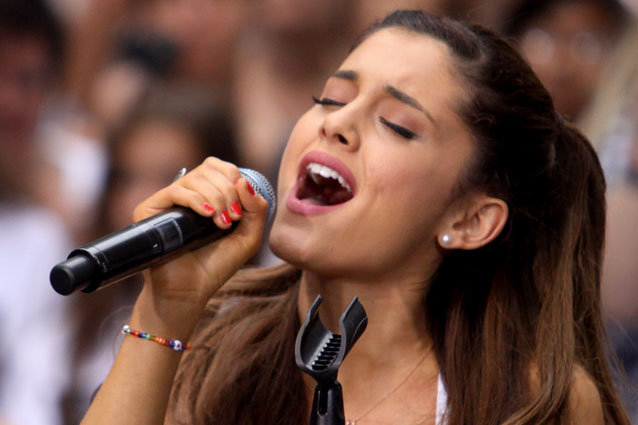 WENN
Ariana Grande, the 20-year-old pint-sized beauty with a powerhouse voice, debuted her first album, Yours Truly, at No. 1 on the Billboard 200 — causing grownups across the nation to scratch their heads. Who the heck is this little lady and where did she come from? Luckily for the olds, teenagers have known all about Ms. Grande for a long, long time (like, three years, at least). Here's what you need to know, in a nutshell, to get all caught up:
1. Grande made her professional acting debut in 2008 when she was cast in 13: The Musical on Broadway when she was 15 years old. 
2. Grande first appeared on the Nickeleon show Victorious — which is about a performing arts high school — in 2010 as total airhead Cat Valentine. She had red hair and an annoying baby voice. 
3. While the star of the show was Victoria Justice, it quickly became clear that Grande was the fan favorite. And pretty dang talented to boot. 
4. As Victorious started to fizzle, Grande began to slowly release her original music. Her first single, "Put Your Hearts Up," was released in May of 2012 and is incredibly cutesy. When Grande is being herself she has auburn hair. 
5. She prefers to dress like an ice capades star slash slutty '50s housewife whenever possible. See Exhibits A, B, and C. 
6. Nickeleon caught on to the fact that Grande was one of its biggest assets (sorry, Vic) and decided to cancel Victorious and pair her with another Nick fan fave, iCarly's Jennette McCurdy, for their own show. Sam and Cat premiered on the network in the summer of 2013. 
7. Grande collaborated with fellow up-and-comer Mac Miller, earning herself some street cred. 
8. And The Wanted's Nathan Sykes, to push the romance envelope. 
9. And that brings us to the part where Grande's fame skyrocketed and people older than 16 began to take notice. She released Yours Truly on September 30 and immediately critics began dubbing her a mini Mariah Carey (and they definitely weren't wrong). She performed at the MTV Video Music Awards pre-show:
And Jimmy Fallon:
And released her video for "Baby I" — in which she even looks like a mini Mariah. 
And so, it would seem, Grande has successfully transitioned from squeaky clean teen star to a pop sensation on the rise without licking a single sledgehammer. Keep an eye on this one, she's going places (in spite of her penchant for tulle skirts). 
More:
Ariana Grande's 'The Way' Cracks Billboard's Top 10
Katy Perry's 'Roar' Video Is So Ridiculous It's Good 
Miley Cyrus Is Still Trying to Get Our Attention in 'Wrecking Ball' Video
Follow @hollywood_com
| Follow @abbeystone  
---
From Our Partners:


A Complete History Of Twerking (1993-2013) (Vh1)


15 Stars Share Secrets of their Sex Lives (Celebuzz)