'Army of Two: The Devil's Cartel': Big Boi and B.o.B Talk Getting Motion-Captured For the Game—VIDEO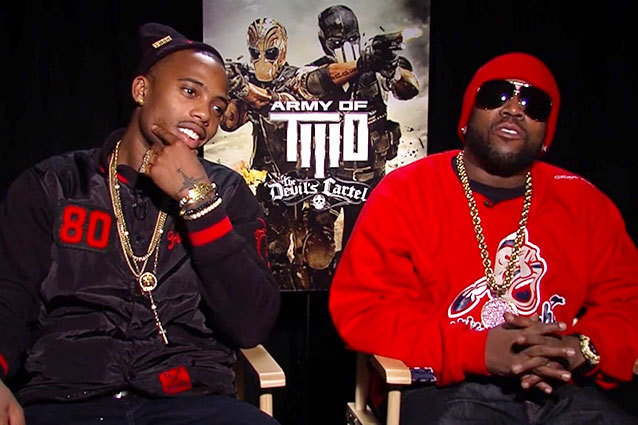 Though the "army of two" of Army of Two: The Devil's Cartel refers to nameless player-characters Alpha and Bravo, who're tasked with battling Mexican cartels, the real powerhouse duo behind the new shoot-em-up actioner from EA Games are a couple of hip-hop superstars: B.o.B and OutKast's Big Boi. They play Baker Barnes and Chuy Rendall, respectively, operatives from private military contractor Trans World Operations (T.W.O.) who're sent to Mexico to take down drug lords. The really cool thing is that, although in the regular version of the game they only appear in cinematics, if you pre-order it before its March 26 release you'll be able to download Big Boi and B.o.B's character models to play yourself.
Videogames That Really Need to Be Made Into Movies
Acting in the game meant going full Avatar for the hip-hop stars. They got outfitted with motion-capture sensors all over their bodies — a process that took about an hour before they could even hit the set — so their characters would bear their distinctive mannerisms, movements, and features. B.o.B jokes that to truly capture their essence, regular pixels were insufficient. Developers EA Montreal and Visceral Games needed "playa pixels" to do them justice.
The two rappers got so into the game that they even went in to the recording studio to produce "Double or Nothing," which serves as Army of Two's official theme song/mission statement. "We did the song right after we did the motion capture for the game," Big Boi says. "Coming fresh off the set of the game, we were still really in the Army of Two mindset. But otherwise, I think 'Double or Nothing' could have appeared on either of our records."
Check out this exclusive video interview with Big Boi and B.o.B talking about the game. As Big puts it, "You can't just fight a cartel every day."
Follow Christian Blauvelt on Twitter @Ctblauvelt
[Photo Credit: Hollywood.com]
---
You Might Also Like:


15 Oscar-Winning Nude Scenes


Young Jack Black Is Totally Unrecognizable