The 50 Greatest Beatles Songs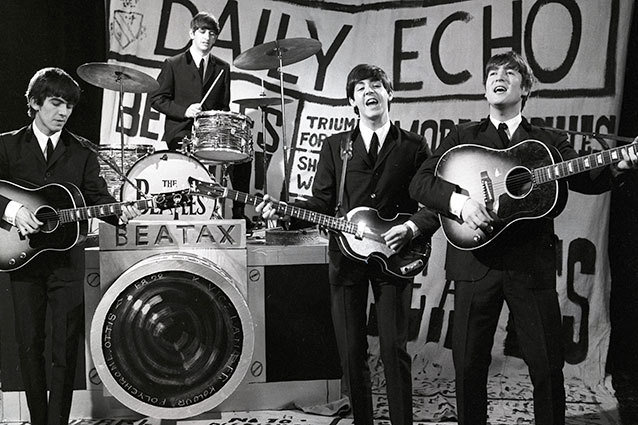 50 years ago, on March 22, 1963, The Beatles released their first album, Please Please Me, kicking off arguably the greatest recording career in rock & roll history. In just seven years, John Lennon, Paul McCartney, George Harrison, and Ringo Starr released over 200 songs, covering every genre and style you could possibly imagine. Their creative and intellectual growth during this time seems so accelerated that it's almost superhuman. If you played every one of their songs in one epic marathon listening session, it'd only take about 11 hours to hear everything they ever put on vinyl. But of those recordings, The Beatles musical batting average is unparalleled. That's why, on the occasion of Please Please Me's 50th anniversary, we've put together a ranked list of their 50 greatest songs. For how many other bands could you even attempt such a thing, let alone have affection for every single song on the list? Here are our picks.
50. "Octopus' Garden," Abbey Road (1969)
Ringo Starr's second songwriting venture for The Beatles, after The White Album's country barnburner "Don't Pass Me By," is a briny odyssey to the bottom of the sea — complete with bubble sound effects! — that's like an even trippier follow-up to "Yellow Submarine." (500) Days of Summer fans will remember that Zooey Deschanel's title character considered this her favorite Beatles song. We like it too, but we also think the Fab Four recorded 49 better ones.
49. "One After 909," Let It Be (1970)
Appearing on the group's last LP, Lennon and McCartney's rockabilly ode to boxcar travel feels like something that could have been originally recorded by Chuck Berry or Carl Perkins. That's because it was among the very first songs the duo ever wrote, going as far back as 1957, when the Liverpool lads were in their teens and rock & roll was in its infancy.
48. "Money (That's What I Want)," With The Beatles (1963)
Because they produced such a vast repertoire of original material, sometimes the Beatles don't get enough credit for their covers. Their take on the first hit ever released by Motown (and co-written by Motown founder Berry Gordy) is a blues'd-out celebration of materialism with a snaking honky-tonk piano: the perfect mission statement for four working class lads trying to make it.
47. "I Saw Her Standing There," Please Please Me (1963)
The Beatles' first album was basically just a recording of the live act they'd play at nightclubs in Germany and the U.K. in the early '60s. Of all their early work, "I Saw Her Standing There," the best Jerry Lee Lewis record Jerry Lee Lewis never made, is the most lustful of the bunch: "She was just seventeen / You know what I mean…"
46. "Yesterday," Help! (1965)
Not Paul McCartney's first art-song experiment nor his best, "Yesterday" is unique in being pretty much his solo project. None of the other Beatles recorded with him on the track and most of the instrumentals are supplied by a symphonic string section.
45. "Eleanor Rigby," Revolver (1966)
McCartney kept the strings from "Yesterday," only he had them drive the melody and play far more aggressively on his character study of loneliness and heartbreak. At that point "Eleanor Rigby" was among the most daring efforts of The Beatles in writing a non-love song.
44. "Tomorrow Never Knows," Revolver (1966)
Lennon saw McCartney's challenge on "Eleanor Rigby" and raised him "Tomorrow Never Knows," a lysergic reverie inspired by The Tibetan Book of the Dead, featuring tape loops and recordings played backward, including Macca's spiky guitar riff on 'Taxman." No wonder Don Draper hated it.
43. "The Fool on the Hill," Magical Mystery Tour (1967)
Bristling at some of the negative press the Maharishi Mahesh Yogi was receiving at the time, McCartney wrote this dreamy ode to faith, and the subtle divide between wisdom and idiocy. But let's face it. It's the flute solo that makes "The Fool on the Hill."
42. "Nowhere Man," Rubber Soul (1965)
Even better than "Eleanor Rigby" as a non-love song about feeling unmoored and lonely, "Nowhere Man" was semi-autobiographical for Lennon, whose first marriage was foundering due to the Beatles' incessant tour schedule. But even if it's about discord, the foursome's vocal harmonies were rarely better.
41. "Don't Let Me Down," Standalone Single (1969)
Lennon wrote "Don't Let Me Down" as a plea to Yoko Ono. Despite its incessant, chant-like recitation of the title — hinting at the primal scream soundscapes of John Lennon/Plastic Ono Band — it's Lennon at his absolute most vulnerable.
NEXT: 40-31, including the song that caused The Beach Boys' Brian Wilson to lose his mind
40. "Think For Yourself," Rubber Soul (1965)
George Harrison's first great song owes more than a little to The Rolling Stones' "(I Can't Get No) Satisfaction," especially the fuzzbox reverberation added to McCartney's scorching bassline.
39. "Here, There, and Everywhere," Revolver (1966)
McCartney brought a lullaby sweetness to Revolver, especially on "For No One" and "Here, There, and Everwhere." The latter must feature the most beautiful Beatles harmonies ever. Despite having had virtually no relationship with McCartney for years, and having strongly criticized much of his former songwriting partner's other work, Lennon told Playboy in 1980 that he still considered "Here, There, and Everywhere" among the Beatles' very finest achievements.
38. "Rocky Raccoon," The White Album (1968)
A folk-rock ballad about an Old West love triangle, complete with tinny saloon piano, "Rocky Raccoon" was actually written by Paul McCartney in India, during the Beatles' stay at Maharishi Mahesh Yogi's spiritual retreat. Maybe the longing for the West implied in the song explains why McCartney left the Maharishi after only two weeks.
37. "I Want to Hold Your Hand," Standalone Single (1963)
They were the hand-claps heard 'round the world. Released a week to the day after JFK's assassination, "I Want to Hold Your Hand" was — and is — a celebration of life, innocence and discovery capable of holding the darkness at bay. Its decidedly juvenile, bubblegum tone was, however, mocked in Thomas Pynchon's The Crying of Lot 49 when a shallow rock band called The Paranoids record the song "I Want To Kiss Your Feet."
36. "Yellow Submarine," Revolver (1966)
A frothy, foamy novelty to be sure, but "Yellow Submarine" shows how willing the Beatles were to experiment with studio artistry after years of numbing world tours. Though great for a singalong, "Yellow Submarine" would mean very little performed live since so much of its narrative depends on studio-derived sound effects and vocal manipulation. The song itself was basically a mini-movie for the ears well before Apple Records decided to make a movie of "Yellow Submarine" for real.
35. "Don't Pass Me By," The White Album (1968)
Ringo Starr's first solo composition is arguably one of the best country songs of the '60s, a toe-tappin', linedance-ready extravaganza that'd fit in at the Grand Ol' Opry.
34. "Norwegian Wood," Rubber Soul (1965)
George Harrison first fired up his sitar for John Lennon's existential love song, beginning a lifelong love affair with the instrument that would result in him partnering with Ravi Shankar and exploring the subtleties of Indian mysticism. Lennon achieved a new level of songwriting, with lyrics to "Norwegian Wood" of stunning poetic depth and emotional maturity, like "I once had a girl / Or should I say, she once had me?"
33. "Strawberry Fields Forever," Magical Mystery Tour (1967)
The Beatles' psychedelic period kicked off with a bang in February 1967, with the release of "Strawberry Fields Forever" as a standalone single paired with McCartney's "Penny Lane." Both songs reflect nostalgia on the part of their makers for their early, pre-fame days in Liverpool, but of the two it's "Strawberry Fields Forever" that really sticks with you. It kicked off the Beatles' habit of including sonic Easter Eggs in their recordings—just when you think it's ended, it starts up again! It was so good that it unhinged Lennon's greatest rival across the pond, Brian Wilson, who, after hearing "Strawberry Fields Forever," declared that the Beatles "had gotten there first" and subsequently abandoned The Beach Boys' magnum opus SMiLE for almost 40 years.
32. "Girl," Rubber Soul (1965)
You know a song is good when its makers fight about who wrote what in it. McCartney has taken credit for writing lines in "Girl" like "Was she told when she was young that pain would lead to pleasure" and "That a man must break his back to earn his day of leisure." But Lennon also said that he wrote those lines as a critique of Christian doctrine. With guitars played like ukuleles and mandolins, giving the track more than a whiff of a Greek folk dance, "Girl" is so good, who cares who wrote what?
31. "Ticket to Ride," Help! (1965)
A great transitional song that combines the Beatles' taut pop focus with hints at the philosophical musings to come, "Ticket to Ride" is the single best track on Help! It was also famously covered by The Carpenters, who lent it extra shades of pre-Goth melancholy.
NEXT: 30-21, John Lennon visits the stars, Paul McCartney invents heavy metal
30. "If I Needed Someone," Rubber Soul (1965)
A guitar jam, an exercise in multi-part harmonies, and a kind of individualistic statement by its author, George Harrison, "If I Needed Someone" is the opposite of "Nowhere Man" and "Eleanor Rigby." Where Lennon and McCartney elaborated on loneliness and the need for human connection, Harrison, already something of a mystic, argues for the completeness of the self.
29. "You Really Got a Hold On Me," With the Beatles (1963)
John Lennon contorts his vocal cords like never before — or after — with his take on Smokey Robinson's R&B ballad, hitting falsetto notes and nailing runs with agonizing emotion.
28. "Hey Jude," Standalone Single (1968)
It's funny that the Beatles had stopped touring by the time "Hey Jude" was released, because the seven minute epic pretty much invented the concept of arena rock. It's a song of such, um, singability — especially when it comes to those na-na-na-nahs — that you need to be in a stadium with thousands of others singing along to appreciate it best. Hence why it's Paul McCartney's go-to jam for any and all live performances he may give.
27. "Hello, Goodbye," Magical Mystery Tour (1967)
A song of such binary simplicity — "You say 'yes,' I say 'no' / You say 'stop,' and I say 'go, go, go!'" — that it could have been written directly for Sesame Street. Which is exactly why it's so great.
26. "Dig a Pony," Let It Be (1970)
Lennon called this bluesy exploration of his lust for Yoko Ono "a piece of garbage." It's fierce and hormonal, full of burnt-out longing and an unsettling urge toward instant gratification.
25. "With a Little Help From My Friends," Sgt. Peppers Lonely Hearts Club Band (1967)
Billy Shears (Ringo Starr's Sgt. Pepper alter ego) lends his melancholy pipes to what is either the saddest song about friendship ever written or the most joyful celebration of co-dependency. The song is somehow all vulnerability — and all bravado — right from the opening line: "What would you do if I sang out of tune / Would you get up and walk out on me?" Is Billy expressing a fear or a hope?
24. "And Your Bird Can Sing," Revolver (1966)
The Daily Mail's Richard Simpson alleged that John Lennon wrote "And Your Bird Can Sing" as affirmation of Mick Jagger's claim that his girlfriend (in Brit-speak, bird), pop singer Marianne Faithfull, could really sing.
23. "Helter Skelter," The White Album (1968)
Yeah, so Paul McCartney pretty much invented heavy metal in one song. All in a day's work… even if you end up with blisters on your fingers and inspire the mantra of the Manson Family.
22. "Let It Be," Let It Be (1970)
It's one of the age-old questions of rock history: why does "Let It Be" work so beautifully while "The Long and Winding Road" falls flat? The simple answer is that the former was produced by Beatles studio god George Martin, the latter by Phil Spector. The real reason is that McCartney kept his cloying sentiment in check on one and gave it free rein on the other.
21. "Across the Universe," Let It Be (1970)
John Lennon's love of vocal reverb was at its full flower on "Across the Universe," which pretty much stands as a solo track. Sweet without being saccharine, it's the ultimate expression of his cosmic musings.
NEXT: 20-11, the most joyful handclaps you'll ever hear. Plus, John Lennon misreads Lewis Carroll.
20. "Please Mister Postman," With the Beatles (1963)
Okay, the handclaps on "I Want To Hold Your Hand" are great, but nothing — absolutely nothing — will prepare you for the pure joy that emanates from the handclaps that open this Motown cover. Originally written for girl group The Marvelettes, the Beatles reversed the gender of the song's pronouns and showed that guys can be every bit as romantic as their girlfriends… when they want to be.
19. "I Want You (She's So Heavy)," Abbey Road (1969)
Embrace the heaviosity. At seven minutes, forty-seven seconds the second-longest Beatles recording ever after the experimental "Revolution 9," "I Want You (She's So Heavy)" shows that when they recognized a really thumping, infectious groove, they could put all of their lyrical ambitions aside and just live for the beat. The whole song is pretty much just the lyric "I want you / I want you so bad" repeated ad infinitum, but with George's fuzzy electric guitar, Paul's slithering bass and John playing a Moog synthesizer, this blues explosion makes us anything but.
18. "Taxman," Revolver (1966)
George Harrison did not appreciate paying the exorbitant taxes to Her Majesty that Brits of his mega-wealthy bracket had to pony up in the '60s. Hence this blistering screed. Always remember, those of you who've died, declare the pennies on your eyes.
17. "Fixing a Hole," Sgt. Pepper's Lonely Hearts Club Band (1967)
Of course we love "When I'm 64," but when it comes to "northern songs," the kind of ditties you'd hear in a Liverpool pub, nothing beats "Fixing a Hole."
16. "Something," Abbey Road (1969)
George Harrison wrote of sex and spirituality in the same breath like no other. But with "Something," he went even deeper. Frank Sinatra called it "the best love song in 30 years," though when he'd cover it during his own concerts he credited it to Lennon & McCartney, until a fan finally corrected him.
15. "Back in the USSR," The White Album (1968)
Simultaneously a tribute to The Beach Boys and Chuck Berry (who influenced The Beach Boys and also, profoundly, The Beatles) McCartney's opening cut on The White Album is pure rock & roll, culminating in a russkie version of "California Girls" in the immortal lyrics "Well, the Ukraine girls really knock me out / They leave the West behind / And Moscow girls make me sing and shout / That Georgia's always on my my my my my my my my my mind."
14. "I Me Mine," Let It Be (1970)
Harrison's rant against ego also marked his most ambitious foray into the Phil Spector "Wall of Sound" style, which he'd later perfect on his first solo album, All Things Must Pass, with that immortal kiss-off to his ex-wife "What Is Life."
13. "Being for the Benefit of Mr. Kite," Sgt. Pepper's Lonely Hearts Club Band (1967)
Exhibit A for what is psychedelia. Inspired by an 1843 circus poster, Lennon created a Victorian trifle that's one part music-hall singalong, one-part carnival barker's pitch, all parts genius.
12. "She Loves You," Standalone Single (1963)
What was different about The Beatles? What separated them from the rock & rollers who came before them? If you had to pin it down to one thing, it'd have to be energy. And nothing they ever wrote was as energetic, as full of the possibilities of being alive, as "She Loves You."
11. "I Am the Walrus," Magical Mystery Tour (1967)
After he learned that students at his old school in Liverpool were being made to analyze his song lyrics in English classes, Lennon decided to write a song with absolutely no meaning that would totally baffle anyone who attempted to dissect it. So he turned to Lewis Carroll and the poem "The Walrus & the Carpenter" from Through the Looking Glass for inspiration. However, John failed to realize that the Walrus is actually the villain of the piece when he'd emphatically state that's who he was, a mistake he later realized. But, hey, "I Am the Carpenter" just wouldn't have had the same effect. The sonic collage at the end is like the aural equivalent of the Sgt. Pepper's album cover.
NEXT: 10-1, What topped our list?
10. "Yer Blues," The White Album (1968)
John Lennon wrote one of the greatest blues songs ever while in India when he was "trying to reach God and feeling suicidal." If the blues are fundamentally about sin, guilt, and the suffering of the flesh, "Yer Blues" has all three in terrifying abundance.
9. "Sgt. Pepper's Lonely Hearts Club Band," Sgt. Pepper's Lonely Hearts Club Band (1967)
Mixing radio-drama sound effects, symphonic instrumentation, blaring fanfare, and hard-rock vocals, the opening track is just the prologue to the greatest concert that never happened by a band that never existed.
8. "This Boy," Standalone Single (1963)
The B-Side to "I Want To Hold Your Hand" is so endearing because of how deliberately it wasn't trying to break with the past. Lennon said he was trying to write a song in the style of Smokey Robinson with "This Boy," but it really goes back even further, to '50s doo-wop like The Five Satins' "In the Still of the Night."
7. "All My Loving," With the Beatles (1963)
Producer George Martin's classical training really shines through on the Dorian-scaled "All My Loving," a song that in its symmetrical rises and falls has almost a mathematical perfection. No wonder he actually did give it the symphonic treatment by having a full orchestra play "All My Loving" for the Magical Mystery Tour movie.
6. "Lucy in the Sky With Diamonds," Sgt. Pepper's Lonely Hearts Club Band (1967)
The imagery of Lennon's lyrics alone are wondrous: tangerine trees, marmalade skies, plasticine porters, looking-glass ties, kaleidoscope eyes. It's like The Twilight Zone gone Technicolor. Never mind the technical wonders of the electric piano, the fuzzed-out bass, the reverb effect on Lennon's voice. Its images are indelible, its sounds even more so, and yet "Lucy in the Sky With Diamonds" isn't just a trip of sight and sound but also of mind.
5. "A Day In the Life," Sgt. Pepper's Lonely Hearts Club Band (1967)
What can be said about "A Day In the Life" that hasn't already been said? Nothing. Maybe "Nothing" is the only appropriate response. Its literary ambition, technical innovations, and narrative arc are practically more than the mind can fathom. And that final chord, achieved by three grand pianos being played at once? Well, if Bruce Springsteen thought the opening of Dylan's "Like a Rolling Stone" was "the snare-shot that kicked open the door to your mind," as far as we're concerned the final chord of "A Day in the Life" blows that door right off its hinges.
4. "All You Need Is Love," Magical Mystery Tour (1967)
The Summer of Love came to a whalloping close with the release of "All You Need Is Love" as a standalone single just a couple months after the release of Sgt. Pepper's. It utilizes a similar sonic collage technique to that at the end of "I Am the Walrus," recorded around the same time, but goes further, mixing in fragments of "Greensleaves" and even "She Loves You." It's arguably the most optimistic song ever recorded…
3. "Eight Days a Week," Beatles for Sale (1964)
…Except for maybe "Eight Days a Week," Lennon's earlier articulation of the "All You Need Is Love" theme. This song slowly fades in and it's like it's already been playing in your mind even before you've started to listen to it for real. And when it fades out, it's like it dissolves into your brain, never to be rooted out.
2. "And I Love Her," A Hard Day's Night (1964)
The finest hour (or, rather, three minutes) of Paul McCartney's storied career is as cool as an island breeze. Ringo's on bongos and George adds a little broken-chord guitar punctuation. It's one of the most beautiful things ever created by humans.
1. "While My Guitar Gently Weeps," The White Album (1968)
It's with a twinge of guilt that George Harrison's guitar classic tops our list. That's because the Fab Four became the Fab Five on "While Our Guitar Gently Weeps," with the addition of Eric Clapton, one of a handful of people on the planet who could actually match Harrison's ax skills, to add a little more six-string spice. Clapton worked his magic, delivering a guitar solo of a virtuosity unseen elsewhere in the Beatles' oeuvre, then stole Harrison's wife. It's not the behind-the-scenes heartbreak that causes anyone to weep, though, when listening to this song: it's the startling, transcendental beauty of it, with its intricate double-tracked harmonies and the koen-like simplicity of its lyrics. Its beauty is so great, "While My Guitar Gently Weeps" makes you aware of your own mortality while you're listening to it: the realization that there is only a finite number of days you will spend on this orb, a finite number of people you will love, a finite number of times you can listen to "While My Guitar Gently Weeps." But it sure is sweet while it lasts.
Follow Christian Blauvelt on Twitter @Ctblauvelt
[Photo Credit: ITV/Rex/Rex USA, AP Photo, Everett Collection, David Magnus/Rex USA, Daily Sketch/Rex USA]
---
You Might Also Like:


15 Oscar-Winning Nude Scenes


Young Jack Black Is Totally Unrecognizable