Ben Affleck Vs. Casey Affleck: Which Brother Comes Out on Top?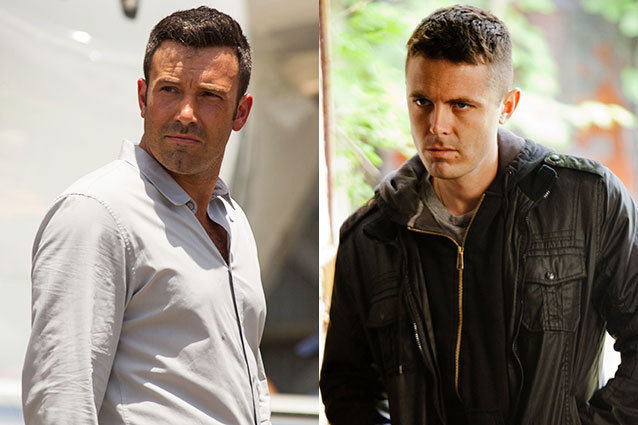 20th Century Fox/Relativity Media via Everett Collection
All directors who make films set in Boston find themselves asking just one question when it comes time to cast the lead: Ben Affleck or Casey Affleck? For his upcoming film about the Boston Strangler, new director Mark Romanek sets Casey as co-producer and star of the film. The story of the Boston Strangler is ripe for filmmaking, primarily because it involves a great deal of confusion and doubt. In 1964, Albert DeSalvo was arrested on suspicion of murdering 13 women in the Boston area. But when he confessed to the crimes, there were a great deal of inaccuracies and holes in his stories, and he often claimed to have been in multiple places at once. He was ultimately put on trial for the rape and robberies of several victims, due to the confusion that surrounded his version of events, although he did seem to know more about the crimes than anyone else. DeSalvo was murdered by a fellow prisoner in 1973, although the trail resulted in a hung jury, and his killer was never convicted. It's not known yet whether the li'l Affleck will play DeSalvo or if he will play a member of the law enforcement team tasked with catching him, but he has experience playing both perspectives of a gritty crime drama. 
The dark, twisted nature of the Boston Strangler story makes it the perfect vehicle for Casey, who specializes in slightly more disturbed and disturbing characters. Although he can play more upstanding characters well, he will be able to bring the right amount of grit to the film, which will help give it the edge that the story needs. Of course, he's not the only Affleck who knows his way around a gritty, Boston-set crime drama — after all, his brother Ben directed two of them. Which, of course, brought us to the inevitable Affleck-brother comparisons, and so we decided to determine, once and for all, which Affleck is the superior one. 
Number of Oscar Nominations: 
Ben has been nominated for two Academy Awards over the course of his career; once for Best Original Screenplay alongside Matt Damon for their film Good Will Hunting, and once for Best Picture for Argo, which he directed and starred in. Casey has been nominated once, for Best Supporting Actor for his role as Robert Ford in the film The Assassination of Jesse James by the Coward Robert Ford. His experience as a bloodthirsty sociopath will no doubt serve him well when working on the Boston Strangler film, no matter which side of the law his character is on.
Winner: Ben
Number of Oscar Wins:
Ben won both of the Oscars he was nominated for, and his Best Original Screenplay win made him the youngest person in Oscar history to take home that trophy. Unfortunately, Casey lost out on the Oscar to Javier Bardem, who played the murderous Anton Chigur in the Coen Brother's No Country for Old Men.
Winner: Ben
The Better Actor:
Ben Affleck is a charismatic screen presence with a Hollywood physique and the hair of a young Ted Danson. But even at his best, Ben as an actor is not much more than condusive to a smooth story. Casey, however, has blown us away: The Assassination of Jesse James and this year's Ain't Them Bodies Saints. come to mind as fantastic performances from the young, wiry, vocally exacerbated actor.
Winner: Casey
Quality of Directing:
Factor together the crisp story that was Gone Baby Gone, the empty mess that was The Town, and the thrilling blockbuster appeal of Argo and you don't end up with anything half as interesting as Casey's outsider art experiment with his brother-in-law: I'm Still Here. Of course, although ingenious, this is the film that got him into a bit of trouble (as we'll cover later on). For now, rightful praise!
Winner: Casey
Number of Films Set in Boston: 
Despite being one of the most iconic pairs of brothers to come out of Beantown (the other being the Walhbergs, of course) the Affleck boy actually haven't made a great number of films that were set in their hometown. Ben's made a total of four film there, having starred in Good Will Hunting and The Company Men, and directed Gone Baby Gone and The Town. Casey appeared in both Gone Baby Gone and Good Will Hunting as well, and with his upcoming Boston Strangler project, his total comes to three.
Winner: Ben
Career High: 
Although Ben won his first Oscar in 1997, his 2012 Oscar win for Argo is the bigger accomplishment, as it capped off a period of career rebuilding, and firmly established him as a major player in Hollywood. Casey's highest career moment came with his 2007 Oscar nomination, as it allowed him to break out of his brother's shadow and be recognized as a talented actor in his own right. He has since built on that momentum, and has enjoyed a great deal of success and acclaim in recent years.
Winner: Ben
Career Low: 
In 2008, Joaquin Phoenix announced that he was going to retire form acting to pursue a rap career, and Casey signed on board to document the career change and the erratic behavior that resulted. In 2010, he finally confirmed that the whole thing was for a film project, I'm Still Here, and not real in any way, which earned both him and Phoenix a great deal of backlash from the public, who felt they had been tricked by the two. However, the media has been able to move on from the stunt, and after the initial uproar, there doesn't seem to be any lasting damage. Unfortunately for Ben, the media has not been able to forget about the career choices he made between 2003 and 2006, which included the films Daredevil, Gigli and Jersey Girl. Seriously, even after winning another Oscar, nobody is willing to let him move on from Gigli. Sorry, Ben. 
Winner: Casey
Cooler Best Friend: 
Ben's best friend is Damon, while Casey's is Phoenix. While we would love the opportunity to hang out with either one of them, Damon seems like he would be easier to be friends with. Being friends with Phoenix would probably involve knowing a lot about art movements and analyzing indie films over a vegan meal. Whereas being friends with Damon would involve sharing a plate of nachos and a beer while watching the Red Sox game. Plus, Damon's friends with George Clooney. That's got to count for something. 
Winner: Matt Damon
Best Reviewed Film: 
Both Ben and Casey's best reviewed film is Good Will Hunting, which boasts a Rotten Tomatoes score of 97%. Well done, boys. 
Winner: Tie
Worst Reviewed Film:
It seems impossible, but Casey was actually in a film that got worse reviews than Gigli. We know, we didn't see it coming either. Soul Survivors, which Casey made in 2001, earned a score of 4% on Rotten Tomatoes, while Gigli collective reviews won it a 6% Rotten Tomatoes score. The good news, though, is that practically nobody remembers Soul Survivors, so that pretty much levels that playing field in this category.
Winner: Tie
Highest Grossing Film: 
Ben's romance with Liv Tyler in the film Armageddon not only gave the world Aerosmith's "I Don't Want To Miss a Thing," but also earned a total of $206 million at the box office. Casey, meanwhile, was a part of the all-star cast of Ocean's Eleven, which brought in an impressive $183 million. And while Armageddon may have made more money, Ocean's Eleven earned two sequels and starred Clooney, which isn't too shabby.
Winner: Ben
Number of Films Made with Matt Damon:
Like peanut butter and jelly, macaroni and cheese, salt and pepper, and Salt N Pepa, Damon and Affleck are one of the universe's perfect pairings. Not counting two cameo roles, Ben has made a grand total of four films with his best friend. However, Casey has actually starred alongside Damon more times; the pair have made five films together, including three Ocean's films and Gus Van Sant's Gerry. 
Winner: Casey
Result: 
With a score of 7 to 6, Ben technically comes out on top as the superior Affleck, but with the projects that he has lined up, we're sure it's only a matter of time before Casey will manage to overtake his brother. Although, let's be honest: the real winner is Matt Damon. The real winner is always Matt Damon.