The Best Twitter Reactions to Solange Attacking Jay Z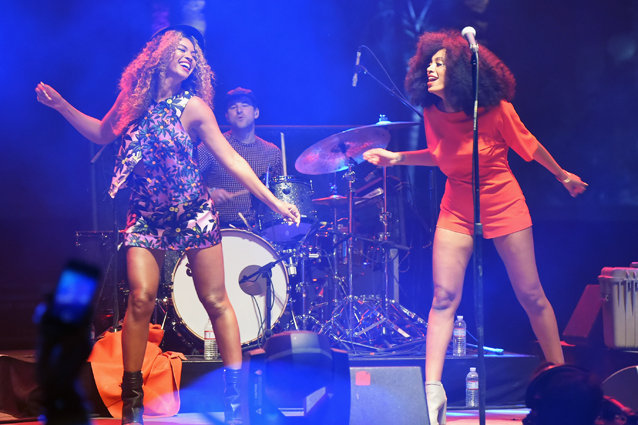 Jeff Kravitz/Getty Images
Jay Z's 100th problem, or perhaps just one of his existing 99, seems to be his sister-in-law Solange. The two were caught on surveillance footage from an elevator leaked to TMZ.com. Jay Z, Solange, and Beyoncé were all attending a Met Gala after-party at the Standard Hotel in NYC. 
In the video, Beyoncé's sister is seen repeatedly punching and kicking the rapper until she's ultimately restrained by a bodyguard. 
Naturally, this rare glimpse into Beyoncé's extremely private life has exploded all over the internet (like everything she does, from releasing a surprise album to temporarily becoming a vegan). Instantly, Twitter's top trending topics included 'Jay Z and Solange,' #WhatJayZSaidToSolange, as well as many wondering where Beyoncé was in this brawl and what caused it. The result was easily one of the most entertaining things to watch unfold.
Below are some of our favorite reactions:
1. Those who took aim at Solange's career: 
How nobody used "Solange gets her first hit" in a headline yet is mind boggling.

— Kazeem Famuyide (@RealLifeKaz) May 12, 2014
Zing pic.twitter.com/jsMJYOr0ZQ

— Rachel Zarrell (@rachelzarrell) May 12, 2014
#WhatJayZSaidToSolange Dang, #Solange. This elevator has more floors than you have hits. pic.twitter.com/J37BpznTo4

— Brad Stinson, Jr. (@bradstinsonjr) May 13, 2014
Solange: "Stop calling me Beyonce's sister!" Jay-Z: "Okay Blue Ivy's aunt" #WhatJayZSaidToSolange

— Chloè (@ArianaBchloe) May 13, 2014
Solange: This elevator isn't going anywhere! Jay Z: Like ya career? #WhatJayZSaidToSolange

— Will Smith (@JustWillSmith) May 13, 2014
2. Those who took aim at Jay Z's career:
#WhatJayZSaidtoSolange @LordGichohi @DraeFrank @MuchiriH Hahahaha LOOOL pic.twitter.com/wNijvB9XQ0

— julius yelsin (@jyelsin1) May 13, 2014
#WhatJayZSaidToSolange pic.twitter.com/9W1QsudqTk

— Mitchel Bland (@mitchelbland) May 13, 2014
3. Those who wondered why Beyoncé stayed out of it:
#WhatJayZSaidToSolange this is the best one pic.twitter.com/Rzha9Fcvth

— smegs (@meganbarnsdale) May 13, 2014
4. Those who don't like 'Game of Thrones' spoilers:
"Joffrey dies" #WhatJayZSaidToSolange

— Rachel Zarrell (@rachelzarrell) May 12, 2014
Solage was clearly behind on Game Of Thrones and Jay-z blurted out some spoilers in the elevator #WhatJayZSaidToSolange

— Brad Bellick (@jasonfreeman95) May 13, 2014
5. The obligatory Kanye West reference:
Jay Z gets attacked by Solange… Meanwhile Kanye West be like… #WhatJayZSaidToSolange pic.twitter.com/Ah1velo4BG

— تانيا Tanya Kamaly (@tanya_kamaly) May 12, 2014
6. The Wikipedia-savvy:
Now this is Cracking me up! #WhatJayZSaidToSolange Solange's wikipedia Profile! pic.twitter.com/djfErOVZ6h

— DR. DREY | ONLINE PR (@DreyPR) May 13, 2014
7. Even Solange had a premonition about this:
#wheniwaslittle I tried to kill my sisters teenage boyfriend (not a secret scince she blabbed about it on letterman) I had a GREAT plan. 🙂

— solange knowles (@solangeknowles) September 8, 2009