Bethenny Frankel's Novel: 7 Examples that Clearly Prove 'Skinnydipping' Is Not Fiction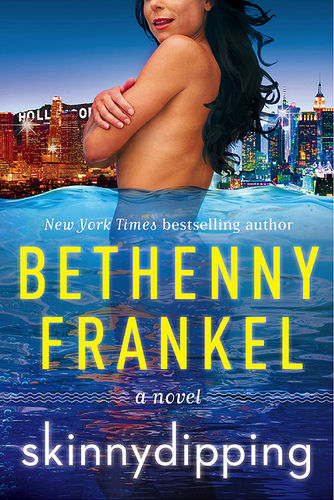 Bethenny Frankel has taken her first swing at the big leagues. Sure, the 41-year-old housewife/reality star/author/entrepreneur already has three best-selling books — Naturally Thin, The Skinnygirl, and A Place of Yes — but those were dieting and a self-help books, respectively. Now, she's attempting to break into the fiction world with her new novel, Skinnydipping, on sale May 1. But while her book is about Faith Brightstone, a failed actress who later finds fame in reality television, Frankel actually seems to be throwing her own life onto the pages.
Frankel's Dog
Frankel takes her dog, Cookie, nearly everywhere she goes. The pup was even the guest of honor at her wedding to Jason Hoppy in March 2010. In Skinnydipping, we meet Muffin — the beloved stray Faith takes home and adopts as her own. A tasty coincidence? Doubtful.
Frankel's Former Housewife BFF Jill Zarin
In the second part of the book, Faith becomes close friends with a woman named Shari Jacobs, who eventually betrays her. We won't give too much away about Shari, but we have to do our due diligence and point out a few similarities between her and Zarin. Both are housewives. Zarin's husband Bobby owns a successful fabric store in Manhattan (Zarin Fabrics); Shari's husband also works in home decor as the owner of a large flower import/design center. But the best comparison we have to leave for you to read: The description of Zarin's, er, Shari's outspoken personality and, of course, the ultimate betrayal that destroys her friendship with Frankel, er, Faith seems straight out of RHONY.
Frankel in Skating with the Stars.
In the first section of Skinnydipping, Faith constantly brags about her ability to skate. But the morning after she drunkenly walked up three flights of stairs to hook up with a guy she just met at the bar, she's forced to do the "Skate of Shame" home. Could Frankel be alluding to how it felt to lose the shamefully bad Skating with the Stars?
More of Frankel's Housewives Costars
How could Frankel leave out Countess LuAnn de Lesseps? Seems she didn't: One of Skinnydipping's characters, Queen Monica, seems to be a fictionalization of de Lesseps — especially when you consider the fake English accent and seems to poke fun at de Lesseps' "royal" roots.
Frankel's Infamous Skinnygirl Margarita
Frankel reportedly sold her Skinnygirl cocktail line for $120 million in real life. In the book, it seems that the Skinnygirl Margarita has been turned into the "Have Faith Pink Lemonade Mojito." Faith created the drink on a whim while at a party, then refined the recipe over the years. Sound familiar? Also, Faith can't stop talking about craving a Margarita. (Product Placement?)
Frankel's stint on 'The Apprentice: Martha Stewart'
The second half of Skinnydipping seems to borrow from Frankel's often-forgotten appearance on the short-lived The Apprentice: Martha Stewart. Faith enters a reality show competition called Domestic Goddess — and the host of the the series is Sybil Hunter, who is "much more of a businesswoman than anything … She can cook and arrange flowers but she can also run a board meeting, design a killer ad campaign, and build a billion-dollar company." At the end of the book, Sybil even faces a major lawsuit that threatens to destroy her empire. Not quite a good thing.
Frankel's BethennyBakes
In real life, Frankel created a natural foods bakery and delivery service called BethennyBakes right after graduating from college. In the book, Faith creates a Vegan bakery that specializes in low-cal muffins. The business is called "Have Faith Muffins." (Hopefully, she doesn't sell her dog.) 
Call this a case of art imitating life. Will you pick up Frankel's "novel"?
Follow Lindsey DiMattina on Twitter @LDiMat.
More:
Bethenny Frankel: I Want Mila Kunis to Play Me in My Movie
Lisa Vanderpump's Spinoff: Housewives React