Beyonce and Jay-Z: The Other First Couple?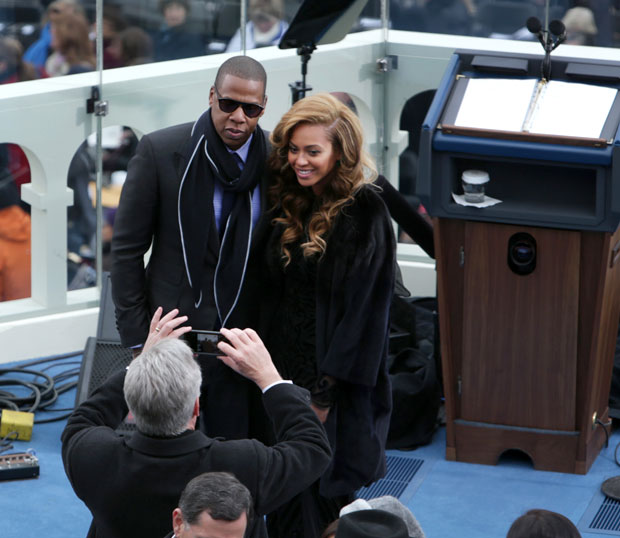 We've found the key to bipartisanship, and her name is Beyoncé.
Republicans and Democrats united yesterday, not so much for President Barack Obama's second inauguration — in fact, his opponent, Mitt Romney, was a no-show — but for the spectacle that is known as Beyoncé. When she showed up for the festivities with husband Jay-Z, Republican Rep. Peter King snapped a cell phone photo. Vice President Joe Biden, spotted on camera directly behind the singer as she performed the national anthem, could barely contain his glee. Members of Congress, clamoring like tweens at a Justin Bieber concert, snapped photos with the star afterwards.
And let's face it: This was all pretty cute.
For a nation that can barely unite even in tragedy these days (we had about five good minutes of unity after Newtown before gun control debate once again divided party lines), it's heartwarming to see politicians of all stripes get a little giddy over a sparkly celeb couple. It makes sense, in a way. It's a little easier for Republicans to idolize Beyoncé and Jay-Z without feeling conflicted than it is for them to admire the real First Couple, even though we tend to idealize them for many of the same reasons: They're glamorous, gorgeous, and eternally crazy in love. Barack and Michelle have become our national Aspirational Couple; I'm pretty sure if they ever broke up, even Republicans would have to re-evaluate their own ideas about love, even if they did it in private. The National No-Break-Up List is officially the Obamas, Gwen Stefani and Gavin Rossdale … and Beyoncé and Jay-Z. That should be the only Defense of Marriage Act we need.
Meanwhile, Beyoncé and Jay-Z are inching ever closer to meeting the First Couple on their own territory as well: Beyoncé can talk equal pay with the best of them now, while also somehow making a belly chain/under-boob look (relatively) classy. Jay-Z can revive his old neighborhood with a basketball stadium (or at least try) and chat up a nice lady on the subway.
Now if only we can get Beyoncé to include a quick national address on the Fiscal Cliff before her Super Bowl halftime show.
Hollywood.com correspondent Jennifer Keishin Armstrong is the author of two forthcoming books, Sexy Feminism (due out in March) and Mary and Lou and Rhoda and Ted, a history of The Mary Tyler Moore Show (due out in May). For more information visit JenniferKArmstrong.com.
Follow Jennifer on Twitter @jmkarmstrong
[Photo Credit: Scott Eells/Getty Images]
More:
Inauguration 2013: Beyonce, Kelly Clarkson, & More Perform. Who Was Best?
Who Runs The World: Beyonce to Perform at Obama's Inauguration
President Obama Says Beyonce and Jay-Z Are 'Down-To-Earth'

Craziest Celebrity Swimsuits Ever (Celebuzz)