Bill and Giuliana Rancic: Get Off Twitter, You're Having a Baby!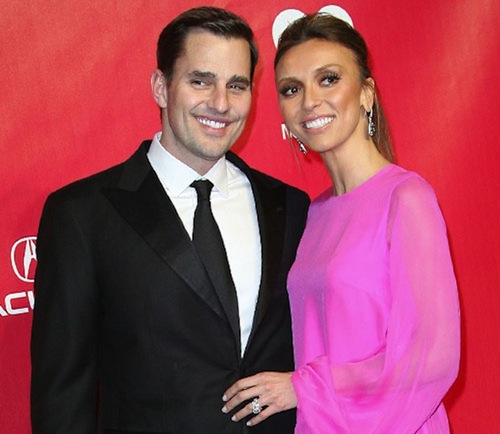 Wednesday was an eventful day for reality show stars Bill and Giuliana Rancic: the surrogate mother carrying their first child went into labor and gave birth to a healthy baby boy, Edward Duke! But even more importantly, they got, like, a ton of retweets.
The Rancics took to the social networking world, late afternoon on Wednesday, to inform their many fans that their son was on the way. Bill tweeted, "It's Game Time……" only a few ours before Edward was born. He confirmed the news Thursday morning with a second message, following Giuliana's affirmation to followers that they would "be 1st to know;)" of the baby's arrival. Edward was born at 10:12 PM MT on Wednesday in Denver, Colo., weighing in at 7 pounds, 4 ounces, and 140 characters.
The news is terrific, and there is no doubt that the Rancics will provide a loving, healthy home for their new child. But what's with all the tweeting? Your son was on the way! Your surrogate was in labor! The followers can wait!
Maybe the Rancics have been watching too much television (not a phrase I've ever used before, but it seems to be the case here). Expectant TV fathers have a strange tendency to get wrapped up in something of relative unimportance whenever the time comes to rush off to the hospital… or broken elevator, or back of a taxi cab, or whatever. As a couple pretty ensconced in the small screen world, Bill and Giuliana might have been taking lessons from the wrong people:
Jason Segel on How I Met Your Mother
Instead of being side by side with wife Alyson Hannigan at the end of the show's seventh season, Segel's character was blackout drunk in an Atlantic City Casino with Neil Patrick Harris. So at least he had a pretty good reason.
Tracy Morgan on 30 Rock
Tracy Morgan almost went three for three with missed births in a fifth season episode, wherein his wife Sherri Shepherd gave birth to their first daughter while Tracy was engaged in an unexpected episode of Cash Cab. The episode revealed that Morgan's character had missed his two sons' births because he was "making a sandwich" during one, and he "forgot" the other.
Donald Faison on Scrubs
Shortly after wife Judy Reyes had gone into labor, Faison's character made it his mission to fix a faulty ice machine by jamming his hand up inside of it. He would remain there for more than the amount of time allotted by the birthplan's schedule.
John Stamos on Full House
Appendicitis? Appendi-shmitis! Stamos should have been able to handle a little organ inflammation while Lori Loughlin was giving birth. She had twins, for goodness sake!
Bryan Cranston on Breaking Bad AND Malcolm in the Middle
On two different shows, this guy was fated with some horribly inconvenient timing: on Breaking Bad, Cranston was set to finalize a transaction with soon-to-be business partner Giancarlo Esposito, when his wife called to inform him that she had gone into labor. Bastard that he is, Walter White opted for meth over baby. The Malcolm in the Middle situation was a tad more forgivable, as Cranston's character was confined to a hospital bed (not the same hospital as his baby-having wife) after crashing the car. He didn't let this stop him, though. The strapped-down Hal displayed superhuman determination when he (and the bed) journeyed across town to be there for his new son.
Either way, a heartfelt congratulations to Giuliana and Bill!
[Photo Credit: Wenn.com]
More:
Update: Snooki Gives Birth to a Baby Boy
Kim Zolciak Has a Baby Boy and Gives Him a Karadshian Inspired Name
The Celebrity Baby Photo Recession: Did Stars Price Themselves Out of the Market?