Bill O'Reilly Is 'Killing Jesus' Next — But How Will He Do It?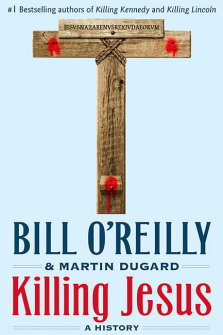 Unless he was planning to cap off his literary killings as a trilogy, Bill O'Reilly might be shooting himself in the foot here. The conservative pundit published Killing Lincoln in 2011, escalating toKilling Kennedy in 2012. And in September of this year, he'll be topping the lot with Killing Jesus, which The Hollywood Reporter cites as an account of "the seismic political and historical events" surrounding the death of Jesus Christ. So where the heck is he supposed to go from here? What assassination victims have ever been deemed bigger than Jesus?
RELATED: Chris Brown Feels Sad, Paints the Jesus Crucifixion
Well, okay, there's John Lennon. But after that, you've pretty much got to find your follow-up franchise. But before we figure out what O'Reilly's The Host will be, we've got to wonder how Killing Jesus itself will play out. Even those of us with a Hebrew School education know the basic story — betrayed by Judas, nailed to the cross, rose on Easter. But pop culture has taken this chronicle in so many different directions that every one of us has a distinct, unique vision of Jesus' life and death. So which of these will O'Reilly's tome most closely mimic?
The Passion of the Christ
The gritty, venerating tribute to the life of a deity.
The Last Temptation of Christ
The controversial, humanistic portrait of a tortured man charged with trials beyond his capability.
Jesus Christ Superstar
The musical romp, glamorizing the final days of a superhuman entity.
Monty Python's Life of Brian
The silly version.
South Park
The unapologetically irreverent satire.
RELATED: Brad Pitt Could Be the Guy Who Killed Jesus
Clearly, pop culture has dealt with the material of Jesus of Nazareth's life and death in a variety of ways,  pleasing and offending audiences of all kinds in the process. While O'Reilly's book promises to be more of a "Just the facts, ma'am" illustration of a well-known figure's downfall, it's hard to imagine anybody — be he or she a devoted Christian, as O'Reilly identifies himself to be, or a skeptical agnostic — handling the subject matter truly objectively. While we may not expect something of any of the extreme flavors exhibited by the above entries, we should look out for something more than a simple beat-by-beat retelling of an historical event.
Now about that John Lennon book idea…
Follow Michael Arbeiter on Twitter @MichaelArbeiter.
[Photo Credit: Henry Holt and Co.]
---
From Our Partners:


25 Forgotten Celebrity Crushes of the '90s (Vh1)


30 Stars Who Have Gone Topless (Celebuzz)