Watch Robin Thicke's New 'Blurred Lines' Video, Featuring… Jimmy Fallon and The Roots?
The most popular music video of 2013, "Blurred Lines" got a "music room" cover on Late Night with Jimmy Fallon on Thursday night. Big silver balloons should have spelled out, "Robin Thicke has a big d**k … new schtick." Thicke was accompanied by The Roots and Jimmy Fallon's strong but sometimes wavering voice.  Everyone in the video plays a different musical instrument that might be found in a typical elementary school music room to recreate this hit.  Jimmy Fallon and The Roots maintain the same fun loving vibe as the original video, singing into spoon clappers and maracas. 
Like in any elementary school's music room, there must have been a great deal of fighting to see who got to play what instrument. Judging by Tuba Gooding Jr.'s smile as he works the banana shaker, we think it's safe to assume it is he who won that fight. Kamal Gray seems pretty happy too, gently banging on his rainbow colored xylophone. One thing is for sure; The Roots knew that the original song sounded great but needed more cowbell.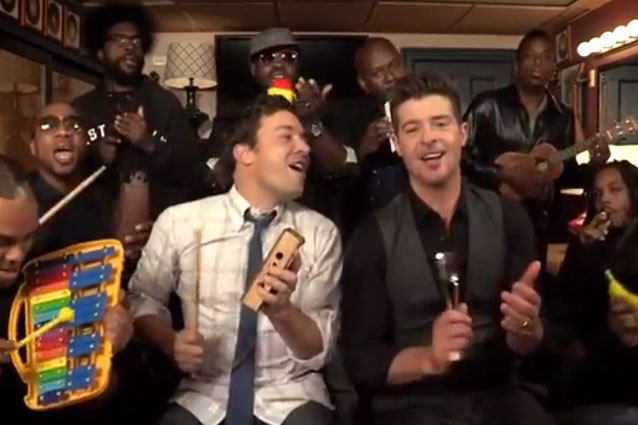 While they stick pretty close to the original song, the talented Black Thought takes it in a new direction and raps his own love verse over of T.I.'s debatably "rapey" lyrics. Check out the lyrics to Black Thought's verse below:
Good girlfriends, I had a few
But the best girlfriend I ever had is you
I thank God for my blessings, it began with you
So I put a ring on it and I married you
Come on and take a ride with me on a avenue
If you see it and you want it, you can have it boo
You have these other girls getting mad at you
Cause you got brains, looks and attitude
Cause my skill line is getting blurrier
I come home to my own Miss America
I mean this ain't no ordinary love
Go and bring it here to my girl, hurry up
I'm watching, I'm waiting and they not you, so they hating
They just angry cause you ain't basic
I'ma give you a standing ovation
More:
Jimmy Kimmel Crashes Robin Thicke's 'Blurred Lines' Video
'Asian Girlz' Video Is Racist, Misogynist, and Gross
Justin Timberlake's 'Tunnel Vision' Banned
---
From Our Partners


Battle of the Bikini Bodies (Celebuzz)


Complete Guide to Strippers in Movies and TV (Vh1)