Boston Bombings Suspect Captured: Celebs Rejoice On Twitter and Honor Law Enforcement Officials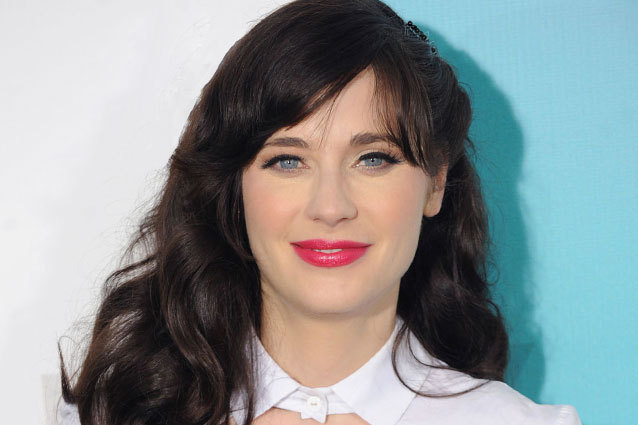 After what felt like the longest week in American history, the nation breathed a sigh of relief and applauded Boston law enforcement officials, as the manhunt for Boston bombings suspect Dzhokhar A. Tsarnaev was captured on Friday night. (Well, according to a Fox affiliate, it was actress Zooey Deschanel, pictured, to which the New Girl actress reacted on Twitter, "Whoa! Epic closed captioning FAIL!"). 
For better or worse, Twitter was the place that so many people went to share information (and misinformation), air their grievances, or even crack a joke during this week's horror and hysteria. But, with the exception of humanity troll Donald Trump, there was a universal mood on the social media site when the news broke that Tsarnaev was in custody: elation and appreciation. 
Celebrities — many with ties to the Boston area (including Joey McIntyre, who finished the race on Monday just moments before the explosions) that dealt with a terrible tragedy that took the lives of three and injured dozens during the marathon bombings, the fatal shooting of an M.I.T. police officer, an intense manhunt, and a lock down within the span of just five days —once again took to Twitter, this time to celebrate, at long last, something good.  
Here are some of the best responses on Twitter out of Hollywood to the big news. 
Boston Cops vs punk kid whose Justin Bieber's age?That's like Godzilla vs Bambi, except Godzilla has a Red Sox hat on and Bambi is insane.

— Emile Hirsch (@EmileHirsch) April 20, 2013
So goddamn relieved. Boston, I love you. May the bars stay open til dawn. (photo cred @cjgimbel) twitter.com/oliviawilde/st…

— olivia wilde (@oliviawilde) April 20, 2013
Go have a drink, Boston.I'm genuinely happy for you.Buy any single malt, neat.Go support the bars that took a hit.

— Patton Oswalt (@pattonoswalt) April 20, 2013
Boston's wicked good

— Mindy Kaling (@mindykaling) April 20, 2013
#Watertown way to stay strong. Breathe & get some sleep now~ much gratitude to all the responders. #Boston is my blood- peace & love to all.

— Eliza Dushku (@elizadushku) April 20, 2013
Justice is done. Way to go Boston PD! #BOSTONSTRONG

— Joe Manganiello (@joemanganiello) April 20, 2013
Grateful for some kind of relief from this sad week. And for all armed services- heroes all! Thank you THANK YOU THANK YOU.

— Joey McIntyre (@joeymcintyre) April 20, 2013
Boston Police get the Wicked Mazel of the Day

— Andy Cohen (@BravoAndy) April 20, 2013
Watching live coverage-everyone celebrating the boston police for capturing this f*#ker.incredible work- #BOSTONSTRONGERTHANEVER

— maria menounos (@mariamenounos) April 20, 2013
In AWE of our law enforcement!#DzhokharChained

— Danny Zuker (@DannyZuker) April 20, 2013
Bless the courageous. The courageous victims. Their courageous families. The courageous first responders. The courageous keepers of justice!

— Donnie Wahlberg (@DonnieWahlberg) April 20, 2013
Just boarded a flight & very grateful to all police, security & 1st responders who protect us, across the country #ThankYou #BostonPD #FBI

— Chelsea Clinton (@ChelseaClinton) April 20, 2013
Have a great weekend, Boston

— Seth Meyers (@sethmeyers21) April 20, 2013
More: 
Patton Oswalt's Reaction to Boston Tragedy Reminds Us What Makes a Great Comedian
Remembering the Boston Bombings Victims: 10 Emotional Tweets 
Boston Celebs React to Marathon Bombings on Twitter
---
From Our Partners:


Eva Longoria Bikinis on Spring Break (Celebuzz)


33 Child Stars: Where Are They Now? (Celebuzz)