10 Worst Quotes from Brad Paisley's Still-Racist Apology for 'Accidental Racist'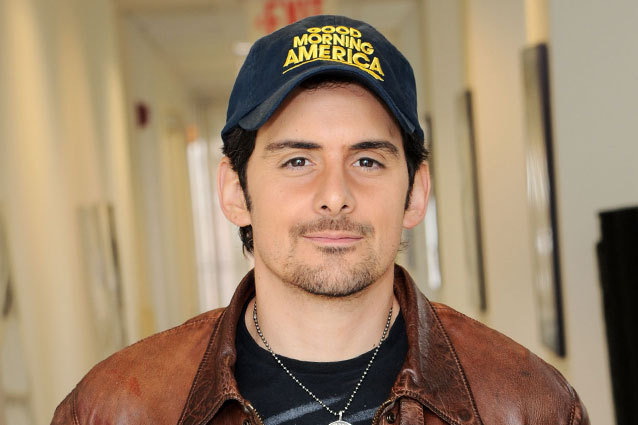 After turning the Internet inside out with his totally racist country song "Accidental Racist," Brad Paisley is speaking out in defense of his tune, but he's sure as hell not changing it. 
The country song, which is from Paisley's new album, begins with a justification of Paisley's fondness for the Confederate flag, a long-standing symbol of slavery and racism, (hey, he wasn't around when slavery was the norm!) and ends with LL Cool J forgiving Robert E. Lee and thanking Abraham Lincoln for freeing him. Yes, actually. 
Now, Paisley has released a statement to Entertainment Weekly, wherein he does everything but apologize. In fact, we've got five instances of him doing the exact opposite (and five other instances that are only making things worse): 
1. "I think that [the song] comes from an honest place in both cases, and that's why it's on there and why I'm so proud of it. This isn't a stunt."
It's really not helping to say you are "proud" of the song and that you recorded it fully knowing the implications. That means there's really nothing "accidental" about your racism, Brad.  
2. "This isn't something that I just came up with just to be sort of shocking or anything like that. I knew it would be, but I'm sort of doing it in spite of that, really."
So, you knew you were going to offend people and you still did it?
3. "I think that we're going through an adolescence in America when it comes to race. You know, it's like we're almost grown up. You have these little moments as a country where it's like, 'Wow things are getting better.' And then you have one where it's like, 'Wow, no they're not.'"
Let's all pretend the past didn't happen, because racism is still a problem and forgetting history will totally change that.
4. "We're all left holding the bag here, left with the burden of these generations. And I think the younger generations are really kind of looking for ways out of this."
So you want to wave a magic wand and pretend Americans didn't do terrible things and that we shouldn't learn from past mistakes? That only works in a place called Miopic Fantasy Land. 
5. "I just think art has a responsibility to lead the way, and I don't know the answers, but I feel like asking the question is the first step, and we're asking the question in a big way. How do I show my Southern pride? What is offensive to you?"
Yes, it's very "responsible" to ask an offensive question and then make us answer it. Also, there is a way to show your Southern pride without invoking the Confederate flag — maybe a shirt with brisket on it? Get creative. 
6. "[LL's] summation is really that whole let's bygones be bygones and 'If you don't judge my do rag, I won't judge your red flag.' 
We are comparing an article of clothing to the universal symbol for American slavery — it's apples and shackles, really.  
7. "I'm with my audience 100 percent in the Southern pride thing, in the same way that a Yankees fan is very proud of where he's from — that's LL. We've got pictures of him in a New York Yankees cap doing his vocal, which is so appropriate." 
Sure, but that doesn't negate all the inappropriate things about this song. Plus, I'm missing the part where a sports team and the Civil War are the same thing. 
8. "But, you know, it's such a complicated issue [racism] — I'm reading up on it now, [since] I felt I needed to be well-armed for any discussion."
Maybe you should have done your studying before you released — or even wrote — the song. Don't admit your ignorance, dude.  
9. (In response to LL's New York Yankees Hat in the video) "New York City was all for slavery. They actually voted 60 percent against — or maybe 70 against — Abraham Lincoln because they didn't like the idea of slavery going away because there goes cotton and there goes tobacco trade, you know what I mean? It's very hypocritical to feel like it's just the South's fault."
Okay, racism existed all over the country, but how does that excuse the part where you want to pretend it never happened?
10. "It just doesn't do any good to blatantly do things and be like, 'Just get over it.' That's not what we're saying. This is a very sensitive subject, and we're trying to have the discussion in a way that it can help." 
What does "let bygones be bygones" mean if not "just get over it"? Plus, you're forgetting the part where you should probably say something along the lines of, "I'm sorry I greatly offended large groups of people."
More:
Racists Respond to "Accidental Racist" 
New Brad Paisley Song Is Totally Racist 
Rating the Grammy Performances: From Best to LL Cool J
---
From Our Partners:


Eva Longoria Bikinis on Spring Break (Celebuzz)


33 Child Stars: Where Are They Now? (Celebuzz)