Everyone Was Wrong About Bruno Mars' Super Bowl Halftime Show
When Bruno Mars was first announced as the headline performer for the Super Bowl Halftime Show, the reaction was decidedly mixed. Fans of the singer were excited to watch him breakthrough to a whole new level of fame, while those who weren't familiar with him or his music – or just weren't fans at all – were critical of the NFL's choice. After all, the Halftime Show is usually played by someone who has been around for decades, a rocker or pop star who will be able to appeal to the multiple generations of football fans watching in the arena and at home. So, when Mars hit the stage on Sunday night, he had a lot to prove. Not only did he need to entertain the millions of people watching, but he needed to prove all of the people who had been skeptical wrong, and so he pulled out all of the stops and a set list of his biggest, most danceable hits for his big moment. 
But just how well did he do? Was his Halftime Show one for the ages, or, like the Broncos' defense, is it something that's better off forgotten? We've evaluated Mars' Halftime Show based on the criticisms he received when he was first announced as the headliner in order to determine whether or not he was able to prove his critics wrong and deliver on Sunday night. 
He Only Sings Sappy Ballads
One of the biggest complaints about Mars being selected for the Halftime Show was that he was best known for his ballads, sappy love songs like "Just the Way You Are" and "When I Was Your Man." The Super Bowl is a celebration, and the Halftime Show is supposed to be a party, which means that people were worried that Mars wouldn't be able to deliver an exciting, entertaining performance that would be appropriate for the celebratory occasion. Mars faced that criticism head-on, and instead crafted a set list designed purely to get the audience on their feet and dancing. Yes, he closed out the night with "Just the Way You Are," which, after all, is his biggest hit, but for the majority of his time onstage, Mars kept everything upbeat, and encouraged everyone watching to join his band and "get loose." 
He Wouldn't Be Able to Rock an Arena
It takes a lot of talent and stage presence to entertain a sold-out football stadium, which is why the NFL tends to recruit rock stars and pop divas to perform on the Halftime Show, since they have shows designed to make the fans in the nosebleeds have just as much fun as those in the front row. The Super Bowl needs to be a spectacle, and many were worried that Mars wouldn't be able to deliver on that front. But deliver he did, with a performance that included a children's choir, an extended drum solo, singing, dancing, a full band, flashing lights, fireworks and the Red Hot Chili Peppers. Mars is a consummate performer, and so he used every weapon in his arsenal to deliver a show that was exciting and entertaining for both the fans at MetLife stadium and the viewers at home. Once he and the Hooligans started in on "Treasure," we're pretty sure everyone watching started dancing in their living rooms. 
He's Not Established Enough
Playing the Halftime Show is an honor reserved for the most legendary of artists. In the past few years, we've seen performers like Madonna, Beyonce, Bruce Springsteen, and Paul McCartney take on the task, generally to a great deal of praise and accolades. Which is why, when mars was announced, people immediately began debating whether he was qualified enough to headline the show. With only two albums under his belt, and only having recently broke through into the mainstream, Mars didn't have the legacy that the others had. However, he's proven himself to be a major success in the short time he's been working, with five number one singles, over $10 million albums sold, and two Grammy awards under his belt. Then, he brought the Red Hot Chili Peppers, who have been together since the early '80s, on board, to lend him an air of familiarity and add some cross-genre appeal. Finally, Mars proved that his long history of touring can be just as beneficial as years of releasing albums, and used his musical talents and showmanship to deliver a highly-polished performance. If he wasn't an established artist before the Halftime Show, he certainly is now.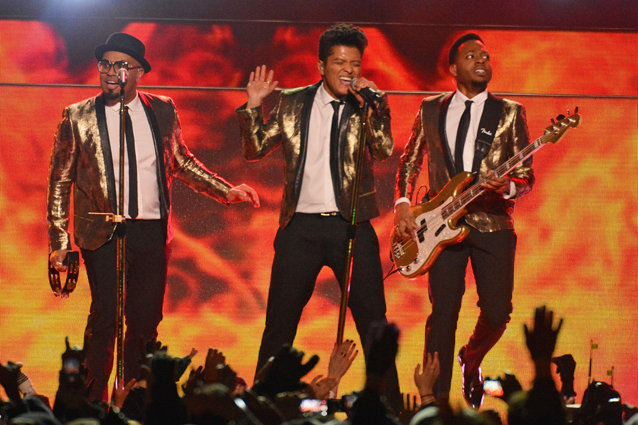 Kevin Mazur/Getty
His Music Wouldn't Appeal to Older Audiences
One of the reasons why the NFL tends to recruit older performers for the Halftime Show is to appeal to the older audience that is watching the game at home, and since that audience tends to be larger than the younger viewers, the network wants to appeal to them. But while Mars might be better-known by the younger generation, his throwback style and his retro sound should be appealing to listeners of all ages. From "Locked Out of Heaven," which is heavily influenced by The Police, to "Treasure," which is an updated disco jam, to the matching suits and coordinated dance moves that call to mind old-school bandleaders, there's a lot about Mars for older viewers to find appealing. He's the kind of artist that both parents and kids can enjoy, and that means that both of them are likely to sit sit through the Halftime Show instead of changing the channel until the game resumes – which is good for both Mars and the network. 
He Only Has Two Albums, He Can't Play a Full Show
Although Mars has a smaller discography than most of the Super Bowl performers, he's got plenty of hit singles to choose from when it comes to putting his set list together, and with all of the collaborations he's done with other artists, he's got a much larger back catalog than most people realize. He certainly has enough to put together a fifteen-minute show with enough energy to keep the audience entertained, and he did it with only one ballad. However, his set did feel a bit short, despite running for nearly fifteen minutes, which could be due to the fact that his medley only included a few songs, even with the addition of the Red Hot Chili Peppers.  
He's Not From New Jersey, and This Is a Jersey Super Bowl
Well, you can't win them all.