Can You Count the Famous Faces in Paul McCartney's Music Video?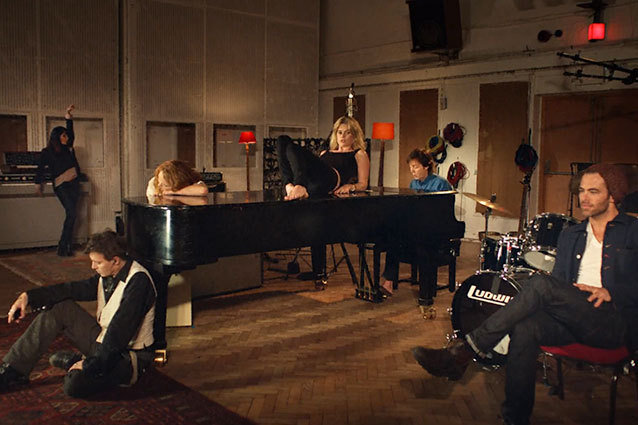 PaulMcCartneyVEVO/YouTube
Last week, E! News reported that Kate Moss and Johnny Depp were reuniting for Paul McCartney's newest music video "Queenie Eye." Though the couple (who dated from 1994-1998) never share a shot together, they do share the screen with a ton of other celebrities. Check out the video below and see if you can count the famous faces… it's next to impossible to get them all on the first try. 
After a few viewings (and a few google searches), I counted 17 in total, though it's definitely possible there are more. Check below the video for all the celebs we spotted:
1. Depp
2. Moss
3. Meryl Streep
4. Tom Ford
5. Alice Eve
6. Lily Cole
7. Jude Law
8. Sean Penn
9. Chris Pine
10. James Corden
11. Jeremy Irons
12. Gary Barlow
13. Tamara Rojo
14. Laura Bailey
15. Tracey Ullman
16. Sir Peter Blake
17. Jack Savoretti
Phew, seriously, only Paul McCartney could pull this one off. 
While McCartney has a history of using famous faces in his videos, such as Natalie Portman in "My Valentine," "Queenie Eye" goes to a whole new level in including celebrities from around the world. And while the the video is definitely impressive, it's special for reasons other than the wall–to–wall stars. Filmed in London's Abbey Road studios, the video is also where The Beatles' first single "Love Me Do" was recorded. 
Though the star-studded grouping is already intriguing fans to watch, the song "Queenie Eye" will probably be a hit in its own right. The single, which is the first to be released from Paul McCartney's latest album New, has all the makings of becoming our favorite fall tune. And hey, there's no argument here, the 71-year-old has still got it. 
Be sure the check out New which landed in stores Oct. 15, and listen for "Queenie Eye" on your favorite station, it won't take too long before it gets stuck in your head.