10 Celebrities Who Have Opened Up About Their Struggles With Fertility
Celebrities are pretty much expected to be open about every aspect of their life. So many women have been asked about when they want to start a family, and that has become the norm. However this can be hurtful to the women who have struggled with fertility and puts them on the spot. Things like miscarriage and fertility treatments can be isolating because not everyone talks about them. But here are ten strong women who have been open about their journey.
1. Tyra Banks
Tumblr
"We're kind of going through this similar thing with IVF," said Banks on FABLife. "And, you know, putting needles in your tummy every day and having to come to work and smile when you feel like you want to throw up and lay down…I can't believe I'm saying this right now."
2. Beyoncé
Tumblr
Before Blue Ivy the singer had a miscarriage and opened up about it in Life is But A Dream. "'I envisioned what my child would look like. I was feeling very maternal," she explained. "I flew back to New York to get my check up – and no heartbeat. Literally the week before I went to the doctor, everything was fine, but there was no heartbeat." She then went on to write a song about it for her album. Jay Z also mentions the experience in his song, "Glory."
3. Khloe Kardashian
Tumblr
When the reality star was still happily married she was being hounded with baby questions. She however explained to Cosmopolitan UK that it wasn't that simple. "I just wanted to be, 'Hey, let's have a baby,' and we would just have one. Kourtney did. And I wish that was the way for me," Khloe revealed. "But it won't be. I'll have to take hormones. I do want to have a baby, but I don't feel the urgency to have one this very moment."
4. Celine Dion
Tumblr
The beautiful singer needed six IVF treatments to get pregnant. Although it did eventually work she lost a baby while giving birth to triplets. "He chose to let go to give space to his brothers to grow," Dion explained according to Daily Mail. Her twin boys are named Eddy and Nelson.
5. Sarah Jessica Parker
Tumblr
Trying to get pregnant after her son was a struggle so she used a surrogate to get her twin girls. After directly be asked if she experienced fertility issues she told Access Hollywood, "Yeah, I mean, I couldn't pretend otherwise. . .. It would be odd to have made this choice if I was able to, you know, have successful pregnancies since my son's birth."
6. Courteney Cox
Tumblr
Her character, Monica's story line of finding it hard to get pregnant was somewhat based on her real struggle. The actress opened up about being prone to miscarriages. "I get pregnant pretty easily, but I have a hard time keeping them," she told People. "I don't say it's a walk in the park, but what are you going to do? We just try again."
7. Mariah Carey
Tumblr
Getting her twins took a lot of work and she had to take medicine to prevent a miscarriage. Carey told Barbra Walters, "The main thing I did that was tough was to go on progesterone like every month…, and then when I was pregnant, I had to stay with the progesterone for 10 weeks."
8. Chrissy Teigen
Tumblr
Since it's widely known that Teigen is happy married, she keeps getting questions about children. She however shut that down on FABLife, "I can't imagine being that nosy, like, 'When are the kids coming?' because who knows what somebody's going through, who knows if somebody's struggling? I would say, honestly, [that] John and I were having trouble. We would have had kids five, six years ago if it had happened, but my gosh, it's been a process."
9. Giuliana Rancic
Tumblr
The television host used a surrogate after having multiple miscarriages. "It was painful," Rancic told People. "We were so optimistic with this last embryo. We thought, 'This is definitely going to work. This is our last shot.'"
10. Brooke Shields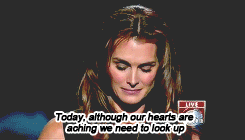 Giphy
The actress learned a hard lesson that some things are just out of your control when it came to fertility. "Being a type A personality, I've always believed that if I did my homework, if I worked hard enough, I'd get the results I wanted." She also told People, "But you can't ensure success unless you're God — and you're not. Neither are the doctors."