Celebrity Parents Gone Wild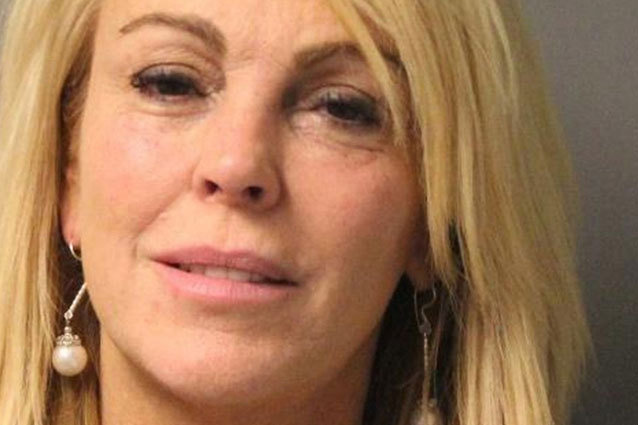 It's still uncertain whether or not there has been any child star that has come into adulthood unscathed, but what's for sure is that stage parents are rarely ever as perfect as they make themselves out to be.
Here are 9 stage parents that will have you calling your mom tonight and telling her that you love her.
Dina & Michael Lohan
A list about celeb parents gone wild would never be complete without the Lohans. Where to even start? In one side of the ring we have Dina Lohan, who has been blatantly freeloading off of Lindsay since she first shot to fame. Claims of being a Rockette (which she never was), a reality show, dodgy photos of her kinda-sorta making out with her own daughter (EW), showing up under the influence of WTF on Dr. Phil's show, publicly sparring with her ex-husband, partying with Lindsay, and now a glorious DWI just weeks after Lindsay was released from rehab are some of the accomplishments Dina has under her belt. On the other side of the ring is Michael Lohan – over 6 years in jail, DUIs, random children with even randomer women, being violent towards his girlfriends, and talking to the press about how he's not talking to the press anymore are some of Michael's accomplishments. With parents like these, is it any wonder why Lindsay is the way she is?
Courtney Love
Courtney Love is a hot mess and that title definitely passes over to her parenting skills. She was a shady parent from the start, admitting to Vanity Fair in 1992 that she took heroin while she was pregnant, though she stopped once she discovered she was with child. Love's relationship with her daughter Frances has been plagued with drug overdoses, crazy Twitter rants, losing custody, restraining orders, and alleging that Dave Grohl hit on her daughter. It's safe to assume that CPS was on speed dial for majority of Frances' first eighteen years.
Charlie Sheen
Charlie Sheen, Father. If those 3 words don't strike fear in your heart, then little else will. Sheen may be winning life with his warlock tiger blood, but he sure isn't winning any fatherhood acclaim. After he split up with Denise Richards in 2005, the couple had no problem airing out their dirty laundry for the world to see, which included the earth-shattering surprise that Sheen visited prostitutes and Sheen, the ever-romantic, threatening to kill Richards. The situation was replayed when Sheen and Brooke Mueller divorced in 2010, with Mueller getting a restraining order against Sheen for making "descriptive" threats to her. If that's "winning," being a loser sounds pretty awesome right now.
Jaid Barrymore
Drew Barrymore comes from a long line of esteemed and troubled actors, but it's her mom that gets most of the slack when it comes to her. Drew is a paradigm for reformed wild child, and majority of her problems stemmed from her own mother teaching her how to party. Jaid allegedly took Drew to Studio 54 before Drew could even walk. Drew was smoking and drinking by 9, doing cocaine by 13, and had gone to rehab twice by the time she was 14. Luckily, Drew divorced her parents when she was 15 and ended up turning out better than ok.
Joe Jackson
It's no secret that Joe Jackson always had a bad relationship with his children, namely Michael, but he reminded us all exactly how low he'd go after Michael's death in 2009. Joe used Michael's death as a publicity vehicle, using events commemorating MJ's career to promote his own business ventures. He also blamed Katherine Jackson for Michael's death, because that's just the kind of stand-up guy he is. Joe complained about the fact that Katherine couldn't stop crying after losing her son, admitting, "I didn't give her a hug because I was mad at her crying." Sociopathic much?
Kris Jenner
We can all thank Kris Jenner for unleashing the Krazy Kardashian Klan upon us. Though they claim to love each other dearly and be a close family unit, it's pretty easy to see that Kris Jenner has the entire family by the proverbial balls. Kris all but admitted to brokering Kim's sex tape, saying on an early episode of Keeping Up With the Kardashians, "As a mother, I wanted to kill her. But as a manager, I knew I had a job to do." Kris also encouraged Kim to pose for Playboy in 2007, even though Kim was uncomfortable with the prospect. There's also the fact that she had no qualms about her barely teenaged daughters dancing on a stripper pole (in her own house, no less).
Linda & Hulk Hogan
The Hogan Family is basically Days of Our Lives with more peroxide and less Stefano, and at the center of it all is poor Brooke Hogan. First, Hulk Hogan cheated on Linda Hogan with one of Brooke's female friends. Then, in a totally non-attempt to get back at Hulk, Linda ran off with one of Brooke's male friends. If all that wasn't bad enough, a sex tape of Hulk and Heather Clem, the estranged wife of Bubba the Love Sponge (yes, that's what someone chooses to call themself) was suspiciously leaked onto the interwebs. Hulk may be a WWE superstar, but nobody wanted to see that. It's one thing when celebs leak sex tapes, but celeb parents leaking sex tapes is a whole other shade of embarrassing.
Ryan O'Neal
If there's a perfect example of why people should have to be tested for competency before they become parents, Ryan O'Neal is it. Ryan is the reason why his son, Redmond, is also a drug addict, with the 2 of them sharing a touching father-son arrest for felony meth possession in 2008. His daughter, Tatum, also alleged claims of physical and emotional abuse on his part in her memoir and she's no stranger to drug arrests either. Making things worse is the fact that Ryan admitted to hitting on Tatum at Farrah Fawcett's funeral, stating, "I was just trying to be funny with a strange Swedish woman, and it's my daughter. It's so sick." At least we all agree on one thing, Ryan.
Chrisoula Workman
The latest recruit in the Crazy Stage Parents Club is Chrisoula Workman, mother of Modern Family star Ariel Winter. In 2012, reports emerged that Ariel had been removed from her home due to her mother abusing her physically and emotionally. Ariel lived with her older sister Shannelle, who was also removed from the house by the Department of Children and Family Services and even lived in foster care for a while. Some of the things Chrisoula was accused of include name-calling, insults about weight, trying to 'sexualize' the then-14 year old, and even depriving Ariel of food. Instead of trying to solve her family's problems, Chrisoula went all out on the offensive, spreading rumors about her daughter wanting to shack up with an 18-year-old and telling a judge not to believe Ariel, saying, "She's an actress so I'm sure she can cry at the drop of a hat." Wow. Hey Chrisoula, there's this great guy that's just perfect for you named Joe Jackson…
More:
Young Adult Novels Are Taking Over The Theaters
Melissa Joan Hart Reveals Secret Drug Abuse
Zach Galifianakis Calls Justin Bieber Out For Being A Douche
---
From Our Partners:


40 Most Revealing See-Through Red Carpet Looks (Vh1)


15 Stars Share Secrets of their Sex Lives (Celebuzz)