Celebs Get the Royal Treatment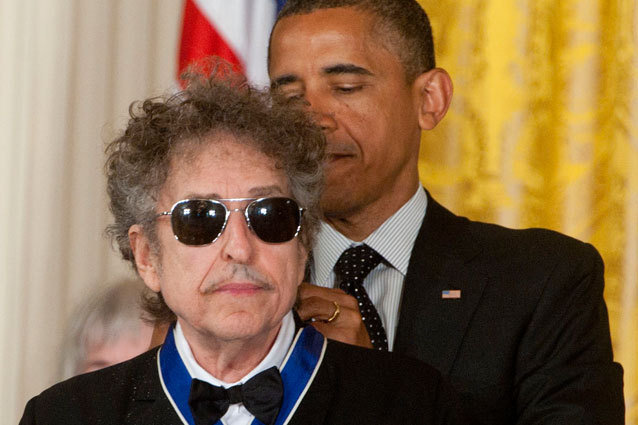 Leigh Vogel/WireImage
Some celebrities take time out of their busy schedules of being famous to do charity work and take part in social causes. In the United States, the highest honor that a civilian can get is the Presidential Medal of Freedom, while in England, people are knighted and officially called "Sir" or "Dame." Lucky for them, knighted celebs don't have to go jousting or hang out in crusades, but they do get pretty awesome bragging rights. Of course, none of the following celebrities are "Sir" enough to match the one and only Sir Mix-A-Lot, but then again, who can?
Bow down, children – these 7 celebrities are recognized royalty in their home countries.
Elton John
Elton John's real name is Sir Elton Hercules John (actually it used to be Reginald Dwight, but we don't need to go there). Knighted in 1998 for his charitable work and for being, well, Elton f**kng John, the Rocket Man has done a great deal for both music and charities, including campaigning hard for AIDS awareness since the 1980s.
Helen Mirren
Helen Mirren may have pretended to be the Queen of England, but she is a genuine Dame. In 1996, Mirren was offered appointment as Commander of the British Order in 1996, but she declined, instead accepting damehood for her contributions to the performing arts in 2003. Her full title is Dame Commander of the Order of the British Empire – with a title like that, it's understandable why she held out. Really, though, Mirren should've received damehood just for those famously smoking hot bikini pictures.
Mick Jagger
Fellow Rolling Stoner Keith Richards has been vocal about his disdain for knighthood, calling it a "paltry honor" that wasn't true to what the Stones are about. In true Richards style, he said all this after once self-proclaimed "anarchist" Mick Jagger had already accepted his knighthood, which, by the way, was given rather dubiously. Reportedly, the Queen of England didn't have "the stomach" to award gyrating Jagger with the honor, leaving it up to the Prince of Wales to do the dirty work.
Loretta Lynn
Loretta Lynn is the Queen of Country for a reason – she is hands-down the most awarded woman in country music. Lynn has won numerous industry awards, and in 1995, was also the recipient of the Kennedy Center Honors award, a distinction given to performers that have made significant contributions to American culture. Just last month, President Obama announced Lynn will be awarded with the Medal of Freedom, calling her a "country legend."
Bob Dylan 
He may have made a living singing anti-establishment songs for decades, but Bob Dylan had no problem being awarded the Medal of Freedom from President Obama in 2012. Obama said of Dylan that there was no "bigger giant in the history of American music" and commended him for his messages of freedom, while Dylan, in proper Dylan style, attended the ceremony looking like a lost Tim Burton character.
Oprah
It's no surprise that Oprah will be the owner of a Medal of Honor since Oprah owns pretty much everything. Along with Loretta Lynn, Oprah is also being awarded the prestigious honor for her long-standing philanthropy charity work this year.
More:
9 Sexy Helen Mirren Photos
Movie Presidents We Want to Drink With
Prince Harry Is Not Impressed By Rick Grimes
From Our Partners:


40 Most Revealing See-Through Red Carpet Looks (Vh1)


15 Stars Share Secrets of their Sex Lives (Celebuzz)