Charlize Theron Joins Lineage of Life-Saving Celebs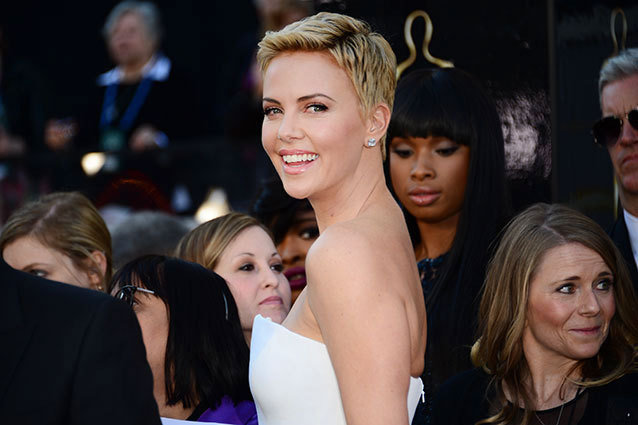 Just in case Charlize Theron wasn't perfect enough at the Academy Awards on Sunday (between her swoon-worthy dance with Channing Tatum and her knockout outfit, she and Jennifer Lawrence pretty much stole the show) the stunning Oscar-winning actress also reportedly rushed to help a security guard who was suffering from a seizure before the ceremony began at the Dolby Theater.
RELATED: Best and Worst Moments at the 2013 Oscars 
According to E! Online, Theron "was one of the few people around the man when he went down, and attempted to help him up, before someone else phoned a doctor." Hollywood.com reached out to Theron's rep for a statement regarding the story, but they could not immediately be reached for a response. 
RELATED: Charlize Theron To Star in 'Dark Places' Adaptation? 
Of course, while flawless human Theron continues to be a flawless human by also doing good deeds and looking out for her fellow man, she's not the only Hollywood star to come to the rescue in real-life life-or-death situations. Here are 10 other examples of celebrity good Samaritans:  
-Mila Kunis found herself in a similar situation to Theron's when a man working on her home suffered a seizure and she reportedly turned his head to the side so that he wouldn't choke from vomiting and biting through his tongue. 
– Say what you will about Tom Cruise, but the guy is a veritable superhero in these kind of situations. The actor came to the aid of a hit-and-run victim (he even footed their hospital bill); helped passengers to safety when their boat caught on fire; lifted two young boys who were in danger of being crushed by a barricade at one of his premieres out of harm's way; and helped a woman who was being mugged thwart her attacker. 
– Ryan Gosling famously stopped a girl from stepping out in traffic and another time, stopped a scuffle between two men in the middle of traffic. He's a real hero and a real human being. 
– Kate Winslet couldn't find room for poor Leo on the piece of driftwood in Titanic, but she sure was heroic when she carried Richard Branson's mother to safety when their home, where she was staying as a guest with her family, was on fire. 
– Country star Garth Brooks also saved folks from a fire when he helped save two children who were caught in the path of a grass fire. 
– Patrick Dempsey used a crowbar and extinguisher to help get a trapped teen out of his car, which had flipped over near his home. 
– Dustin Hoffman called for an ambulance on his phone when a fellow jogger collapsed to the ground. 
– Arnold Schwarzenegger put his on-screen hero skills to the test when he helped pull a distressed swimmer to shore at a Hawaain beach. 
– Harrison Ford also took the leap from silver screen hero to real-life rescuer when he aided a hiker to a helicopter after the hiker fell ill from heat, altitude, and dehydration. 
– Rapper T.I. talked a suicidal man off a ledge in Atlanta after hearing that he had been threatening to jump. 
 [Photo credit: Frederic J. Brown/AFP/Getty Images]
---
From Our Partners:


25 Most Scandalous Celeb Twitpics (Vh1)


33 Child Stars: Where Are They Now? (Celebuzz)