Inside 'Inside Llewyn Davis'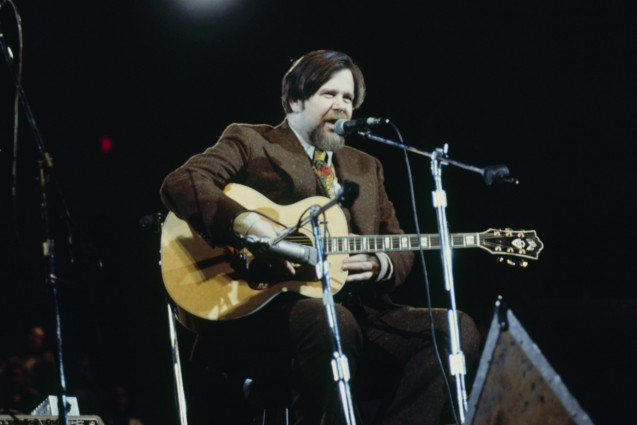 David Redfern/Getty
The late, legendary Greenwich Village folksinger Dave Van Ronk's name has been popping up all over the place lately, due to him being the inspiration for the title character of the Coen brothers' new film, Inside Llewyn Davis. While the featured folkie in the Coens' fictionalized tale of a troubled, guitar-wielding ne'er-do-well bears some superficial similarities to Van Ronk, Joel and Ethan Coen themselves have stated that the real-life folk hero's story was only a jumping-off point for the part played by Oscar Isaac in their movie.
Arriving just in time to set the record straight in musical terms, Smithsonian Folkways' new three-disc Van Ronk collection, Down in Washington Square, illustrates the radical difference between Isaac's mellifluous croon and Van Ronk's feral, bluesy growl. The Brooklyn-born, Queens-bred troubadour inhabited his songbag full of blues, trad jazz, and folk tunes like the larger-than-life figure that he was, chewing scenery with a fierce energy and irresistible charisma. This amply appointed anthology, including an impressively annotated booklet and some fascinating photos of a young Van Ronk, is dominated by the balladeer's first two albums for Folkways, from '59 and '61. But even the folkie faithful who already own that seminal material will be pulled in by the presence of no less than 17 previously unreleased tracks.
The bonus cuts include a wealth of illuminating live recordings, going back to Van Ronk's earliest days (there are several from 1958, predating his debut album), and extending all the way to the end of his career. But whether the godfather of the Greenwich Village folk scene — whose avuncular presence on the scene and long, successful career are both at odds with the losing personality and loser status of Llewyn Davis — is howling out the traditional rounder's tale "Gambler's Blues" or crooning his own elegant ballad "Another Time and Place," his élan, invention, and charm come leaping out of every vocal growl and fearlessly fingerpicked guitar pattern.