Exclusive: David Driver on 'This Park is Mine'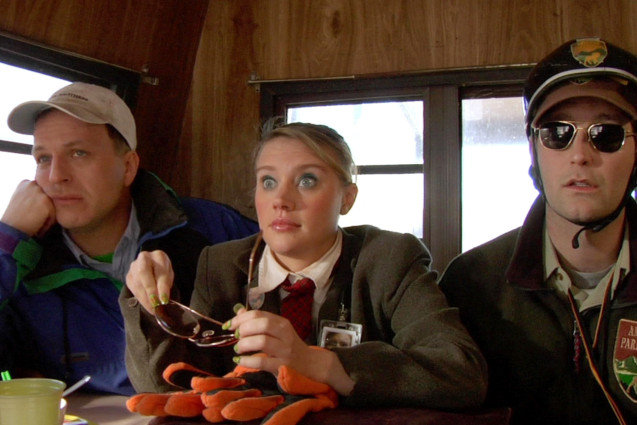 This Park is Mine
Writer, designer, and director David Driver is one of those rare breeds. A true artist we like to call them. Today he tells us about his new web series, what it meant to work with the crew, being inspired by real life events, and what we can expect to get out of this hilarious journey he takes us on.
The series is on Vimeo: You can watch here.
What can you tell us about This Park is Mine?
It's a comedy web series about a WAY overzealous park ranger (Nathan Phillips), who's definitely on some spectrum of neurological uniqueness, and the deeply unlucky attorney (Kate McKinnon) who has to defend him in a court case. It's set in the Brown Mountains, a region somewhere in the Northeastern US.
The ranger, Timothy T. Walters, has been charged with tazing a female park-goer after apprehending her 'joyriding' through his serene woodland habitat on a borrowed recreational vehicle. So his employer, the American Parks Corps, has assigned him an attorney, who has issues and challenges of her own. The show is about the collision of their lives – individual and shared.
Timothy is kind of like a pinball, careening through his life and knocking down everything and everyone in his path. Except, that is, for the woodland creatures he so loves. With them, he knows how to be.
Did you find it challenging getting the story across in only 6 three to five-minute episodes?
Yes, but in a good way. It was an interesting and exciting challenge. When we were shooting, we weren't quite sure what the final format or breakdown was going to be, it was all TBD. That said, there is a lot more story there that didn't end up on the screen. Maybe someday it'll get revealed. Who knows.
Any hints on what else the Brown Mountains are hiding?
Oh my. A lot. I spend a lot of my time in a small town in the Catskills near the Pennsylvania border. But I'll tell you, if you want to find genuine shenanigans, trickery and deception, the country is the place to look! Our town really is like Peyton Place (although I wonder if anyone even knows what that is anymore?). Lots of intrigue with the people and the local politics. It's crazy.
So yeah, the Brown Mountains are filled with treachery, deceit, and drama. As well as a bunch of woodland creatures that need defending, and human visitors who need disciplining. And one Park Ranger who, by his very nature, can't help but stir up sh*t wherever he goes.
What is the inspiration behind the webisodes? Where can we find them?
I had done some work for Sundance Channel, when it was launching a programming block called The Green. Laura Michalchyshyn, who was the president of the channel at the time, commissioned them. She later moved over to Planet Green – a channel devoted entirely to those same ideas. She and her team wanted to find new, interesting, unexpected ways to address them, and we started to talk about what we might do.
Simultaneously, some very close friends had a run-in with an actual park ranger while rafting on the Delaware River. One that, in hindsight, was extremely weird and funny, but at the time was mostly just weird – he was, by all accounts, a very odd and aggressive personality, who seemed more comfortable relating to the river itself than the people on it. He lectured them for more than an hour about river safety, threatened to bring legal action against them, then released them with 'only a warning' (although as it turned out they hadn't done anything illegal). I mentioned this to a few people in the area where it had happened, and found out that our friends weren't alone, quite a few different people had had similar encounters with a park ranger, in and around the same area. I have no idea whether it was the same person, for all I know this may be a Sasquatch-esque myth in the making – but the stories were so good! So when my producing partner Amy Hobby and I next spoke to Laura, we mentioned the idea of doing something based on this kind of character. She loved the idea and we went from there.
Much of what happens in This Park Is Mine is inspired by actual events. I wish we'd thought to have a thing come up at the beginning saying INSPIRED BY ACTUAL EVENTS. That always makes it more exciting, you know?
It looks like a fun cast you were working with. How was it on the set with Amy Miles, Kate McKinnon, Moe Angelos and others?
Fun is not a big enough word! It was fantastic. Amy Hobby and I were so lucky that we got the caliber of talent that we got – for we were working on a tight timeline and budget. Everyone was so up for the adventure though. Total pros. It was amazing what we accomplished in a few short days.
We did the whole thing in three or four days; but I wish we could have spent another month shooting and hanging out.
Any on set stories you can share with us?
The series was shot in a structured-improvisational format – we knew, as we were going to shoot each scene, what was supposed to happen and where we were supposed to get to, but we never knew quite how we'd get there. If you work with improv performers who really know what they're doing, Kate McKinnon and Nathan Phillips are two very good examples, it's incredibly fun to watch. It kind of makes me wish we could just include all the different takes in the final piece.
It also let us be pretty freewheeling about the story. Gwen Auburndale's relationship with her semi-catatonic boyfriend just kind of popped up as an idea one morning. I proposed it to Kate McKinnon, who gave me a look that I can only describe as 'withering' – she was clearly appalled that we'd consider throwing an entirely new character and situation at her, about ten minutes before we were due to film it. I kind of loved that she was so forthright about how crazy she thought I was… I always prefer people to be straightforward, even if it's awkward or whatever. Then she completely nailed the whole thing, in what appeared to be a pretty effortless fashion, so it all worked out great. I am a fan of hers.
Gwen's boyfriend is played by Joe McGinty, who's been a fixture on the downtown NYC music scene for years, he's the mastermind behind a series of tribute shows called The Losers Lounge, which is about to celebrate its 20th Anniversary. He composed all the music for the series, using only 'found sounds' from nature beavers making dams, hummingbirds, bees, tree trunks cracking. So basically it's an animal orchestra of sorts. We have an entire catalog of different themes ready to go, so here's hoping that Timothy T. Walters has more (mis)adventures for us to score.