Do You Feel Betrayed that Colbert's 'Get Lucky' Dance Party Was Planned Well in Advanced?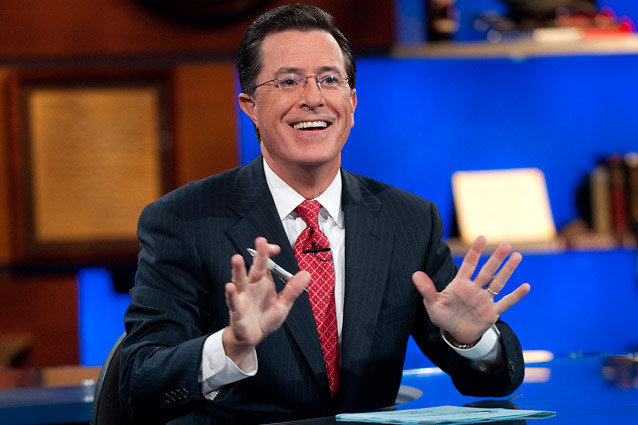 After Daft Punk was a no-show for the The Colbert Report's Colbchella concert series, Colbert made up for the lack of robot-masked musicians with a cameo-infused dance party to Daft Punk's song of the summer "Get Lucky." While we were giddy watching Colbert jam out with a slew of celeb favorites, we did wonder when exactly Colbert got ear that Daft Punk was canceling considering how this "last-minute" replacement bit obviously needed a whole lot of prep-time. And considering that Colbert was able to nail Robin Thicke as a substitute for Daft Punk, it became evident that some prior planning must've went down. 
Well, Stephen Colbert revealed that about a month leading up to Daft Punk's scheduled performance, he and his team of writers were forced to circumvent the artists' unwillingness to perform or even talk during their appearance on The Colbert Report. In an interview on Paul Mercurio's podcast, Colbert disclosed how despite Daft Punk's refusal to perform, he refused to cancel. He shared how he not only intended to perform a six-minute monologue while Daft Punk remained silent and simply nodded their robot-heads in response – riffing on how they refused to sing – but also planned on a few jokey lines. 
Colbert shared, "I wish we could have done this joke. It was: 'Paul [Hahn, their manager], can I ask you — how do I even know it's them in the robot outfits, how do I even know it's them?' And he goes, 'Stephen, if it wasn't really them, they'd be doing the song.'"
So, since the "robots" were not cool with joking about their lack of a performance, Colbert filmed a star-studded video jamming to "Get Lucky," recruiting Hugh Laurie, Jeff Bridges, Matt Damon, and Bryan Cranston, and even Jimmy Fallon to boogie along with him. In addition, the Comedy Central host shot Robin Thicke performing his smash "Blurred Lines" to "save the day" since Daft Pink's appearance would be a silent one. However, it was only a day prior to Daft Punk's set arrival to NYC that Colbert learned about their previously hush-hush VMA performance and MTV Networks disapproval of having Daft Punk on both programs. Colbert said he was "confident it would work out," but mere hours before the show, Daft Punk's team pulled the plug on their appearance. 
So, there you have it! The mystery of Colbert's celebrity-jam-packed dance party is closed. But we are left with this question: do you feel betrayed that Colbert's dance party was planned far in advanced? Sound off in the comments below!
Follow Cori on Twitter @gimmegimmeCOR
Follow Hollywood.com on Twitter @Hollywood_com
---
From Our Partners:


40 Most Revealing See-Through Red Carpet Looks (Vh1)


15 Stars Share Secrets of their Sex Lives (Celebuzz)