Ernest Borgnine Dies at 95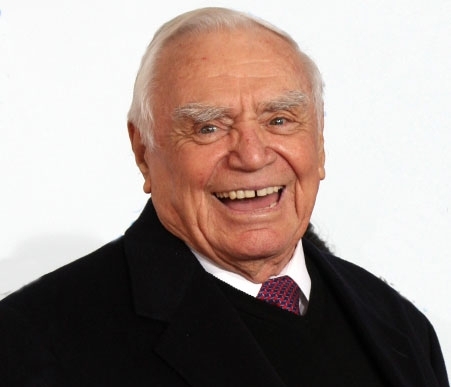 Ernest Borgnine has passed away at the age of 95. The actor's rep, Lynda Bensky, confirmed the news in a statement to Hollywood.com: "It's a very sad day. The industry has lost someone great, the caliber of which we will never see again. A true icon. But more importantly the world has lost a sage and loving man who taught us all how to 'grow young'. His infectious smile and chuckle made the world a happier place."
Borgnine's career began on a suggestion from his mother, who believed his personality was well suited for the stage. The Hamden, Conn.-born actor took his mother's advice and ran with it, racking up a series of roles on stage before heading to both the big and small screens.
His career spanned six decades, making him an icon of the business, beloved and respected by many. Known widely for being a dynamic character actor, Borgnine made the Hollywood scene his playground, making a name for himself with generally villainous roles. His career-bucking role as a lovelorn butcher in 1955's Marty won him an Oscar for Best Actor. Other highlights of his career include playing the sadistic Sargeant "Fatso" Judson in 1953's From Here to Eternity (where he had the tremendous duty of taunting a one Mr. Frank Sinatra), and his long-standing run on McHale's Navy as the title character Quinton McHale.
Borgnine continued to work well into his later years, lending voice work to the popular children's show Spongebob SquarePants. The actor also won himself an Emmy for his work on the final season of ER. His final acting resume totaled 203 titles — an impressive number by any standard. Additional roles in The Wild Bunch, The Dirty Dozen, and Escape from New York solidified his tremendous talent and Hollywood icon status. His 2007 Golden Globe nomination for a Hallmark film A Grandpa for Christmas made him the oldest actor to ever receive the honor.
He remarked in 1973 that having the starring role was never the most important goal for him, explaining, "I don't care whether a role is 10 minutes long or two hours," which showed his passion for the craft rather than the hullabaloo of fame itself.
In addition to acting, Borgnine spent 10 years in the Navy, and was the playful face of his wife Tova Traesnaes Borgnine's "Beauty by Tova" skincare line for a time. They were married for 34 years.
When it came to growing young, Borgnine explained that his secret was to just keep working; something he loved and did until his last days. He will be remembered for his charisma and ability to bring real life to whatever role he took on.
[Image Credit: WENN.com]
More: