Even Celebrities Are Fed Up With Donald Trump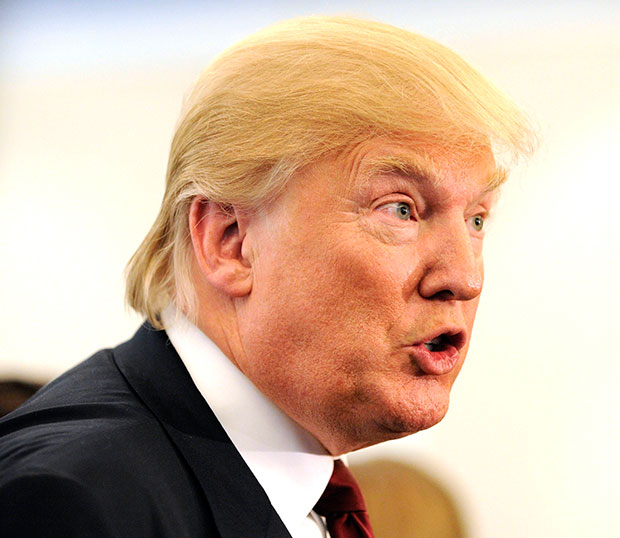 Last night, Barack Obama clinched a victory in the presidential race and will therefore continue to lead our country for the next four years. Many people — normal and celebrity alike — celebrated the results, but others were upset that Mitt Romney was defeated. You know who was really, really, ridiculously pissed off? Donald Trump. Big surprise.
After all of his loud support for Romney, his call for Obama's birth certificate, and that ridiculous "charitable" offer he extended to our President, Trump didn't take the loss lying down — he made sure everyone and their mother heard him complaining. His Twitter became one long complaint reel, with tweet after tweet lamenting how much trouble we are now in and how "the electoral college is a disaster for a democracy." By the time Trump called for a march on Washington to protest the results, more than a few people were rolling their eyes and letting out exasperated sighs. The Donald had gone off the deep end. 
And the public's annoyance quickly spread from us regular folk to the Famous over in Hollywood. Check out the best celebrity reactions to Trump's tweets below (you tell 'em, Soulja Boy):
I'ma run a sedative up to Trump Tower #BRB
— Andy Cohen (@BravoAndy) November 7, 2012
Hey Trump, did you see Mitt Romney's concession speech?That's what graciousness and good hair looks like.
— Steve Levitan (@SteveLevitan) November 7, 2012
@realdonaldtrump shut up
— Soulja Boy (@souljaboy) November 7, 2012
@realdonaldtrump. You trust the voters when they choose The Apprentice.But not now?
— ABFoundation (@ABFalecbaldwin) November 7, 2012
Donald Trump just called for a Revolution. Doesn't like democracy I guess.
— Mark Ruffalo (@Mruff221) November 7, 2012
Donald Trump is Andy Kaufman. Do people not know that?
— John Mulaney (@mulaney) November 7, 2012
Follow Sydney on Twitter @SydneyBucksbaum
[Photo Credit: Dominic Chan/WENN]
More:
Barack Obama Wins the 2012 Election: Happy With the Results?
The Election in Pop Culture: What Will the Next Four Years Bring?
President Obama Wins Election: What Are the Stars Saying About Four More Years?

Kim Kardashian: 'I've Lost 10 lbs'
(Celebuzz)