10 Things You Never Knew About 'Scream Queens' Star Lea Michele
Glee may be over but Lea Michele is still a busy gal! The TV star hopped onto Director Ryan Murphy's new FOX series Scream Queens as Hester, and has recently launched a self-help book, titled You First, which focuses on guiding girls to be their best self. This is the actress's second book (Brunette Ambition was released last year), all following a six-season run of Glee and a debut album titled Louder. And we're still trying to decide what to have for lunch…
The 29-year-old actress is more than her Rachel Berry owl sweaters and Hester neck brace! Here are a few fun facts that might surprise you:
1. Her BFFL is Broadway actor Jonathan Groff.
They starred on Broadway together in the Tony Award winning rock musical, Spring Awakening, and have been inseparable ever since! Aside from numerous TV appearances (including Glee), Groff's most recent success in Hollywood has been voicing Kristoff, the cartoon cutie from Frozen (he even voiced Sven too)!
2. Lea got in a minor car accident on the way to her Glee audition.
The actress says that she was turning into the FOX lot when the incident happened, leaving her pulling glass pieces out of her hair as she hurried to the studio. Luckily for her, things worked out…
3. She also almost hit Bon Jovi with her car on the way to The Ellen Show. At least he reportedly "smiled nicely"?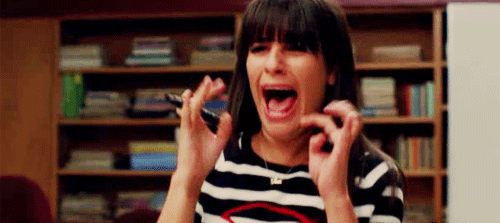 4. She has 14 tattoos!
Though she played good girl Rachel Berry on Glee, the starlet reported a year ago that she has an astounding 14 tattoos…and the number may have gone up! They range from music notes on her shoulder, "Believe" on her wrist, butterflies on her foot, and one on her ribcage that reads "if you say so" (also the title of a song that she allegedly wrote about deceased co-star/boyfriend Cory Monteith…not ready for the feels).
5. When she was 8, Lea tagged along with a friend to audition for the role of Young Cosette in Broadway's Les Miserables. Her friend didn't get the part, but she did.
6. When she wasn't on Broadway, she worked at a Bat Mitzvah dress shop during high school. Clearly, Lea has always had a taste for style.
7. She initially moved to L.A. to try and snag a guest role on Grey's Anatomy.
Instead of a small guest role, she landed the lead on Glee. Maybe her new self-help book will teach us how to do that?
8. Her BFF Jonathan named a goat on his family's farm after her. Somewhere in the cornfields of Pennsylvania Lea Michele is chomping on grass.
9. She once moved out of her apartment, convinced that it was haunted by a singing woman. Ironic.
10. During a visit to The White House with the Glee cast, Lea stole some toilet paper from the bathroom as a memorable momento. She allegedly still has it to this day.