'Teen Mom' Farrah Abraham Endorses Raspberry Ketones, Becomes Human Embodiment of Twitter Spam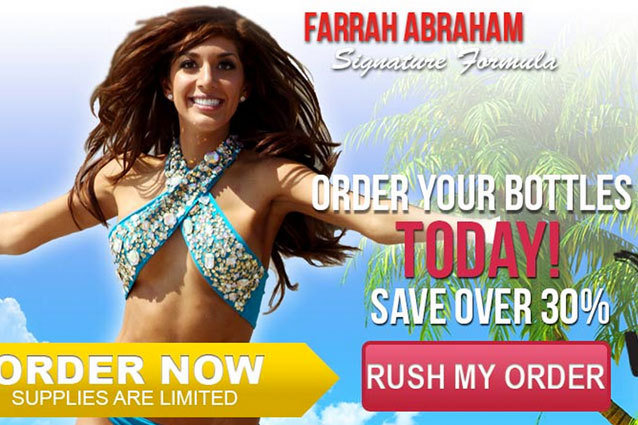 We asked for this, America. Now we're getting what we wished for: Teen Mom trainwreck/porn star/singer(-ish)/sad clown painting Farrah Abraham has landed herself an endorsement deal, because of course she has. But what, exactly, is this Kardashian wannabe shilling?
Abraham's Kash-in of choice is Raspberry Ketones, a.k.a. the weight loss supplement whose Twitter spam clogged up your timeline a few months ago. The reality star even has her own ~signature forumla~ (the tildes mean it's legit!) of the not-at-all medically proven weight loss pill that she absolutely did not ever in her life use to lose weight. We know this because, well, Abraham's body looks exactly as it always has for the past 14 minutes and 50 seconds she's been famous (aside from the plastic surgery she broadcast on her nationally televised MTV show).
Truly, Abraham's oblivious trolling of the universe has reached an all-time high, as she is now the living embodiment of social media spam-and-scam. Congratulations, Farrah — you've joined the ranks of the savviest of the media elite, including Hailey Glassman, Ronnie Ortiz-Magro, and Hulk Hogan for Rent-a-Center. How does it feel to share the stage with such beacons of business?
Really, raspberry ketones really feel like an abstraction of fame itself. Fruity, mysterious, and an unfounded "miracle" solution for idiots! Some lab mice were fed extremely high doses of the raspberry chemical and a bunch of dummies jumped on the bandwagon hoping to cash in: nothing is really known about how long-term exposure to the stuff effects the human body. And for these "miracle effects" to take place you need to take way, way more than the reccomended daily amount. Just like reality TV fame: the illusion of actual credibility is created using smoke, mirrors, bullshit, and a willing body for the right price. Three cheers for the American Dream, you guys!
There's a joke about MTV, fame, spam, and raspberries in there somewhere, but you can just make it yourself.
Check out Farrah's ringing endorsement of the product, below.
Follow Alicia Lutes on Twitter @alicialutes
More:
Farrah Abraham is A 'Teen Mom' No More, Sells Porn for Millions
'Teen Mom' Farrah Abraham Has a Sex Tape with James Deen
10 Stars That Shamelessly Shill Products
---
From Our Partners:


What Happened to 33 Child Stars (Celebuzz)


40 Most Revealing See-Through Red Carpet Looks (Vh1)