Felix Baumgartner Achieves World Record, Breaks Speed of Sound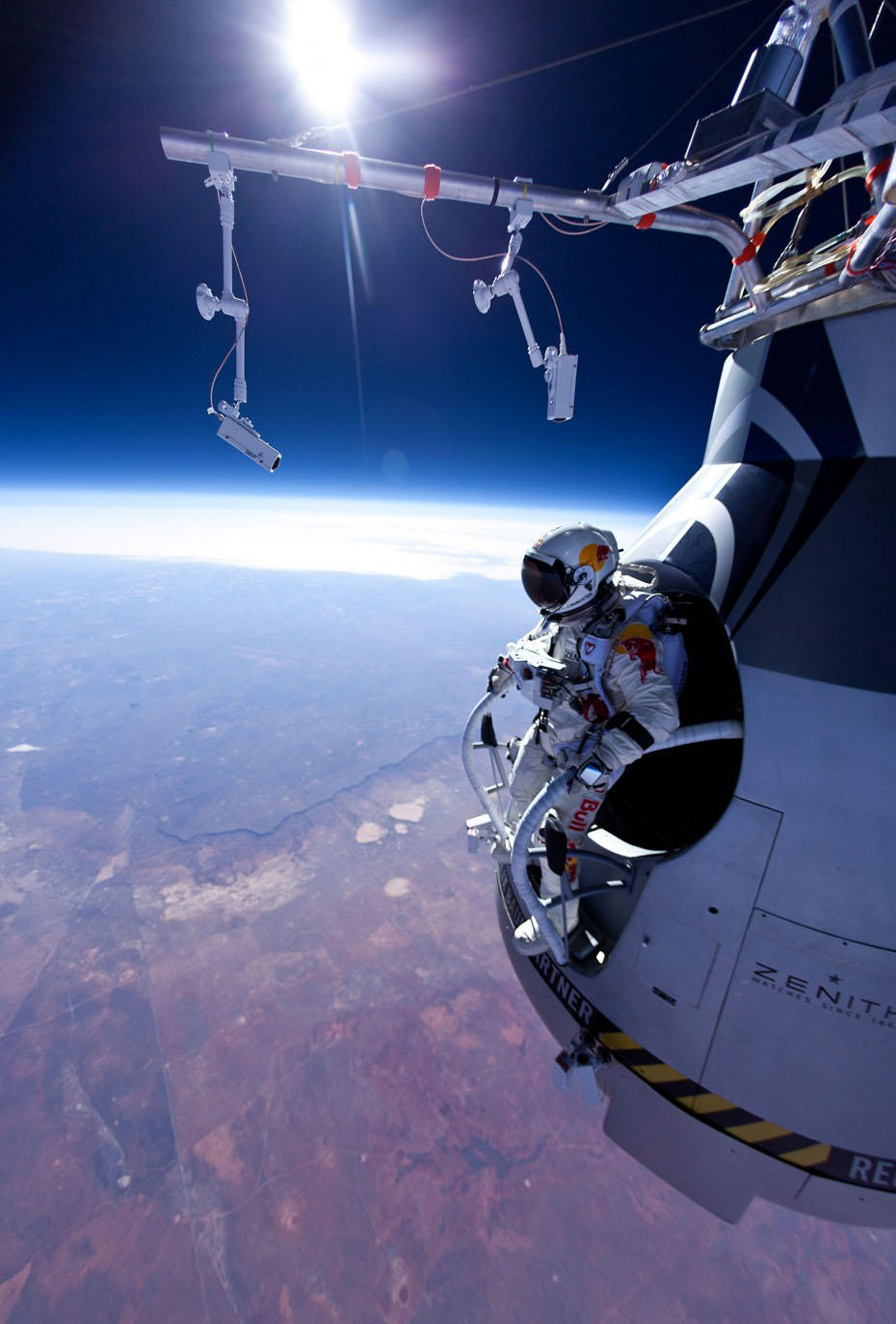 He was approximately 128,097 feet above the earth–that's over 24 miles. The edge of the ozone; the edge of space. Felix Baumgartner's Red Bull-sponsored, record-setting skydive centered high above Roswell, New Mexico, was officially a success.
Baumgartner initially held two world records from the single jump: one for the highest-ever skydive and one for highest manned balloon flight after jumping out of a balloon and back to earth in under 10 minutes. And now, he can add breaking the sound barrier to his list of accomplishments after traveling at approximately 729 miles per hour on his way back to earth. Achieving this epic feat made Baumgartner the first man to break the sound barrier without mechanical help in history.
Just another record under his belt in the time it takes most people to cook breakfast in the morning. Feeling completely useless yet?
Well, it seems like only a matter of time before Baumgartner's epic fall to earth becomes fodder for movies and television everywhere–so be prepared to continue feeling inadequate for a bit longer. How would Hollywood do such a thing? In TV and movies, of course! Events like this always find a way to influence popular culture beyond the initial events themselves, so we've taken this opportunity to let the entertainment industry know the best way to handle folding this history day into their world.
On TV: 30 Rock
It seems to be inevitable that Tracy Jordan would want to recreate this event for attention. He is one to live every week like it's Shark Week, after all. We imagine it to be something like this: Jordan, unable to mentally prepare himself for the end of TGS, decides that his next career move should be to mimic the jump of Baumgartner in order to raise ratings for his own fledgling show. Only Jordan is afraid of heights. So he plans to recreate the jump on a television set–explaining that if they could convince the world that a bunch of dudes landed on the moon, he could convince the world that he jumped to the earth from outerspace. As the event unfolds on live TV and it is patently obvious that Jordan is faking his jump (including several ridiculous malfunctions and forgetting to think about how he would actually "land" on the ground), the video ends up going viral (much to the chagrin of Liz and Jack).
In Movies: Speed of Sound
We all know a movie is version of the trials, dangers, and odd-beating of Baumgartner's jump is inevitable. Hollywood is probably knocking down doors as you read this. A film version (that we've tentatively titled Speed of Sound) will chronicle the training, dangers, and thrilling adventures of Baumgartner and his team to complete the death-defying jump. A thrilling drama directed by Kathryn Bigelow, it will star Guy Pearce as Baumgartner and Ed Asner as mentor and until-now record holder Joe Kittinger.
In Comic Books: Ultimate Flight
In a comic book series inspired by Baumgartner's flight, he is turned into a superhero with the ability to fly in outerspace. After encountering the toxic run-off of a science experiment gone awry, a young Felix develops the power of flight, and slowly-but-surely pushes the limit of his flight into outerspace. He moves to the moon where he establishes a top secret, NATO-run counter-alien operation to secure the well-being of Planet Earth from the intergalactic forces of evil hell-bent on destroying the human race.
No matter which way you look at it, Baumgartner's feat was an impressive one worthy of a place in popular culture. Check out Baumgartner's words, and his jump, below.
We live to conquer fears and pursue dreams, may our attempts and accomplishments progress humankind.
— Felix Baumgartner (@FelixBaumgart) October 14, 2012
[Photo Credit: Red Bull Stratos]
Follow Alicia on Twitter @alicialutes
More:
Prepping for the Mars Landing: Is There Movie Potential?
Move Over, Mitt: Million Muppet March Planned For Next Month In D.C.