5 Albums That Sound Like Fall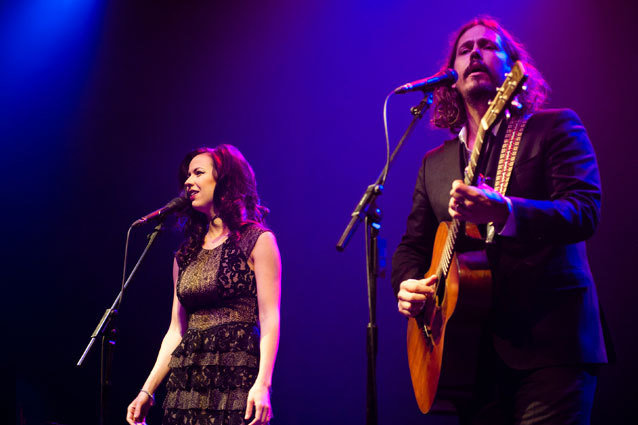 Annabel Staff/Getty Images
The days are getting blustery; the boots and jackets are coming out of storage; and the Pumpkin Spiced Lattes are out in full force. Much is made out of declaring a "Song of the Summer," but what's our soundtrack for autumn? It should be introspective and moody, but not too heavy — the perfect accompaniment for bidding farewell to summer freedom and saying hello to a new back-to-school crush. Load your iPod up with these albums before attempting your next self-reflexive walk in the changing leaves.
Sara Bareilles — The Blessed Unrest
Singer-songwriter Sara Bareilles has that rare ability to give every one of her listeners the distinct impression that all the songs she's written are exclusively about them. "Brave," the first single from her new album, is a joyful singalong, but the rest of the record is packed with sad and sweet melodies like "Manhattan" and "1000 Times."
Various Arists — The Hunger Games: Songs from District 12 and Beyond
You may not be a teenage revolutionary caught in a love triangle with the two dreamiest boys in your District, but with the accompanying album to the first film in The Hunger Games trilogy, you can pretend that you are. Contemplative tunes from Arcade Fire, The Decemberists, and on-again, off-again duo The Civil Wars will hold you over until the Catching Fire soundtrack hits iTunes.
The Perishers — Let There Be Morning
Millions of melancholy teenagers discovered Canadian band The Perishers when their song "Trouble Sleeping" was featured on The O.C.  They've released three studio albums, a live record, and an E.P. since this 2005 release, but Let There Be Morning is still our pick to Spotify while reblogging sappy love and loss quotes on Tumblr.
The Weepies — Be My Thrill
Cute but not too cute, the songs of the (adorably) married indie-pop-folk duo The Weepies are a solid choice to score any fall activity, from pumpkin picking to spiking the cider.
Matt Nathanson — Last of the Great Pretenders
Particularly recommended for fall fans on the West Coast, Matt Nathanson's most recent album was almost entirely inspired by living and recording in San Francisco. From the bouncy groove of "Kinks Shirt" to the regretful sweetness of "Sky High Honey," Last of the Great Pretenders has a track for all the ups and downs of the season.
More:
Tina Fey and Miley Cyrus to Host 'Saturday Night Live'
Fall's 15 Most Anticipated Albums
2013's Best Music Videos (So Far)
---
From Our Partners:


40 Most Revealing See-Through Red Carpet Looks (Vh1)


15 Stars Share Secrets of their Sex Lives (Celebuzz)