5 Tracks You Need To Hear This New Week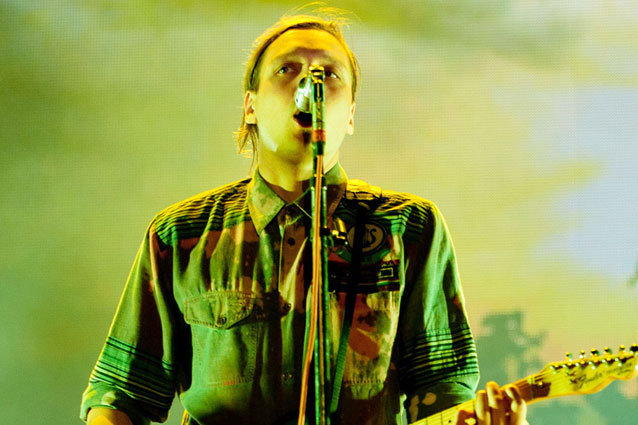 Nick Pickles/ WENN.com
From an indie-rock royalty comeback to an unlikely star-studded EDM collaboration, here's a look at five of the best tracks to have been unveiled over the last seven days.
Blood Orange – "Chamakay"
After giving the likes of Sky Ferreira, Solange and MKS a hipster sheen, producer extraordinaire Dev Hynes teams up with Chairlift's Carolina Polachek for the latest release under his Blood Orange moniker. Accompanied by a touching video which reunites him with his long-lost Guyanese family, "Chamakay" is another effortlessly cool piece of hazy R&B pop which features a slight resemblance to Michael Jackson's "Liberian Girl."
Arcade Fire – "Reflektor"
Produced by LCD Soundsystem's James Murphy, featuring backing vocals from David Bowie and clocking in at just under eight minutes, Arcade Fire have certainly pulled out all the stops for this triumphant comeback single, a loping Talking Heads-esque indie-disco curveball which more than justifies all its initial hype.
Avicii feat. Adam Lambert & Nile Rodgers – "Lay Me Down"
Following on from the foot-stomping country house of "Wake Me Up," the latest cut from Avicii's long-awaited debut album sees the Swede once again eschew the bombast favoured by his EDM peers and instead head towards funky disco territory with a little help from Chic legend Nile Rodgers and a typically gutsy powerhouse turn from Adam Lambert.
Lorde – "Team"
Proving that current US Top 10 single "Royals" is no fluke, the ridiculously talented 16-year-old serves up another wise-beyond-her-years baroque pop number that builds from an entirely a capella intro into a soaring fusion of emphatic kick-snares and glistening synths.
Goldroom - "Embrace"

Joined by the enchanting vocals of Melbourne-based singer-songwriter Ariela Jacobs, Los Angeles producer Josh Legg delivers another lush slice of sun-kissed house-pop which might just help to stave off those post-summer blues for a little while longer.

Follow @Hollywood_com

More
5 Pop Reinventions Gone Wrong
Best To Worst: Sugababes Line-Ups
7 Influential Debut Albums Of The 80s