Fleetwood Mac Before Buckingham Nicks: An Essential Primer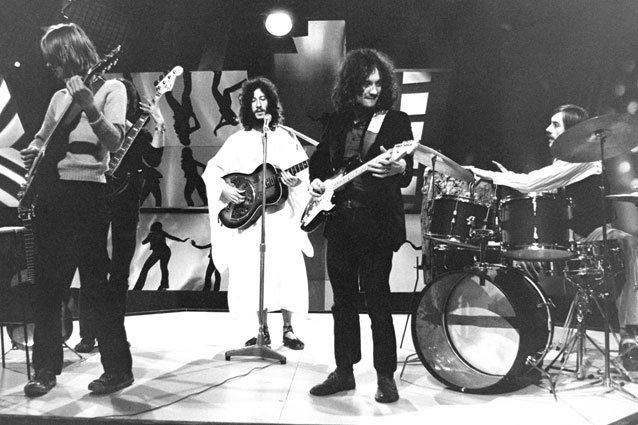 Ivan Keeman/Getty Images
For the last couple of years, Fleetwood Mac have been the latest vintage soft rock band to become fashionable among the sort of college students who still frequent used record shops. But it seems like only the Mac's 1975-'87 period, when Lindsey Buckingham and Stevie Nicks were fronting the band and they were scoring massive hits, has penetrated the consciousness of today's bearded youth, with their earlier incarnations largely unknown. Let's rectify that with a countdown of the essential pre-Buckingham Nicks Fleetwood Mac albums.
The Best of Peter Green's Fleetwood Mac (Blue Horizon Records 2002)
This 20-track CD supplants the 1969 singles compilation The Pious Bird of Good Omen by adding two hard-to-find but essential singles recorded in 1970 just as Fleetwood Mac's blues-rock-oriented first lineup was crumbling, "Man of the World" and "The Green Manalishi (With the Two-Prong Crown)." The latter was original frontman Peter Green's musical farewell note, a nightmarish drug-induced vision written and recorded shortly before he left the band to join a religious cult and largely give up music. The set also includes all of the Green-era band's other classic singles, the achingly beautiful instrumental "Albatross," the nine-minute epic "Oh Well (Parts 1 and 2)" and "Black Magic Woman." Yes, Santana had the hit, but it was originally a Fleetwood Mac song.
Kiln House (Reprise Records 1970)
Quite likely the most underrated album in the Fleetwood Mac canon, 1970's Kiln House intriguingly catches the group in a period of transition. With Green's sudden departure, his fellow singing guitarists Jeremy Spencer and Danny Kirwan pick up the slack, but Spencer's unabashed love of '50s R&B and rockabilly and Kirwan's taste for Nick Drake-like folk-rock melancholy mesh somewhat awkwardly. Hard to tell what might have come next, since shortly after this album's release, Spencer suddenly quit the band mid-tour, running off with a notorious cult known as the Children of God. What was it about life in Fleetwood Mac that caused its frontmen to seek oddball religious solace?
Future Games (Reprise Records 1971)
With bassist John McVie's wife Christine added on keyboards and California-bred singer and guitarist Bob Welch newly installed as Kirwan's songwriting foil, this is the album that ditches Fleetwood Mac's blues-rock roots. A spacy, mellow record that sounds heavily influenced by the Laurel Canyon folk-rockers of the era, Future Games has long been the stoner's Mac album of choice. Welch's sprawling title track and Christine McVie's "Show Me A Smile" are particularly beloved by fans, but overall, it was Fleetwood Mac's first start-to-finish solid album.
Bare Trees (Reprise Records 1972)
From the chilly, fog-bedecked cover photo to its oddball closer (an old British woman reading her own poem "Thoughts on a Grey Day"), this is easily Fleetwood Mac's darkest record. It's also the one album on which Danny Kirwan dominates the songwriting, which may have something to do with its bleak mood; the guitarist had struggled with depression for most of his life, and his self-medicating alcoholism led both to his firing from Fleetwood Mac after this album's release and a descent into mental illness and periodic homelessness that followed. That said, this album remains best known for Welch's "Sentimental Lady," a genuinely brilliant pop song that the guitarist would later take to the top 40 as his first solo single in 1977. This version is better, though.
Mystery To Me (Reprise Records 1973)
After a misbegotten return to a blues-rock vibe with Penguin earlier in 1973, Fleetwood Mac righted themselves with Mystery To Me barely six months later. Their last album before the band moved from the U.K. to southern California, Mystery To Me feels like a dry run for the pure-pop sound the new lineup would perfect on 1975's Fleetwood Mac. Just with a less disciplined, looser sound that showcases the slide guitar of Kirwan's replacement Bob Weston, who was fired shortly after this album was completed for having an affair with Mick Fleetwood's wife. Barely a year later, after the halfhearted follow-up Heroes Are Hard To Find, Welch was also gone, replaced by an all-but-unknown singer-and-guitarist duo who called themselves Buckingham Nicks. But that's where we came in.
More:
Tina Fey and Miley Cyrus to Host 'Saturday Night Live'
Fall's 15 Most Anticipated Albums
2013's Best Music Videos (So Far)
---
From Our Partners:


40 Most Revealing See-Through Red Carpet Looks (Vh1)


15 Stars Share Secrets of their Sex Lives (Celebuzz)